Genesis Framework by StudioPress is nowadays one of the most popular WordPress theme frameworks among bloggers and website developers around the world. But, the only problem with Genesis Framework is that it's not perfect for non-coders. It means if you're not a coder or don't have knowledge of CSS, HTML, PHP, etc., you'll feel lots of problems while using Genesis Framework such as to give a unique look to your site and other customizations.
However, if you're new to Genesis Framework, you wouldn't know that there are many WordPress plugins available out there that will make your theme customizations easy even with Genesis Framework.
So, in this post I'm going to tell you about 15 of the must install WordPress plugins that will make you fall in love with Genesis Framework, even when you're a non-coder.
Now, have a look on these WordPress plugins that will your theme customizations easy with Genesis Framework:
1. Genesis Simple Edits
Genesis Simple Edits plugin creates a new Genesis settings page that allows you to modify the post-info (byline), post-meta, and footer area on any Genesis theme.
You can edit these commonly modified areas by using shortcodes, HTML or just simply putting any text without having to learn PHP or write functions, filters, or mess with hooks.
2. Genesis Simple Hooks
This plugin also creates another Genesis Settings page which allows you to insert HTML, PHP or any other code to any of the 50+ action hooks throughout the Genesis Theme Framework.
Instead of the sometimes tedious and unfamiliar process of creating functions in your theme files, this plugin gives you an attractive, easy to use interface for modifying your Genesis theme via hook system.
3. Genesis Simple Sidebars
Genesis Simple Sidebars plugin lets you create multiple sidebars which can easily be assigned to any individual page or post.
Registering sidebars programmatically and then using conditional logic to properly assign them to any particular theme location can be a complex task for a beginner.
So, if you want to have different and relevant sidebar widgets for different posts or pages, by using the Genesis Simple Sidebars plugin you can do it effortlessly with Genesis Framework.
4. Simple URLs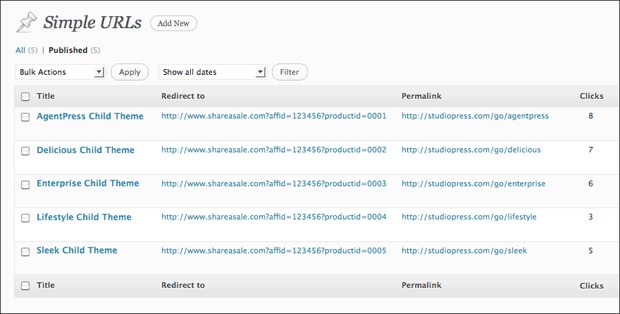 Simple URLs plugin is a complete URL management system that lets you create, manage, and track the outbound links from your site by using custom post types and 301 redirects.
In other simple words, it helps you mask your big and unnatural-looking affiliate links into short and simple URLs and even you can track the clicks of each link.
5. SEO Data Transporter

We all know that how difficult it is to switch themes or dump plugins, when it's about to change the SEO plugin, it becomes very difficult to transfer the inputs SEO data from one plugin to another. SEO Data Transporter makes this task easier.
Just choose what platform your moving away from, and what platform you want to move to. Click "analyze" to see what records and elements are compatible, and click "convert" to make the conversion.
6. Genesis Simple Share
If you're using a Genesis Theme Framework but don't have a good-looking and free-to-use social sharing plugin, you'll be glad to know that StudioPress itself creates a social share plugin for all its users called Genesis Simple Share.
This plugin adds very simple, lightweight, and attractive-looking social sharing buttons on your blog posts. Plugins settings can be accessed from Genesis > Simple Share on your WordPress admin dashboard.
7. Genesis eNews Extended
Genesis eNews Extended is subscribe widget plugin for Genesis-powered sites. It creates a new widget to easily add mailing lists integration to a Genesis website. It works perfectly with most email newsletter services such as FeedBurner, MailChimp, AWeber, FeedBlitz, GetResponse, and more.
Read out here: how to integrate Genesis eNews Extended with Mailchimp & GetResponse.
8. Genesis Responsive Slider
This is another very important Genesis plugin for those who want to show a slider on their website to feature some special or latest posts.
Genesis Responsive Slider plugin allows you to create a simple responsive slider that displays the featured image, along with the title and excerpt from each post.
And the best thing is that the slideshow is responsive and will automatically adjust for the screen it is being displayed on.
9. Genesis Design Palette Pro
Genesis Framework is undoubtedly one of the best platform to run your blog or website successfully but just due to less customization options, non coders feel great problem as for every smallest thing in Genesis you'll be needed to write or edit some code.
But, Genesis Design Palette Pro tool will really make you fall in love with Genesis Framework. It lets you quickly and easily modify the look of each area of your site without touching any code.
This is a premium third party plugin developed to help non-coders while dealing with Genesis Framework. You can buy this plugin from here by logging into your StudioPress account.
10. Genesis Connect for WooCommerce

Are you planning to start an eCommerce website with Genesis and WooCommerce? This plugin is then definitely made for you!
Genesis Connect for WooCommerce allows you to seamlessly integrate WooCommerce with the Genesis Framework and Genesis child themes.
11. WP Responsive Menu

As the name suggests, this plugin makes your WordPress blog menus responsive. WP Responsive Menu plugin is not specially designed for Genesis Framework but also support many other themes and frameworks.
As all the Genesis Framework child themes are responsive and that's why by using this plugin you can make your website menus responsive too.
Besides adding responsive menu to your Genesis site, it will also let you add your logo to the menu, hide some elements, enable/disable swipe gestures and pinch zoom feature and more.
12. Genesis 404 Page
Customizing the contents of a 404 page is very tricky. According to Google, there shouldn't be any advertisements on the 404 page. According a successful bloggers, user shouldn't go out of your site from a 404 error page.
So, for all this, you need to customize your 404 page creatively and it usually involves editing the 404.php template file.
By using the Genesis 404 Page plugin, you can unhook the default 404 page content abstracted into a function of Genesis Framework and replace it with your own custom title and content.
13. Genesis Layout Extras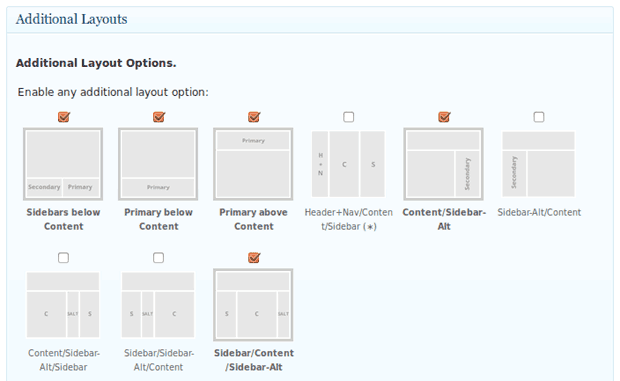 As Genesis doesn't provide the additional page layout options, this plugin is developed to enhance the capability. Genesis Layout Extras plugin lets you easily modify the (registered) default layouts for homepage, singular pages (for posts and pages), various archive sections, author pages, attachment pages, search results pages, the 404 page. It also comes with many other additional page layouts.
14. Pojo Device Widget
Many times we want to hide some widgets on our mobile site to keep it look clean and easily navigable by user. So, by using the Pojo Device Widget plugin you can do it easily without touching any code in your Genesis Framework.
It Allows to easily control the display of widgets by the specific device: Desktop, Tablet or Mobile on your WordPress site with Pojo and Genesis Framework. The plugin also work with many other WordPress themes.
15. Q2W3 Fixed Widget
Wanna make any widget sticky but not getting this feature in Genesis? Don't worry, by using this Q2W3 Fixed Widget plugin you can make any widget sticky (fixed) without modifying any code.
Final Words!
If you were having a problem in customizing your Genesis child theme due to fewer coding skills and never heard before about these above-discussed plugins, definitely there will be a win-win smile on your face after reading this post.
If you recently purchased Genesis Framework without having any programming or coding skills, I recommend you buy the Genesis Design Palette Pro plugin to easily customize every area of your Genesis child theme without touching any line of code.
I'm sure all these plugins will surely make you fall in love with Genesis Framework even when you're not a programmer or coder.
Let me know your thoughts on this post. Are you going to use these plugins on your Genesis website? Which one you liked the most? I'll be more than happy to get your feedback. 🙂
More Genesis Related Posts: