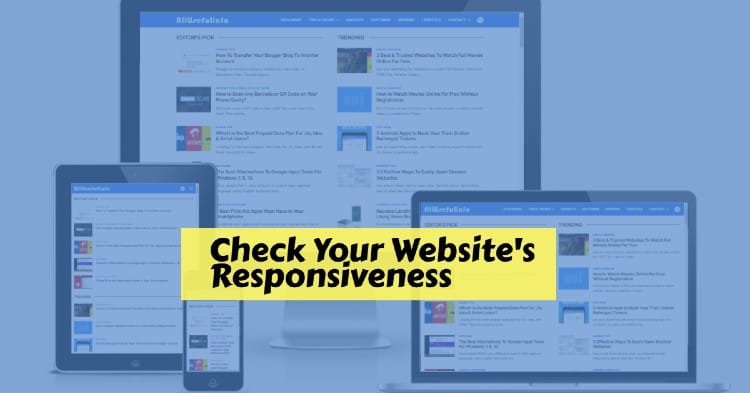 In most of my articles, I mentioned the fact that mobile-friendliness is now one of the main factors considered by Google for ranking a website in search results. So, if your website is not responsive till now, you should do that before it's too late.
But, I noticed one of the main problems a common man can face after turning their website into a responsive design is testing the responsiveness in different devices. So, as we know it's not that possible for everybody to have all the versions of iPhone, iPad, and Android phones along with different sized laptops and desktop models to test your website's responsiveness that's why here I collected some great tools to check your website's mobile-friendliness online.
These tools will let you choose the devices of different resolutions and screen sizes to check your website's responsiveness so that you can check whether your website is FULLY responsive or not.
1. Am I Responsive?
Am I Responsive? is an easy-to-use website where you can try checking your website on different screen viewports. As soon as you will enter your website URL in the input field of this online tool, it will let you see your website on different devices including a smartphone, a tablet, a laptop, and a desktop.
It's very simple to test your website's responsiveness with the "Am I Responsive?" online tool. All you need to visit https://ami.responsivedesign.is and then enter your website's URL in the URL input field.
That's all, it will instantly show how your website fits in a mobile device, tablet, laptop, and desktop for different viewport sizes.
2. isResponsive
isResponsive is another great tool I found on the web to test the website's responsiveness. isresponsive lets you test the mobile-friendliness of your website in different screen sizes as well as different versions of iPhones.
You only need to simply visit https://www.isresponsive.com and here you will see a box for entering the website address. So, simply enter your website URL and check the responsiveness of your website by switching between different models of iPhones.
3. Responsive Design Checker
This responsive design checker tool lets you check your website's responsiveness in different devices such as desktops, laptops, tablets and smartphones of different screen sizes.
To test the responsiveness of your website using the Responsive Design Checker tool, visit https://responsivedesignchecker.com and enter your website's URL. And by clicking on different screen-sized devices, you can check how responsive your website is.
MUST-READ: How to Use Adsense Ads on Responsive Websites
That's all guys! These 3 tools are my favorite for testing the responsiveness of websites. I know there are many tools available on the web for the same, so if you know any other great tool for testing a website's mobile friendliness, let me know via comments so that I can add that too to this list of great responsiveness checker tools.