If you're planning to start your online store, there are many phases to go through such as developing your business plan, building your own online store by registering a domain, choosing a web hosting company, designing your website, and choosing an eCommerce software to allow users to view products and make a secure purchase.
Honestly, choosing a domain and web host is not that difficult but developing a business plan and choosing the best eCommerce software may be difficult in some cases. So, to make your work easy here I compiled a list of the top 10 open sources of free eCommerce software to start your online store.
Top 10 Open Source eCommerce Software
As I already told you that it's not that easy to choose the best eCommerce software for your online store, so carefully read about all of these eCommerce platforms and select the best one for your business.
Magneto is my first choice as an open-source eCommerce software to start an online store as the fastest growing eCommerce platform with the power of over 30,000 merchants worldwide. For your primary information, it was originally launched by Varien Inc., but as of June 6, 2011, eBay owns 100% of Magento.
Without having to read any more about this eCommerce platform, you can guess the popularity, features, and services of Magento by knowing about its customer base. There are the world's most successful brands and online retailers such as Nike, Mothercare, Rosetta Stone, etc. use this eCommerce software.
Magento provides three distinct platforms, Magento Community Edition, Magento Enterprise Edition, and Magento Go. You have to pay for the Enterprise Edition, which is packed full of extremely useful features, but the Community Edition is meant for developers only and is free to download and use.
osCommerce (Open Source Commerce) is an eCommerce and online store management software program. You don't need to think about its supported hosting server because it can be used on any web server that has PHP and MySQL installed.
It is a very old eCommerce platform originally started in March 2000 in Germany. It has many more interesting and useful facilities such as over 7,000 add-ons, 12,800 registered sites, 2,80,795 community members, etc.
PrestaShop is another free, open-source eCommerce platform that was launched in August 2007. It supports many popular payment gateways such as PayPal, DirecPay, Google Checkout, and more.
Over 200,000 online stores worldwide are successfully running with PrestaShop. Technical support is provided via Paid support plans or free support on the official forum from PrestaShop growing Community consisting of more than 600,000 active members.
The PrestaShop has over 4,500 modules and themes that you can get from the official market place of PrestaShop add-ons. PrestaShop is translated into 63 languages but with only English, French, Portuguese, German, Spanish, Italian, Dutch, Polish, and Russian having full support in all release versions.
OpenCart is an open-source PHP based online eCommerce solution and a free shopping cart system. It supports hundreds of payment gateways and shipping method integrations. Some of the popular payment gateways it supports are PayPal, Nochex, Skrill, WorldPay, BluePay, and more.
With OpenCart, you can easily switch between different templates or migrate the current look of your site. In the case of extensions, OpenCart has over 14,000 add-ons to be used for your online store.
OpenCard has many more interesting and lovely features such as Automatic Image Resizing, Multi-Language, Multi-Currency, Backup and Restore Tools, Sales Reports, Error Logging, etc.
5. Ubercart
Ubercart is one of the top 10 open source eCommerce software in the world. It is fully integrated with the leading content management system Drupal.
It will be a great platform for people who want to start an online store for selling things like premium content, paid file downloads, rather than physical products.
Due to its integration with Drupal, all of its users will feel comfortable in choosing the ideal modules and themes to customize your online store.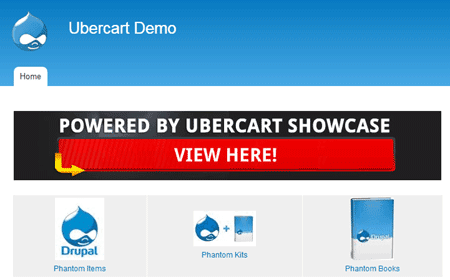 6. Spree Commerce
Spree Commerce is used by thousands of developers worldwide to build over 45,000 online stores. It is not just eCommerce software, but it is one of the largest and robust open-source projects in the world.
You have access to the complete source code to use where and how you like to use the code to modify the software as you see fit. There is not more programming language needed, just use the given code as long as you need it.
Spree Commerce is one of the most popular eCommerce platforms in the world with approx 45,000 online stores worldwide, Over 500 contributes, and over 250000 downloads.
Like Ubercart, which is integrated with Drupal, VirtueMart can be integrated with Joomla! content management system. Virtue is a free open source eCommerce software written in PHP and requires a MySQL database environment for storage.
Honestly, it is best suited for low to medium level traffic websites.
VirtueMart has more than 500 attractive features like Unlimited products and categories, flexibility, performant, template overriding, simple installation, and integration of all Joomla! extensions and more.
Drupal Commerce is an open-source eCommerce framework used to build truly flexible shopping websites. It presents the products for purchase within the context of a Drupal-based site.
There are hundreds of site enhancements or extensions such as modules, themes, sandbox, etc. available to customize your Drupal Commerce site.
There are many features of Drupal Commerce such as Creating product types with custom modules, Dynamic product displays, Order management, Discount pricing rules, and more.
Zen Cart is another PHP based eCommerce platform for starting your online store very easily. Truly, Zen Cart is absolutely free and open-source online store management system.
There are hundreds of plugins and add-ons available in the Zen Cart Plugins and Add-ons directory for different purposes such as Admin tools, Buttons and Graphics, Marketing tools, Payment modules, Pricing tools, Shopping modules, and many more.
Zen Cart, free open source eCommerce software is licensed under GPL2. It means you are free to modify the source code in whatever ways your application requires. It has many more other features such as it works with any web hosting company, it can be easily integrated with your payment gateways, you can use your own domain, etc.
CubeCart is a complete eCommerce shopping cart software solution. With CubeCart you can quickly set up a powerful online store to sell digital or tangible products to new and existing customers globally.
CubeCart V5 Lite is free of cost whereas CubeCart V5 Pro is available for $180. In the free version, there is a customer limit of 100 customers only, and the order limit is 250. There are many other important features that are restricted in the free version.
Further Reading:
Winding Up
These 10 free open-source eCommerce software are very popular in the world and that's why I listed them in the list of top 10 free eCommerce platforms. However, if you wanna make your online store live with premium eCommerce software, then I highly recommend you to use Shopify, a powerful eCommerce software.