Everyone wants their own business to create a specific income source. The current world is going at a bullet speed, and with this speed, the primary source of income is totally related to the internet. Everything is available online.
So why not create a better income source when it is simple and specified. Shopify is a platform where you can create your eCommerce store and list your products to build a robust revenue system. Creating a Shopify store is not a big task, and anyone can indulge in eCommerce development and mark their presence online.
This article is a practical and straightforward guide to creating a Shopify store in simple steps resisting the errors you might make while developing a Shopify store. Online stores from Shopify have created a better revenue system for many users and given them the liberty to improve their business by taking it online.
Let's deep dive into the simple steps of creating a Shopify store and taking the business online.
How to Create a Shopify Store from Scratch?
When it comes to building a Shopify store, you might understand some basic concepts of computer management and product listing. If you want to know how to set up a Shopify store, then a proper understanding will help you create your store quickly, and it will help you build more sales.
Create an Account
Add products to the list
Create critical pages on the online store
Create a theme and customize your online business
Create a shipping plan
Configure the tax setting based on your current location
Set up payment gateways and methods
Get ready to launch your online store.
These 8 steps will help you create your online store using Shopify, and you can take your business to a next level. Let's see all these 8 steps one by one.
1. Create a Shopify Account
It is the first step of creating an online store, free for 14 days when you first register on Shopify. Mention your email account in the box, and start your free trial. It will ask for your email, store name, and password, which you can choose to open your online e-store on Shopify.
After getting started, you need to fill in some essential details which Shopify confirms before opening your online store.
Mention your industry and get started to create your online eCommerce store using Shopify. After completing the registration process, you are set up to list your products online and create a platform to launch your eCommerce store.
2. Add Products To The List
After you register yourself on the marketplace, you will get a window similar to the one attached below to start adding your products on Shopify. You have full liberty to list your products and make them ready to launch through your eCommerce store.
Make sure to use authentic and high-quality images when you list the products on Shopify stores. Building a Shopify store is a simple process, but you need to be precise when creating a professional Shopify store to generate huge sales.
3. Create Key Pages On the Online Store
After product listing, you need to mention the crucial pages on the website where users can interact with your eCommerce store and understand it in a better way. It will help them understand your services and products in-depth and create a trust to choose your services.
Perform better research before creating the pages and complete it before choosing the theme. It will help you make the content on the store and give your store a new shape.
4. Create a Theme and Customize your Business Online
A theme is an essential part of your online store because it can give your store a better view and engage with the users. Whenever your potential customers visit your store, a good theme can draw their attention.
Make sure to create an engaging theme that showcases every detail of your online store precisely.
5. Create A Shipping Plan
Creating a shipping plan is a complex but essential part when you are ready to open your eCommerce platform on Shopify. There is a slight complexity in weight, height, shipping costs, and shipping destinations. You can blend a perfect way to create hassle-free shipping by choosing a genuine shipping service and compiling them with your eCommerce store.
Also, you can give free shipping on a price range, which will make your Shopify store more sophisticated, and users will choose your services extensively.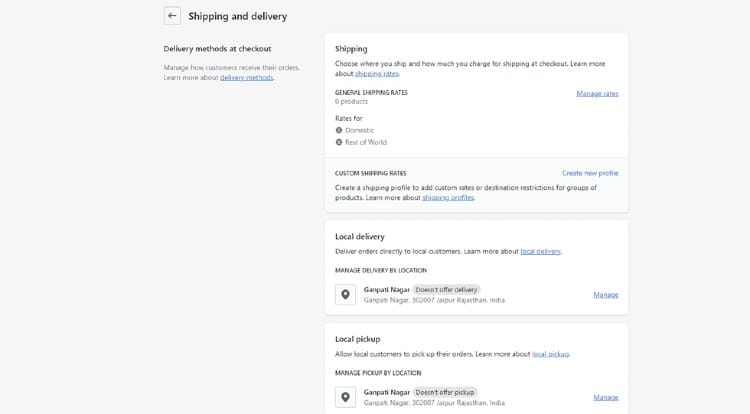 6. Set Up Tax Services
Every country has different tax rules, and you need to create a better tax plan to sell your products internationally. You need to collect taxes from your customers and pay them to your residential governments whenever you deal in goods and services.
It is essential to pay the tax for a hassle-free eCommerce store. Shopify will help you calculate the taxes and take them from the customers, which will help you create an in-detail tax invoice.
7. Set Up Payment methods
Accepting payment on Shopify is a simple process, where you need to create some payment gateways to accept the payments for sale. Shopify Payments allow you to accept all the major amounts without any hassle and give you a smooth business online.
Whenever customers pay you, the amount will be credited to your account quickly. There are more than 100 third-party payment services on Shopify from which you can also choose some others to create other options for payments.
8. Get Ready To Launch Your Store
After creating everything, your store is all ready to launch. Before launching, you need to take care of everything and maintain the products and pricing. Review your online store by checking every single detail which you have mentioned. Make sure to delete or hide the pages like "Coming Soon" before launching your store for everyone.
Also, you can use a dummy account to check your products and listing. Shopify allows the store owners to maintain the payment methods and gateways before releasing the store for public use.
After checking everything, your store is ready to launch for everyone. Launch your online store and start creating ads on different platforms to generate massive sales. Also, you can create engaging content on the website, which helps the search engine consider your store to appear on top when people search for different queries related to your services.
Winding Up
Shopify is a perfect platform for a business person to take the business online. You can choose Shopify store to take your business to a global level. All your services will be visible to every people on this planet, and you have the liberty to sell your products globally.
Create a Shopify store using these simple steps and take your business to the next level.