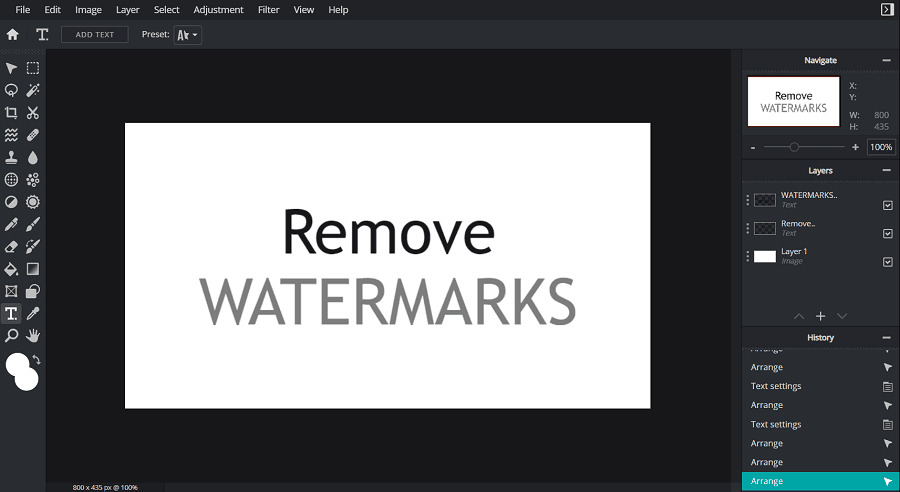 We became wiser with technology, now we use online tools over big software to remove watermarks.
Online tools reduce the hassle of software download and long installation processes.
For once, removing the watermark seems like moving mountains, don't they?
If you go a few years back, I am sure you remember installing those big software to remove the watermark. Don't stop, go back to few more years, it seems to be so irritating and impossible to remove watermarks, isn't it?
But no more!
I have wrapped up some incredible online tools (both free and paid) to ease the process of removing watermarks. In order to help you remove watermark from images, video, and PDFs, I tried to make this article to the point and fragmented it into three parts.
Let's dive in straight and find the tools that will work best for you.
The Online Tools To Remove Watermark From Images
Removing watermarks from images is the most common problem people face every day. Luckily, there're many online tools specifically available to remove watermark from images. Check them out below.
Inpaint is a popular online tool used to remove watermarks from images. It is the easiest online tool that very neatly removes the watermark. However, its functionality is not only limited to watermark removal. It also caters to several other purposes like removing date stamps, erasing power lines and wires, repairing old photos, and others.
Features
It requires minimum technical and computer skills. It does not let the edited area look clumsy. There are three editing options namely, marker tool, lasso tool, and polygonal lasso tool. Inpaint offers an easy way to upload and download images. Also, there are quite a good number of editing options on how you want to erase the particular mark. However, it offers a batch watermark removal facility too.
How does it work?
Visit the site and upload the image by clicking on the "Upload" option.
Select the image from the given files and click "Open".
It will process the image and will open it into an editable format.
Simply select the marker tool and mark the area you want to remove.
Click on the "Erase" option on the top of the panel.
It will process the image and will present you with a new image that you can download by clicking the "Download" option at the top right corner.
Pros
Instant removal
No manual hassle
Smooth transition
Does not affect the resolution in the premium plan but does affect the resolution in the free basic plan.
Supports all formats – JPG, PNG, and WebP.
Cons
The maximum image size you can upload is 10 MB.
The maximum image resolution you can upload is 4.2 MP.
Offers low resolution in the free plan.
Pricing
You need to purchase the credits to download high-resolution images. The credit's price varies with – $4.99 for 10 credits, $9.99 for 50 credits, $19.99 for 200 credits, and $29.99 for 1000 credits. However, you can also use its free plan.
Lunapic is a free online watermark remover tool. Apart from watermark remover, it offers several editing services. I prefer this tool the most. Apart from removing watermarks from the images, it offers many other editing features.
Features
Apart from removing the watermark, it helps you to cut and paste a particular portion. This feature will make the image look uniform throughout. You get equipped with a Cut Out Tool to remove watermarks. It can be used in form of a magic wand, polygon or free form, circle, and rectangle. It does not require any logins or sign-ups. It also helps you in recovering backup, in case you need to download any previous files.
How does it work?
Visit the site and upload the image you want to edit by clicking on the "Upload" option from the menus.
Once the image is uploaded, select the Cut Out tool from the left toolbar.
Now, on the next screen, you will need to mark the watermark by choosing the Cut Out tool as a Magic Wand, Polygon or Free Form, Circle, or Rectangle.
Once the watermark is marked with the Cut Out tool, click the "Remove & Inpaint" option.
That's all. The watermark will be removed from the image. You can now download it by clicking the "Save" link below the picture.
Pros
More customizations are available
The edited image looks more natural
Does not affect the resolution much
Cons
Pricing
It is a free tool.
Pixlr is the most used photo editor globally. It is a professional online editing tool. There are two versions available – PIXLR X and PIXLR E. PIXLR X supports basic functionality only, therefore use PIXLR E.
Features
It supports a wide number of image formats like PXD, TIFF, BMP, PNG, and JPG. You can customize your images like a pro very similar to photoshop. It is the best online tool for removing watermarks. You can customize the intensity of the clone brush according to your purpose. Signup is not mandatory.
How does it work?
Launch PIXLR E.
Click on the "open image" option. Select the image from the computer and click open.
Click on the Clone tool (it looks very similar to stamp) from the given options on the left dashboard.
Move the pointer at the watermark and erase it.
That's it. You can now either save the image on the computer via the "Save" option or extract it via the "Export" option.
Pros
Does the transition seamlessly.
Effortless
Does not affect the resolution of the image
Offers customization
Cons
Require strong internet connection
Takes time to process the image
Ads quite distract the process
Pricing
It is a free tool.
Online Tools To Remove Watermark From Videos
It's a bit challenging to remove watermark from videos. But, luckily there are some tools available on the internet that will help you remove watermarks from videos. Some of the tools that worked for me are as follows.
HitPaw is a widely used watermark removing tool. You can either use it online or download its software. However, it's an incredible online tool to remove watermarks from videos but its software version works more effectively.
Features
It offers an easy three-step process to remove the watermark. It is best for the ones who do not have any technical skills. In addition, it processes the videos fast when compared to other tools. You can choose more than one watermark on HitPaw. It does not require any signup/logins. It is the easiest tool available on the internet.
How does it work?
Go to HitPaw Editor and then click on the "Watermark Remover" tool.
Now, you can add the video file to the editor.
There will be a box given on the video, place it on the watermark and manage its size and position.
Click on "Save" to save the changes.
Pros
Easiest of all
Fast processing
Ads-free
Cons
No customization is available
Pricing
It has both free and premium options.
Apowersoft offers a vast number of utilities and removing the watermark is one of them. The tool is extremely popular among people due to its ease of use. You can use it for removing watermarks from images too but other mentioned tools work better than this on images.
Features
There are not many features in this tool except it is very handy and easy to work with. There are fluffy ads to irritate you. But you can add more than one box to remove multiple watermarks in the video. It supports several formats including ts, mpg, m4v, asf, avi, webm, wmv, mov, flv, mkv, and mp4.
How does it work?
Click here to land on the Apowersoft online watermark remover tool.
Click on the "Remove Watermark from Video".
It will ask you to choose the files from your system, select any file and click the "Open".
It will take some time to upload your video, so be patient.
Once processing is complete, it will ask you to place the box on the watermark. However, you can add as many boxes as you want by clicking on the "Add Box(es)".
Now, click "Erase".
Once it's done, it will show you the box to download the video, click there and extract the video.
Pros
Cons
No customization
Takes quite a long time to process the videos
Pricing
It is a free tool.
Online Tools To Remove Watermark From PDFs
You can use these online tools to remove watermarks in two ways from PDFs.
Use the online tool to convert PDF into Word copy, later edit that word copy to remove watermarks. This method works best when you are to remove multiple images or watermarks.
Use an online tool to remove the watermark there itself. However, there are not many tools facilitating such a service.
PDF Watermark Remover is the best online tool to remove watermark from PDFs conveniently. With the help of this tool, you do not need to edit the PDFs in word. However, this is the only online tool I found after thorough research for removing watermarks in the browser itself.
Features
It offers you two options to remove the watermark namely, remove textual watermark and remove images. However, you can delete images, texts, and vector images altogether and separately also. They give you the option to enter the page range so that you can customize the removal process according to your requirements. You can also add the password to encrypt the file. You can either paste the URL or browse the pdf from your computer.
How does it work?
Visit the PDF Watermark Remover's website to get started.
Now, choose files from the options given below.
Once the file is processed, select the removal method.
Please add the page range and password if needed.
Click "Convert".
It will take a few seconds to convert the file which you can download by clicking "Save to Computer" link.
Pros
Less manual hassle
Offer a lot of customization
Efficient
Fast
Offer pdf encryption
Cons
Pricing
It is a free tool.
Smallpdf is an online tool that works by converting pdf documents into word documents. Then users are required to do editing in a word document and later save it as PDF on their computers. However, the process is a bit lengthy, but it offers a good scope of removing the undesirable elements in the document along with the watermark.
This tool offers only 2 document processes per day in a free plan. However, there are around 21 tools like PDF to Word, Edit PDF, Merge PDF, etc. in the free plan that you can use.
Features
It's a very simple and easy-to-use online tool for almost all PDF solutions. It does not have many features. But it is among the best tools that can effectively fulfill the purpose of removing watermarks. And yes, there is no glitch in the process. It offers a smooth transition throughout the process.
How does it work?
Visit the Smallpdf's PDF to Word Converter and click on the Choose Files button.
It will open a box to let you browse the pdf from your computer.
Once uploaded, it will show you two options, "Convert to Word" and "Convert to Editable Word".
Select "Convert to Word" and click the "Choose Option" button below.
It will then convert the file from PDF to Word, which you can download by clicking on the "Download" button.
Open your downloaded document in Word.
A Word sheet will open; enable the editing option in the sheet from the option given on top.
Now, you can eliminate watermarks, images, or any other undesirable element from the document.
Click the "Save as" option in the File menu and select 'pdf' in the "save as type" option.
Click Save; that's it, you are done!
Pros
Cons
No option to upload file via link
Pricing
It offers both free and premium plans. It offers a pro plan at $9 per month and a team plan at $7 per month. For other requirements, you can ask queries from the support center for the business plan.
Final Thoughts
Well, my reason for using these online tools is quite different, maybe some of you will agree. I don't like downloading the software by clicking on suspicious links to install and download them. In the emerging world of digitalization, be aware of these links as they contain malware and ransomware links.
I have wrapped up these tools after researching dozens of online tools on the internet.
Therefore, all the mentioned tools work best for removing the watermark. But I prefer Pixlr, HitPaw, and PDF Watermark Remover the most among all for removing watermarks from a picture, video, and a PDF file respectively. However, every tool has its own features, pros, and cons. I will suggest visiting each of them to know which one will fit you the most.