Adobe Photoshop is the most popular, useful, and undoubtedly the world's best photo editing software among graphic designers as well as beginners. But, due to any reason, if you're unable to get Adobe Photoshop or it's not running properly in your desktop, you move on to some of its online alternatives.
However, there are many reasons to use Photoshop but there still may be some reasons to move on its alternatives. As we know, Adobe Photoshop isn't free to use. It costs a fee that you need to pay every month till the date you will be going to use it. Although, its quality of features always deserves the fee it charges but for many it still may be a reason to look for its alternatives.
And, fortunately, in this article, I'm going to share with you some of the best and FREE online alternatives to Adobe Photoshop. So, neither you'll need to download them on your desktop or pay for them. Just need to visit their respective URLs and start editing graphics online.
The Best Free Online Adobe PhotoShop Alternatives
In this article, I'm not actually going to compare any of the online photo editors with Photoshop but just willing to share some of its free online alternatives for basic editing needs. Let's have a look:
It is one of the best, free, and easy-to-use online alternatives to Adobe Photoshop. I've been using this tool for many years for editing my pictures. However, I never did any complex editing with this tool but of course, nerds can do that as this tool has many features like Photoshop.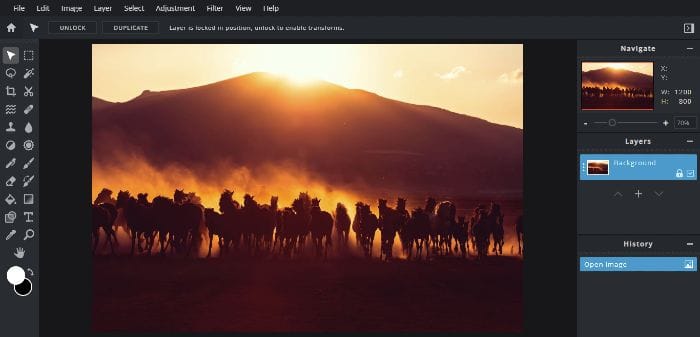 Whenever you'll visit this online tool for editing, it will ask you to choose a tool between Pixlr X or Pixlr E. Pixlr X is the easy-to-use photo editor for beginners whereas Pixlr E is a powerful photo editor for pros.
Both the Pixlr X and Pixlr E editors let you open almost any image format like PSD (Photoshop), PXD, Jpeg, PNG (Transparent), WebP, SVG, and many more.
Photopea is yet another one of the best free online Photoshop alternatives. It has many Photoshop-like features navigation tools, layers, image size editing, selection options, brush tools, vector graphics, and much more.
The workspace of Photopea is very similar to Adobe Photoshop. It consists of the Toolbar on the left, the Sidebar on the right, the Working area in the middle, and the Top menu at the top. Isn't it exactly similar to Photoshop?
This free online image editor supports PSD (Photoshop), XCF (GIMP), Sketch (Sketch App), XD (Adobe XD), and CDR (CorelDRAW) formats. You can simply create a new image or open an existing one from your computer and save your work in PSD or PNG/JPG/SVG format.
LunaPic is another free online photo editor that does not actually look like Photoshop but can be proven as one of the good alternatives to Adobe Photoshop for basic editing needs. It supports GIF, PNG, JPG, BMP, TIFF, WEBP, ICO, and a few more formats to export your work.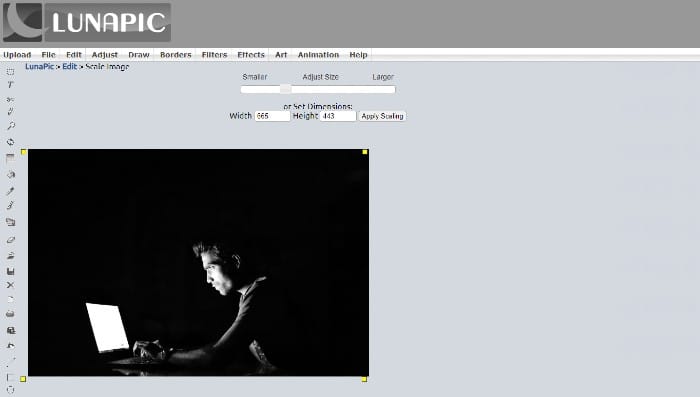 LunaPic has many interesting and useful features including copy, paste, crop, merge, skew, auto crop, resize, scale, mirror, flip, blur, eraser tool, magic wand, and many more.
It has many options for you to start editing. You can start with a blank image or update a picture from your computer depending on your needs. It also lets you open a picture in the LunaPic online editor through Instagram, Facebook, Dropbox, Imgur, Google Photos, or simply through any URL.
Fotor is a popular free online photo editor and graphic designer which allows you to edit your photos online. It also can be a good online alternative to Adobe Photoshop. Most people even call it "Online Photoshop".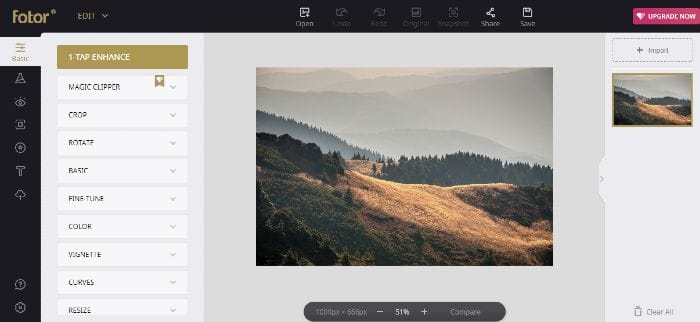 With this online photo editing tool, you can easily adjust color, light, size, and more. It has plenty of Photoshop-like features including 1-tap enhance, resize, crop, background remover, rotate, straighten, and more.
It has a huge range of filters and effects including photo effects, AI photo effects, lomo effects, cool effects, funky effects, and blur effects. You can also utilize photo frames, stickers, text, color splash, mosaic, and tilt shift tools. The only drawback is that you can download your work in JPG or PNG only.
You can use this Online Image Editor (OIE) as your other free online alternative to Adobe Photoshop. It lets you resize or crop images, merge, blend and overlay images, add text with your own fonts, add borders, round corners, and shadow to your photo, add a photo frame or a mask, and much more.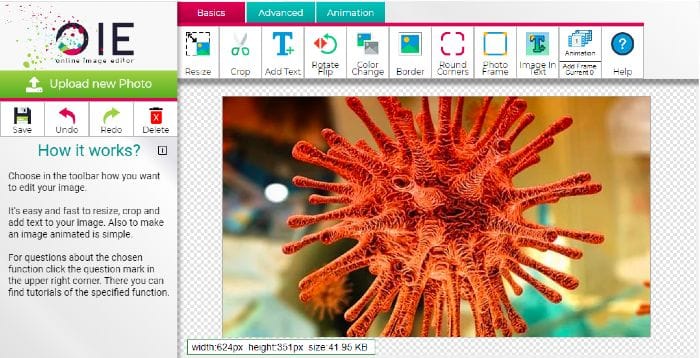 It supports almost all formats like PNG, JPG/JPEG, BMP (Bitmap), or animated GIF. One of the best features of this online tool is the Transparency tool. You can make the background of any image transparent with one click or simply remove transparency from your image.
BeFunky is another popular and feature-rich online photo editor that's available free of cost. All you need to visit the online photo editor and start editing your pictures right away.
This feature-rich free online photo editor can be used as an alternative to Adobe Photoshop if you're willing to edit your pictures online, on the go, and without spending a penny.
It lets you save your work as PNG, JPG, and PDF with the option to reduce and increase the quality of the picture to alter the size. It has hundreds of Photoshop-like features such as crop, resize, touch up, artsy effects, cartoon effects, transparent background, text editor, blur image, photo frames, watermarks, and many more.
What's Actually Your Need?
So, among these six free online photo editors, which one you're going to try as a perfect online alternative to Adobe Photoshop for your editing needs? Well, it depends upon the needs. Right?
So, what is actually your need?
If your editing work needs professional editing features, then you should choose a tool like Pixlr X or Photopea. Both of them has brilliant features and environment like Adobe Photoshop.
However, if you just want to do minor editing like crop, resize, merge, blend or add text, then you can try Pixlr E, Online Image Editor (OIE), and Fotor. You can also give LunaPic and Befunky a try because they also some plenty of great features.
Actually, in this article, I featured very selected and the best of all time photo editors that are also good free online alternatives to Adobe Photoshop. If you find any other Adobe Photoshop free online alternative, please share it in the comments below.