Most of us like to edit and add effects to our photos. If you are interested in editing your photos, here are some websites that you can use for editing your photos online for free. These websites are totally free to use. You can make your photos more attractive by using any of these websites compiled below.
Some websites contain advanced features like doodle, distortion, retouch and many more.
So, have a look on these online photo editing websites:
This is a free website through which you can easily collage your photos. To use this website you need Adobe Flash Player, if you don't have Adobe Flash Player then install it. There are many templates on this website to make perfect collage. Select any one of them, add your photo to the selected template and then customize it as you want.
This is other free photo online editing site. You can make your photos funny and unique here by using loonapix effect or embed your face into various templates. You can also add photo frame to your photos and can trim it too. It makes your photo funny, unique and more attractive. You can share these photos with your friends and make it a source of entertainment and fun.
On this website you can do various things with your photograph and share it with your friends. Here you can resize or crop your images, add text to your GIF images, make your own GIF, add boarder to the image, merge the photos, overlay the images, add round corner to your images, create your own twinkling star animation, make your image sharp with cut out tools, etc. In simple words, it enables you make your own GIFs online very easily.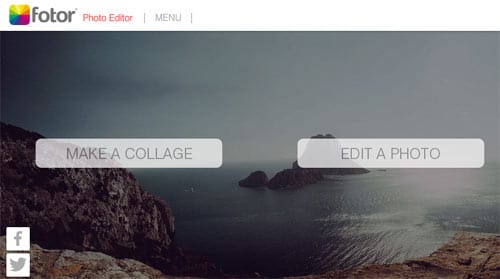 Fotor is a free and widely popular website to edit photos online with lots of amazing effects and tools. Currently, it's one of my favorite websites for online photo editing. So, I would like to recommend you try this website for photo editing before using any of the above.
It is another free online photo editor. It contains different photo editing features like doodle, whiten teeth, fix red eye, spirit level, fill light and many more. Through this website you can also enhance or normalize your photos. There are more interesting features like flip horizontal, flip vertical, rotate tool and etc which add effect to your photos and make it more attractive.