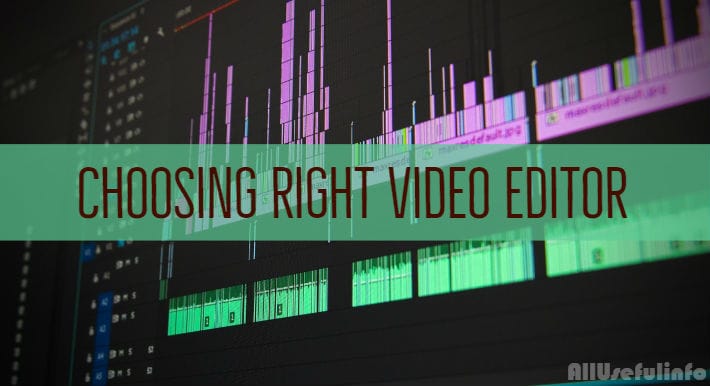 Video editing is not as easy as it seems. If you're a professional video creator or want to be the one, you must have a feature-rich video editor for the perfect manipulation of video shots.
But, the most difficult task among video creators is choosing a right video editing tool. This is because there're hundreds of video editing tools available in the market, some are free or open source and some are commercial

Of course, commercial or premium tools come with some extra quality features but it doesn't mean you can buy them blindly. In case of video editors, there're many essential things to know about how to edit videos before making a purchase such as the most common video editing features, system requirements, ease of use etc.
In this post, I'm going to discuss about all of such important things that you should consider before choosing a video editing tool for your post video editing.
The Most Common Features to Look in a Video Editor
Video editing is not just about merging the multiple video clips but manipulating and arranging them in very professional and attractive form by cutting segments (trimming), re-sequencing clips, and adding transitions and other Special Effects.
So, if you're going to buy a video editor or just willing to download a free one, you must look for some of the following most common features in it.
Trim, Cut, Rotate & Merge Video Shots
Trim, cut, rotate and merge are some most common actions to be performed while editing a video, audio or even a photo. And generally these are basic editing tools in any video editor.
Whether, you're buying a premium video editing software or downloading a free one, you must check out for these common editing features in it.
Transitions & Effects
The transitions and effects help making a video even more attractive specially when you want to add more excitement and energy to your cuts.
Some of the feature-rich premium video editors comes with a store of hundreds and thousands of transitions and effects to give videos a professional look.
Generally most of the video editors come with at least some transitions and effects. All you need to check how many transitions and effects the video editor consists.
Ability to Insert Audio & Text
There're some basic features that must be in any standard video editor, and this is one of them. We often need to insert audio clips such as background music and text maybe for subtitles.
The video editor you're going to use for your projects must have the option to insert audio and text over the video clips.
Flip & Zoom Effects
There're hundreds of transitions and effects come with video editor tools but there're some of the most common and frequently used effects that you must check if exist or not, such as Flip and Zoom effects.
Apart from these flip and zoom effects, there're some more effects that you can check whether exist in the pack of your effects and transitions such as blur effect, fade-in and fade-out effects, spin or whip effect etc.
Slow Motion Effect
Any video editor is useless for most people if it lacks the Slow Motion effect 😀 This is something a huge amount of video creators separately look in the effects store of any video editor.
Well, jokes apart, you must check whether it's possible to play with speed of video shots in the video editor you're choosing for your projects.
Photo & Video Overlays
Almost, every video editor comes with at least two video tracks; one is main video track and other is overlay track to add photo and video overlay on the top of the main media stream.
In video editing, most of times we need to overlay photos and video shots over the main media without affecting anything. So, you should check for this overlay feature in the video editor you're going to buy.
Camera & Screen Recorder
Generally, there're separate software available on the web for screen recording such as Screencast-O-Matic and Camtasia Studio etc. but still these days most video editors come with built-in camera and screen recording functionality.
The screen recorder lets you record videos of what's happening on your screen along with the sound from your device's microphone. And with video recorder option you'll be able to record videos directly from your editor tool via your device's camera or any other external device. Isn't it great?
Some Advanced Features in Big Budget Video Editors
There're many big budget video editors available in the market that come with many advanced editing features. Generally those kind of video editors are used by big production houses or in Bollywood projects.
So, apart from the above mentioned features, there're some more advanced features that you may look in a video editor as per your budget.
Multi-Camera Editing
Not all video editors give you facility to import and combine footage from multiple devices. But, some advanced video editors such as Adobe Premier Pro, Final Cut Pro (for Mac), Pinnacle Studio etc. lets you perform multi-camera editing easily.
Motion Tracking
Motion Tracking is another advanced feature in video editing which lets you put focus on certain moving objects in the video. With this feature, it becomes easy to add any moving text or graphics on any moving objects in the video clip.
Apart from these two, there are many more features you may find in a big budget video editor that can improve your video editing experience such as 360 degree VS Editing, HDR Video support, Advanced color grading etc.
MUST READ: Edit, Record & Download Videos in Over 150 Formats
Important Things to Consider Before Buying a Video Editor
Specially when you're buying it, you must be aware of what actually you're buying. Even when you're aware of its features, still it's not the good time to buy it.
In fact, there are some really very important things that you should keep in mind before buying a video editor.
#1. Give it a Try Before Making a Purchase
If you're going a buy a commercial and big budget video editor, you must give it a try before making purchase. This is because the user interface matters a lot and you can experience it when you try the tool.
Most commercial video editors needs extremely good editing skills and practice of months. On the other hand, some tools come with the easy-to-use interface that even works for beginners.
So, I would suggest to first have a try of any video editing tool before directly buying as almost every video editor comes with a limited time of free trial package.
#2. Check Out Minimum System Requirements
This is very common but essential thing to keep in mind while buying a video editor. Not all video editors compatible with all kind of computer systems. In fact, they need to meet specific system requirements that you must check before purchasing.
When you visit the official product page, you will see the minimum system requirements video editor needs to run uninterruptedly. Match these requirements with your system and then make purchase.
#3. Check What Video Formats it Supports
There're hundreds of video file formats available in which very few of them are popular such as AVI, VOB, MP4, DVD, WMV, 3GP, MOV, MKV.
So, before buying the video editor, you should confirm that which file formats it supports for importing and exporting the video files.
Finally, Get Ready to Give Your Videos a Professional Look
This resource is specially curated for beginners to video editing who feel it really difficult to choose a right video editor for their video projects.
So, once you know all the essential features that should be in a standard video editor, it becomes very easy to choose a right video editor for post editing, right?
But, in additional to features here you'll get to know about the most important things you should keep in mind before buying a video editor.
Finally, it's time to give your videos a professional look. All you need to seek for the top video editors on the web anc choose the right one based on your requirements easily.
READ ALSO: The Most Powerful & Easiest Video Editor
Don't forget to add your comments and suggest if you think there should be anything more in this post to be added that can effectively help beginners choose the right video editor.