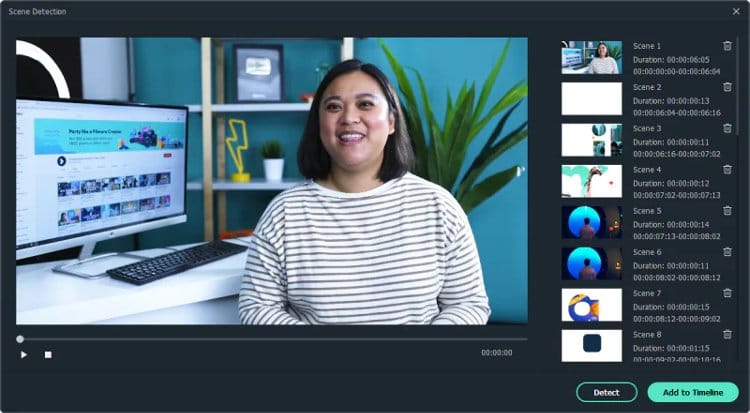 Film-making is not an easy task. There're lots of steps and processes involved. The editing part is one of the most significant parts of filmmaking as it has the ability to turn dull or low-quality video clips into attractive and professional-looking videos.
There're many feature-rich editing tools available in the market to give your videos a magical touch. But, truly it's not possible for everyone to use them without proper training.
But, still, if you're new in video production and want to edit your videos yourself, you should definitely give Wondershare's Filmora a try. It's one of the most powerful and feature-rich video editors on the market, and the best thing is that you can start using it very easily even without any training.
The Wonderful Video Editing Features of Wondershare's Filmora
Wondershare's Filmora has almost all necessary video editing features to make professional videos and keep them stand out.
Chroma Key. It's one of the most essential features in video editing which lets you change the background of the video to anything you want using the green screen.
Split Screen. Wondershare's Filmora lets you split the screen to play two or more clips simultaneously.
Video Overlays. You can layer multiple video clips using the picture in the picture track. It makes it easy to overlay video clips without any hassle.
Scene Detection. With this Scene Detection feature, you can ask Filmora to scan your clips for scene changes to save your time.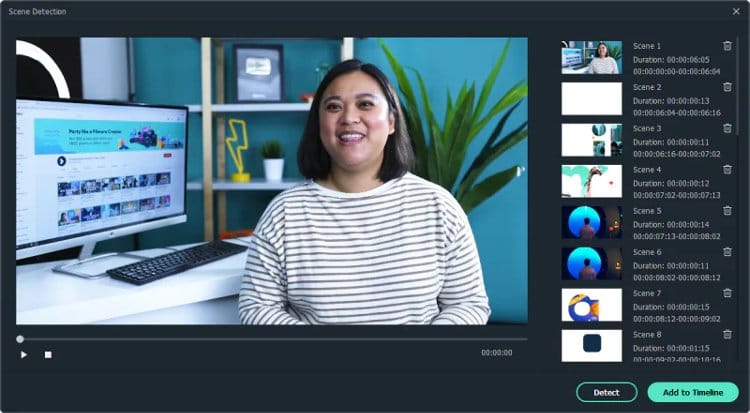 4K Editing & GIF Support. Filmora lets you edit and export videos at higher resolutions of up to 4K. Along with this, the tool also lets you import, edit, and export GIF files.
Audio Mixer & Equalizer. With Audio Mixer you can adjust the audio of each individual track on your timeline and the equalizer lets you fine-tune your music and audio tracks.
Audio Separation & Noise Removal. Filmora lets you detach audio from video clips and edit it separately. And thanks to its great noise removal option which lets you remove the unwanted background noise easily.
Extra Music & Text Layers. You can add up to 5 text layers and 10 music tracks to your timeline.
Collection of New Filters & Effects. It comes with Effects Store where new collections of filters, animated elements, and other modern video effects are added every month.
Not only these but there're many more creative features available such as Color Tuning, Pan & Zoom, Camera Shake, Screen Recording, 3D Lut, Background Blurs, Auto Crop/Resize, etc. to make your video editing easier and professional.
Why Else You Should Definitely Try Filmora Video Editor
However, you've already known about the awesome editing features of Wondershare's Filmora video editor so there should not be any doubt in choosing it as your video editor. But, still below are some other big reasons why else you should definitely try Filmora video editor for your video projects:
The Easiest-to-Use Video Editor in the Market
This is one of the biggest reasons for choosing Filmora as your video editing tool. It comes with a very easy-to-use interface and navigation.
To make it easier for you, there are two different modes available – Easy Mode & Full Feature Mode with two skins (light skin and dark skin) to meet your video editing needs.
Everything from importing media files to exporting your final output video, it's all very easy to do with Wondershare's Filmora video editor.
All Necessary Video & Audio Controls Available
I don't think there's any single video editing feature left in the pack of Filmora's editing features. There're all-important video editing features present to fulfill your video editing needs.
All necessary video and audio controls like Trim, Hue, Aspect Ratio, Crop, Rotate, Brightness, Saturation, Contrast, Merge, Speed, Fade in, Fade out, and more are available to make your video editing much easier.
30-Days Money Back Guarantee
This is another big reason to give Filmora a try because if you're not satisfied with its features or quality, you can claim your money back within 30-days.
Isn't it great!
However, having a Watermark or not is the only difference between Wondershare Filmora's free version and paid version. So, if you don't have any problem with a watermark on your exported videos, you can use its free version lifetime.
System Requirements
Before you purchase the software, it's very important to check if your Windows computer is compatible with the software. In terms of the operating system, Wondershare's Filmora supports Windows 11 and below versions.
However, it is not recommended to use a PC with a processor lower than Intel i5. It is recommended to use Intel 5 or a better processor for best performance.
In terms of RAM, the software works fine with 4GB RAM but if you want better results like HD and 4K video processing, then it will require 8GB RAM. And along with this, the software needs 10GB of free hard-disk space to run smoothly.
GPU is another very important thing to check before you make a purchase. Your computer should have Intel HD Graphics 5000 or later / NVDIA GeForce GTX 700 or later / AMD Radeon R5 or later. So, you will need an updated graphics card in order to run this software perfectly.
Pricing
You can get the registered version of Wondershare Filmora for Personal, Business, and Student/School purposes at different pricing. For personal use, its 1-year license costs $49.99/year and its lifetime license costs $79.99. For more, check out the complete pricing details of Filmora video editor.
Read Also: Edit & Record Videos in Over 150 Formats
It's a Tool For All!
So, it's all about Wondershare's Filmora video editor. I hope this review will help you decide whether it's made for you or not.
According to me, it's a tool for all. It comes with outstanding features and advanced editing effects with an amazingly easiest-to-use interface so that anyone can easily edit videos using this tool without having any kind of training.
If you're looking for a professional video editor for your video projects and you're new to video editing, Wondershare's Filmora is perfect for you. You should go for it.