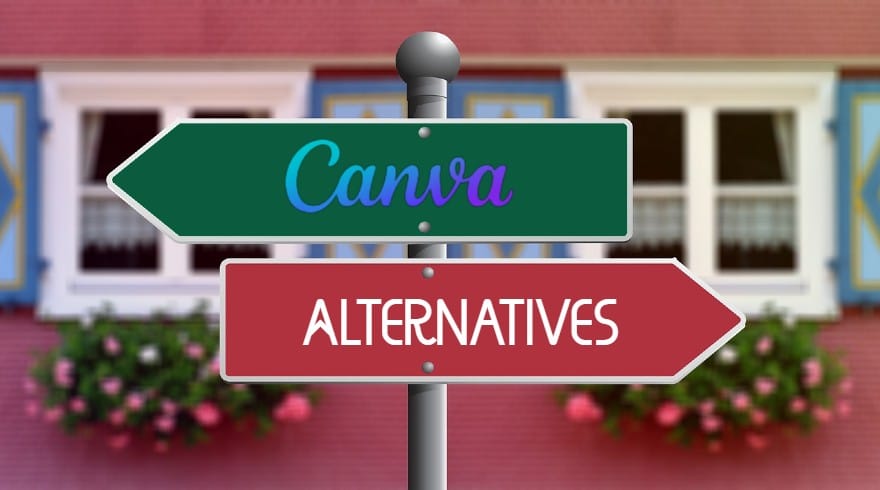 Canva is one of the most popular graphic designing tools worldwide because of its advanced features and premium templates. Anyone can create beautiful designs and graphics by using Canva.
But as a designer, we need to enhance our creativity, and for this, you need to try something new like new tools, features, and modern Templates that take your imagination to the next level.
That's why, In this article, we've listed the top 8 best alternatives of Canva that come with more beautiful Templates, unique features, and easy to design functions.
These are handpicked tools and absolutely free of cost. So, you should try once to see the eye-catching features/ templates of these tools in 2022.
Without wasting a second, Let's Begin!
The Top 8 Best Canva Alternatives [2022]
We've listed the eight best Canva alternatives with their features, pros & cons, and uses. In the end, you can decide which tool is best for your requirements. Let's see!
Snappa is one of the most easy-to-use platforms for graphic designing. Its interface is quite similar to Canva so that you can experience it similarly. And it's a popular alternative to Canva. This tool is so easy to use for beginners in terms of interface, editing tools, and features.
With Snappa, you can create almost any type of graphics because thousands of Attractive templates are available in this tool. It's a drag and drop tool to design anything in a few minutes.
Snappa is more focused on unique Templates, engaging styles, and some unique features that allow you to make more eye-catching graphics. Also, if you're working on the same project with a team, Snappa allows you to work with more productivity. It's a free tool, but you can switch to its premium plan if you want this tool for business or enterprise.
Top Features of Snappa
✅ Big library of Premium Templates/ Graphic/ Photos
✅ Drag and drop feature
✅ Easy to use interface
✅ Comes with magic resize
✅ Allows integrating with social media platforms
✅ You can upload Fonts
✅ Comes with background Removal.
Snappa: Pros & Cons
Pros
It's so easy to use tool
It comes with a user-friendly interface
Best for Beginners
Millions of Templates available in different categories
Design in minutes
Shareable to different social media platforms with scheduling
Automatic image resizing features.
Cons
It comes with three downloads per month in the free version.
A complete free designing solution for beginners to pros. Gravit is popular nowadays because of its easy-to-use features and interactive interface, allowing users to spend more time on this tool to think and design something creative.
Many graphic designers use this tool for editing purposes. No matter if you're a Beginner or a Professional designer, this tool fits for everyone.
Many people are beginners and don't know how to design something creative. Gravit comes with Gravit Klex that allows users to provide premium and eye-catching Templates in different categories to select the best templates as per their requirement and design something beautiful. The best part is, it's more focused on the editing side then it's easy for you to make adjustments as per your requirements.
When you open this tool for the first time, it looks like Photoshop, but after spending a few minutes, you'll understand that it's easy to use and its features.
Top Features of Gravit
✅ Design progress in four stages: Hold/ Progress/ Review and Approved
✅ You can restore deleted designs easily
✅ You have the option to create folders to organize your designs
✅ Comes with a team collaboration feature
✅ Simple but eye-catching editing interface.
Gravit: Pros & Cons
Pros
It's simple and easy-to-use
comes with a team collaboration feature
It has a Modern UI
You can use some keyboard shortcuts
The editing tool is super easy and effective
It has tools and effects to enhance your design.
Cons
For professionals, it's not a suitable tool
It's no longer licensed with GPLv3+ version
Not allow integration.
Crello is a newly listed graphic designing tool in the market. But its standard features and beautiful Templates attract users to use this tool. And the best point, it's completely free to use this tool.
Crello is mainly used for social media posts, animated graphics, advertising, blogs, and marketing plans. If you've any idea in your mind, then Crello helps you make it a reality. This tool comes with a 60 million photos collection, 11k templates, 33 design formats that allow you to do some creative things.
The unique difference between Canva and Crello is images/graphics. Crello allows you to create designs using more attractive graphics and quality images.
Top Features of Crello
✅ There are multiple filters you can use
✅ You'll get more Ready-made Templates, Images, and Elements
✅ Comes with a videomaker feature
✅ It has multiple layouts
✅ Easy-to-use interface
✅ You can upload custom fonts.
Crello: Pros & Cons
Pros
Millions of Premium Templates
It comes with quality animation and graphics
Easy-to-use tool
User-friendly Interface
Useful for beginners
It's light and faster to design.
Cons
Limited format types
Need more interactive templates.
If someone wants to design attractive social media posts, graphics, posters for marketing, and advertising to engage with followers, then Pablo is a beneficial tool for your social post designing purpose.
It's a very easy-to-use tool with eye-catching templates specifically for social media platforms like Instagram, Facebook, Twitter, or Pinterest. Whatever the requirements of design, you can use this tool.
There are hundreds of HD pictures available for you that help select some beautiful images for your upcoming Posts. You can also use some magic filters & fonts to enhance your post looking. It's completely used for social media platforms, and if you have this type of requirement, then Pablo is a really useful tool.
Top Features of Pablo
✅ Thousands of Eye-catching Templates
✅ Comes with Magic filters and effects
✅ Integrate with all social media platforms
✅ You can resize your design
✅ Mainly used for social media management
✅ Comes with photo editing features.
Pablo: Pros & Cons
Pros
Useful for social media management
It comes with many magic filters
You can schedule and post on social media platforms
Allows you to do photo editing
Easy & Quickly ready your design
Amazing Fonts style collection.
Cons
You'll get basic photo editing images
Only available for Website version.
The most exclusive tool for designing purposes is Easil. It's one of the best designing tools and comes with thousands of modern professional Templates that surely help you make eye-catching designs. Anyone can use this tool for designing purposes because it has a drag-and-drop feature.
This tool is better than other tools because it has advanced editing features like drop shadow, glow, curved effects, and many more that make your Design more eye-catching.
As a beginner, you can effortlessly design by using this tool. It also allows team collaboration features to design something beautiful together.
Top Features of Easil
✅ Thousands of professional Templates
✅ Beautiful fonts collection
✅ Background Removal feature
✅ Allows you team collaboration
✅ You can export in JPG, PNG, PDF, GIF
✅ It's more useful for projects.
Easil: Pros & Cons
Pros
Beautiful designs for social media
Allows you to make professional designs
Different sections to manage your previous designs
It comes with many customization options
Easy-to-use tool.
Cons
Not have any filters for Enhancement
Some powerful features you can use in the premium plan.
This is a most powerful tool with tons of amazing features that are surely known as the best alternative to Canva. But you should know that it's not a Photoshop tool Because it looks similar to Canva with premium Templates.
If you use this tool, then you'll make more beautiful designs because thousands of templates, icons, images, and graphics enhance your creativity. It's a free tool, but you need to know that it comes with an Adobe watermark. And if you're a beginner who wants to learn how to design, this tool will help you create some high-quality designs.
It's lightweight, easy to use, and loaded with useful features for designing purposes.
Top Features of Adobe Express
✅ You can access all the amazing features of this tool
✅ Comes with photo editing features for extra enhancement
✅ Thousands of Premium Templates with full customization
✅ You can use the library of Photos, graphics, and elements
✅ A complete kit for editing and Designing
✅ Easy-to-use interface.
Adobe Express: Pros & Cons
Pros
It comes with Branding tools
Thousands of beautiful templates
User-friendly Interface
Easy to use for beginners
Well organized dashboard
A huge library of Photos, elements, and graphics
It comes with content creation features.
Cons
Not useful for animated GIFs
Its web platform is quite tough to use.
One of the most professional tools is Piktochart. This tool allows you to create Infographics, presentations, posters, flyers, reports, and other prints. After reading these uses, surely you'll understand the purpose of this tool. Most businesses and organizations use this tool for professional work, like presentations, posters, and infographics.
Using this tool is easy, and it takes a few minutes to learn how to use it by watching tutorials. Also, prebuilt eye-catching templates are available for you, and you need to select which Template matches your requirements. The best part is, it's completely free to use and the quality of your design exports to high-quality.
Top Features of Piktochart
✅ You can design infographics, charts, posters, and presentation
✅ Easy to use tool
✅ Premium Templates/ Icons and images collection
✅ You can download high-resolution design
✅ Useful for Animation purpose
✅ Comes with Drag and drop feature
✅ Best for professional work.
Piktochart: Pros & Cons
Pros
It comes with high-quality templates
one of the best tools for printing designs
User-friendly Interface
Popular for Infographics
It comes with tutorials for learning easily
Upload images in seconds
You can use its text editing tool.
Cons
To use all features, you need to go to the premium plan.
Stencil is a drag and drop tool for graphic designing and image editing. Its user-friendly interface makes this tool easy to use for anyone. Many bloggers, entrepreneurs, and business owners use this tool as per their requirements. Using this tool is fast, reliable, and comes with amazing features.
You need to know that stencil comes with millions of royalty-free images, fonts, effects, and elements that make your design more attractive. It comes in a free version where you can use all its premium features, but you have a limit to download only ten images in a month. But if you're a beginner, then surely it's enough for you to create eye-catching designs.
It's a simple but useful tool with all the necessary features and resources. Many professionals and bloggers use this tool for designing purposes.
The unique point is, this tool comes with an extension for different OS like Safari, Firefox, Chrome, etc. These extensions come with all the necessary features that build your design quickly.
Top Features of Stencil
✅ It's fast and easy-to-use
✅ You can download High-resolution designs
✅ Hundreds of Modern Templates
✅ Millions of Images and graphics
✅ Comes with 24/7 support
✅ You can download unlimited designs
✅ With one click, you can share on social media platforms.
Stencil: Pros & Cons
Pros
User-friendly Interface
Amazing features
Millions of Graphics/ Images/ Icons
Eye-catching templates in different categories
Many editing tools
Social media integration.
Cons
Wrap Up
Finally, we've reviewed the top 8 free graphics designing tools with their features, pros & cons, and benefits. But if you're still confused about which one is best for you, then I suggest you try each one and see if any tool matches your requirements.
Because these tools help you enhance your imagination/creativity to make more beautiful designs, that's why we've listed the best and free Canva alternatives. You should try these alternatives to find better editing features, modern templates, and new ideas. After reading this article, we hope you'll pick up the best tool that fulfills your work requirements. Drop your comment and let me know which tool you liked the most?