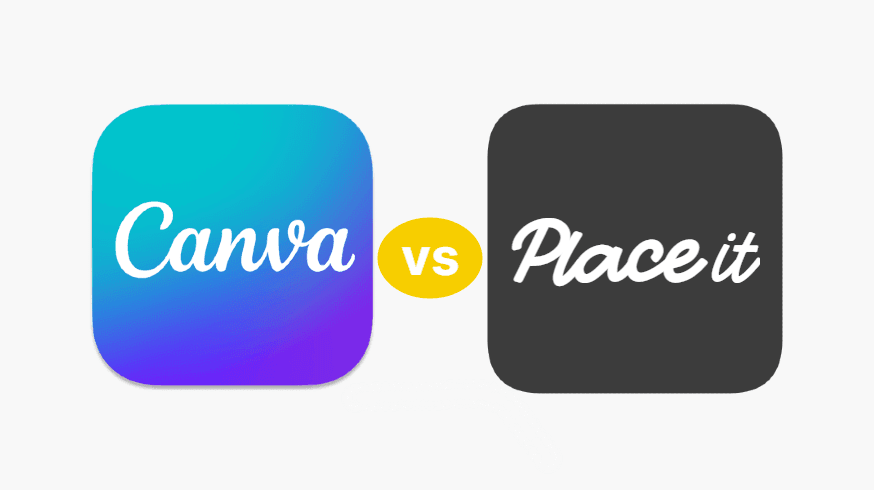 Content creation is the art of making an idea alive. Whether you are a marketing person or just want to convey a message to someone, you need a platform which can meet all your needs and allow you to create something which can represent your thoughts to your audience.
Today we are talking about the two most popular websites Canva and Placeit which set a benchmark in graphic design. This article is about the Canva vs Placeit comparison among the two most popular and high-demand platforms for graphic designing.
Both platforms offer tremendous features to users and allow design presentations, logos, posters, videos, social media posts and much more. In this Canva vs Placeit comparison article, I will share 7 differences between Canva and Placeit that I noticed.
Recently Placeit was known for mockups and it was considered a major difference between Canva and Placeit but Canva also launched the Smartmockup feature for users so let's see what are the other differences between Canva and Placeit.
7 Differences Between Canva and Placeit
Key differences between Canva and Placeit are mentioned below. These differences are based on basic features and quality. It will frame a clear image in front of you that which application is suitable for you.
1. Templates
Canva claims to have 2,50,000 free templates and 6,10,000 pro templates in its library which includes social media posts, infographics, A4-size documents, posters, ads, postcards, and invitations. Animated professional templates are also available in Canva.
Placeit claims to have 85,000+ exclusive designs for users but limited ones are available for free users. Placeit adds 600 new templates every week continuously. Templates are available for video, intro, logo, and mockups. If we compare Placeit's templates library with Canva, Canva offers more templates for free compared to Placeit.
Canva is better if you want to customize according to your own idea whereas Placeit is good for ready-to-use templates, especially for mockups and gaming templates.
2. Quality and Format
Canva offers various formats for downloading like PNG, PDF, and JPG for images and MP4 for videos. As mentioned above, there are many free templates available to edit and download for free at Canva. Printable designs are also available in high resolution. Social Media Posts like Facebook and YouTube templates are also available in suitable sizes.
Placeit also offers amazing quality but format options are limited. Only a few templates are available which you can edit and download for free otherwise if you are using a free account you have to pay for your download. Changing the format is also challenging with Placeit.
With Canva you can directly download your designs in almost all possible formats. Both offer good quality but some users complained that printable products don't look similar after printing with Canva.
3. Usability
Canva and Placeit both websites are user friendly and easy to use. Canva has a simple-to-use interface with well-structured categories. This is so simple and easy to use that even a beginner with no knowledge can create posts and videos using Canva. You can change fonts or add animation to your text in seconds if you are using Canva.
Placeit is also simple to use and you can create different designs. Customization options are limited in comparison to Canva. Placeit allows you to place your own image as a mock-up on social media posts as well. Adding transitions is simple but there aren't more options to apply to your designs. Most of the things are ready to use in Placeit.
Customization options are limited in Placeit in comparison to Canva.
4. Designs and Elements
Canva has a full bucket of elements, illustrations, templates, GIFs, videos, and stickers which you can also customize. You can change colour as per requirement. There are a number of options for gradients also like you can select different style gradients and shapes. A free stock image library is available with a number of pictures and you can also upload your own pictures.
Placeit claims to have the largest collection of mockups including wall art mockups. Designing templates are also awesome. You can soon have animated, professional and spooky art in your designs. There is an option to switch out imagery, after that, you would be able to check templates for various platforms like YouTube, social media etc.
You can find attractive images in the free stock library and upload your own images as well in Placeit while Canva has an amazing collection of illustrators.
5. Feature
Basic features are the same in Canva and Placeit. Canva allows users to change the background colour and add animation and effects to images. Different text styles are also available including glow effects. A chart option is also available for logical representation. You can create different types of designs for various purposes and platforms. Free stock images and music for designs are also available.
Placeit offers limited features in comparison to Canva but basic features like changing colour, fonts, music, and free stock images are available. In case you are expecting GIFs, gradients, and different style animation effects then Placeit will be a cause of disappointment for you.
Canva offers more features for free but if you want different designs and a huge collection of mockup templates, Placeit would be a good option.
6. Audio
Both platforms allow you to add music to your designs. Canva has audio files which you can add to your video or social media posts. Canva provides built-in music for background and advertising which you can drag and drop into your videos.
Placeit also allows you to add music to your videos but audio cannot be adjusted in a simple way with the design in comparison to Canva. Placeit videos are not available for all templates. In video templates, audio files are built in. There is an auto switch that allows you to enable and disable audio from there.
If we compare both, Canva has a variety of music files and you can change inbuilt audio as well but Placeit doesn't allow this in every template.
7. Pricing
Canva offers a free, pro and team plan. The pro plan costs 3,999 INR/year and the team plan costs 6,590 INR/year. The free plan offers sufficient features for an individual user but you can upgrade to unlock more features.
Placeit pricing has two options; you can pay for a single download or you can pay for an unlimited plan. The plan starts from $1.97/month which is around 1,950/year in INR and allows unlimited downloads. It allows you to create a free account also that comes with limited features.
We can see here that the pricing of Placeit is nominal but Canva's free version is enough for small projects and those who are not using it on a professional level.
Canva Vs Placeit Comparison of Free Features
We have seen differences between Canva and Place plans. As we already discussed, Placeit allows you to create a free account if you don't want to take a paid plan. Now it's time to see what are the free plan advantages of both.
Canva is offering these key benefits in a free plan:
250,000 templates are available for free.
You will get design training at a free design school on a free account.
You can add animations to your design.
5 GB cloud storage is available for free.
Huge library of free stock videos, photos, stickers, and gifs.
Placeit is offering these key benefits for free:
You can download free templates but a few templates are available for free.
You can convert videos to GIFs for free.
Limited customization options for logo designing.
Are There Any Similarities Between Placeit and Canva?
Both platforms are for graphic designing and allow users to design graphics for social media, blog posts, and more. Although Placeit is more focused on mockups. Both allow you to customize existing templates and add music files. You can customize templates using elements.
As both Placeit and Canva offer similar services, there are similarities between both platforms but some features and services are extra in Placeit and others are in Canva. The basic features of both platforms are the same.
Pros and Cons of Canva
Pros
Features are easy to use, just drag and drop to create a new design.
Adding effects and customization are also easy-to-use.
Transition and text options are available on the front page.
The free stock photo library is large and of good quality.
You can create different designs using elements, gradients and shapes.
The team feature helps in collaboration with other members for big projects.
Cons
App integration and its range are limited.
The unique graphic creation is challenging as elements are common.
You cannot take backup of your projects.
This application is challenging to use for small screens like tablets.
You have to be focused on one design only, you cannot swap or jump to another design while creating one. You can open a new tab to check or create another design.
Pros and Cons of Placeit
Pros
Variety of mockup designs available.
Placeit is the largest cloud-based mockup collection.
The video-to-gif converter is available.
The most suitable platform for creating eCommerce mockups.
You can also create wall art mockups.
Tutorials are available for beginners.
Spooky templates are also available.
Cons
No pre-set branding colour scheme.
Features and effects are limited for social media posts.
In the video section, category and size options are in a scattered form which takes more time to select.
Conclusion
In this article, we have discussed the similarities and differences between Canva and Placeit. This comparison report will definitely help you to analyse which graphic design platform is the most suitable for you.
For a bonus tip, if you are a beginner and want to complete multiple tasks like logo, and social media posts for free, Canva would be great for you. If you want to create classy mockups for your brand and won't mind paying for mind-blowing templates, Placeit is for you.