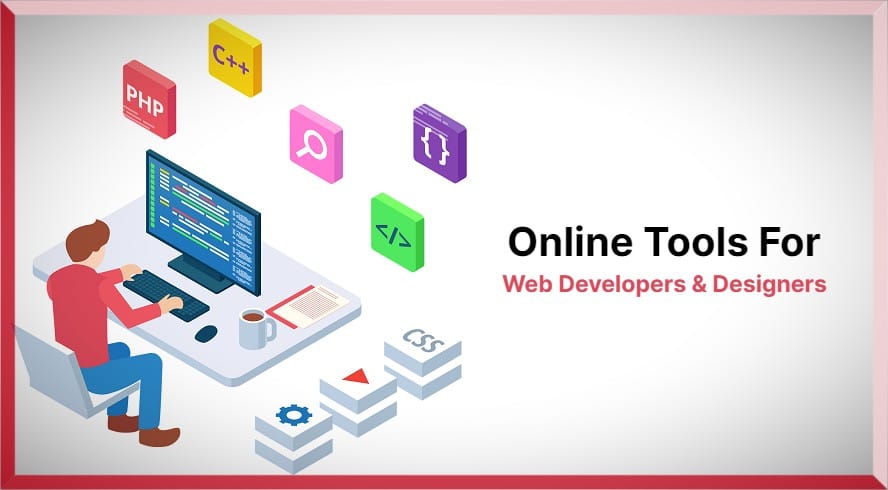 In the last couple of years, demand for different, unique, and advanced websites has increased because the number of websites is increasing every single day. Being a web developer you have to do it. So if you are a web developer and looking for some tools that can enhance your creativity and level up your skill, this list of 10 best online tools for web developers and designers will help you.
What do you need for an advanced and stand-out website? You need a catchy UI, perceptive logo, different fonts, a coding environment, etc. Keeping all these things in mind, this list has been made, in which you will get all kinds of useful tools.
Nonetheless, let's continue and move forward to the list of the best online tools for web developers and designers. And also know how these online tools will help you in web designing and development.
10 Best Online Tools For Web Developers and Designers
Website designing and development both are equally important tasks to make a unique and great website. So, here we mentioned tools that will help you in the designing part as well as the development part.
A fantastic text editor that is recommended for everyone who codes. Its easy-to-understand UI, make it the best for everyone. VS Code has everything that you need as a front-end developer. Let you know that the completely free text editor is available for Web and app versions.
Although it has all the features that a text editor should have, it has some such features, due to which we added it to the list of the best online tools for web developers and designers. And those features are code hinting, auto code completion, debugging, and Built-in Git.
Using different or unique fonts on a website is one of the ways to stand out the website from others. That's why web designers use different font generators. As we are talking about the best tools so we will consider you to use WebFont Generator By Creative Fabrica.
It is a free font converter by Creative Fabrica. Here you can convert any font to web fonts. You just have to upload the font in OTF or TTF format, and then the generator will give you the converted web fonts.
Google Fonts is one of the best websites to download free fonts. The first thing you will love about Google Fonts is it is completely free. You can use Google Fonts to do two things while creating a website; to select the font of your choice and secondly for the icons.
It is a tool by Google that provides 1451 Font families and thousands of icons to download and use on websites. And the best part is you can customize the available icons by selecting grade, optimizing size, and weight.
Figma is one of the top designing tools that designers use to create a better user interface. It is a collaborative UI design tool that allows you to create a design with your team members. It is completely free for individual users, but to use its collaborative features you have to buy its subscription plan.
Figma has all the features that you need to create a UI for your website. With the help of Figma, you can create UI from basic to advanced levels for any type of website.
As you know, we use multiple types of fonts while creating a website. But, picking good fonts is not enough. We have to manage all the used fonts so that they can perform and look very well. And you can use font managers to do this.
Again, we will use a tool from Creative Fabrica. It is an online Font Manager tool that lets you manage all used fonts on your website. Some of its features are Drag & Drop fonts, 2GB of free storage, and secure backup. And the interesting thing is it is free to use.
Reviewing the code is an important practice when creating a website or software. By doing a code review, you can find the bugs earlier, maintain consistent design, performance optimization, etc. Also, you can monitor the workflow of the entire team. But to do all this, you need an advanced coder reviewer.
The collaborator online code reviewer of SmartBear can do it very smartly. Its salient features track & manage the defects, provides custom review templates, real-time chat while reviewing, ensure the authorized edits and review, provide a proper report of the review process, save reviews to a zip file, etc. It is a completely paid tool but provides a free trial.
CodePen is an online tool that helps in writing code online. Here you can write HTML, JAVA, and CSS languages. Its unique and special feature is that as you go on writing the code, you will see a live preview in it. Apart from this it has many other free and paid features like its code library, various views, and different modes.
You can start writing the code on CodePen without signing up or logging in by just clicking on the Start Coding button on the left top corner. While writing, you can also save your code which can be accessed at any time. One more interesting feature it has is you can write code here with your team by using CodePen Pro.
Here is the tool that will help you in designing. Doesn't matter if you are not a pro in designing, Canva provides you with ready-to-use templates. You can customize these templates according to your use. Although Canva is free-for-all users, all the available templates are not free. You have to upgrade to its Pro plan to use all the listed templates.
The things you can do on Canva related to website designing are; website template designing, logo making, poster creating, graph making, and graphics organizing. Along with these things, you can make presentations, social media posts, collages, wallpapers, and many more things on Canva.
The third online tool for web developers and designers is Place It. Basically, it is a design tool like Canva. You can use it if you are making a product-centered website, as most of the features are product advertising related. You can create a free account here and use some of its templates, but it's not completely free.
Although Place It has various features, the features that a web designer and developer can use are; logo design, text animation, and ready-to-use mockup templates. The thing that I liked most about Place It is there are 12 categories and more than 50 subcategories to create a unique logo.
If you manage or create a website on which there are many images or images uploaded regularly, your website may slow down. To avoid this, you should use a slightly smaller size image than normal.
There are many online image converters available with which you can easily shrink the image. ImageCompressor.io is one of them. It allows you to compress images into four levels; Normal, Good, High, and Extreme.
Here we are done with the list of 10 best online tools for web developers and designers. All the listed tools work very well in the web version, you don't need to download them at all. You just have to click on the link and start using the tool to create a website that can stand out from other competitors.