Whether it is office work or our own study, we ever need to create flowcharts and diagrams for well understand the statics and other data. Usually, the technical diagrams and flow charts are very difficult to design that's why there are several online web tools available on the Internet to create the process flowcharts and work diagrams free of cost.
However, you'll have to create them manually on these web tools but still, you'll feel very simple and easy to create flowcharts and diagrams.
Websites To Create Free Diagrams & Flowcharts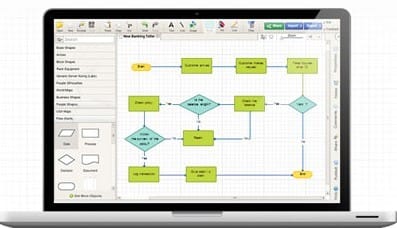 Now, look at these web tools which enable you to create free diagrams and flowcharts online:
Creately is a broad platform for creating diagrams and flowcharts online. Honestly, you should sign up here to use its services but still for demo or testing you can use it without registration. It provides a very easy and fast mechanism to draw flowcharts and diagrams online and also enables you to collaborate your work with anyone from anywhere online.
As you'll visit this website, you'll have to select the place where you want to save your work and then start creating a diagram. Draw.io is a fantastic online web tool powered by mxGraph. It also provides you to a fast and easy methodology to create diagrams and flowcharts online absolutely free.
Lucidchart is also a popular website that enables you to make flow charts, wireframes, mind maps, and org charts. As we all know that UML can be frustrating or time-consuming. That's why it has designed a UML diagram tool that takes away the pain. So, go through the website and start creating diagrams and flowcharts online for free.
Gliffy is another online diagram and flowchart software that helps you to create professional-quality flowcharts, Org charts, UML diagrams, Network diagrams, Wireframes, Technical drawings, and more. Gliffy works directly in your browser!
Cacoo is a user-friendly online drawing tool that allows you to create a variety of diagrams such as site map, flowchart, mind map, wireframe, UML diagram, and network diagram. Cacoo can be used free of charge. You must register with Cacoo to start creating flowcharts and diagrams online.
FURTHER READING:
Guys, these are the best websites or online software to create diagrams and flowcharts online for free. I can't say that which is that best because all of them are very splendid and dominant.