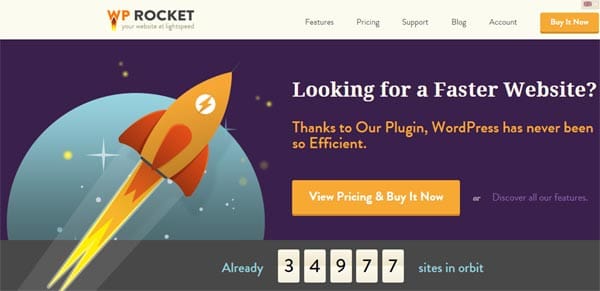 Till now in my blogging career, I have used different WordPress cache plugins to speed up my website loading. Some of the popular plugins for the cache are WP Super Cache, W3 Total Cache, etc. I used WP Super Cache on AUI for almost 2 years but one day I found my secret of speed – the WP-Rocket plugin. Currently, I'm using it and never wanna leave it out because it helped me to make my website loading 10 times faster than before.
It's a bit like boosting WordPress on steroids. It works better, faster, and more efficiently. It is very different from WP Super Cache and W3 Total Cache plugin. How? The following features of it will explain.
Here're the Important Features of WP-Rocket
WP-Rocket is very fast, efficient, and easy to use WordPress cache plugin and I couldn't find the exact alternative to it till now.
Look at some of its important features that you will surely miss in many other cache plugins:
It has a very simple and quick setup
It supports page caching
It has cache preloading feature
GZIP Compression
Automatic Browser Caching
Google Fonts Optimization Feature
It lets you Lazyload your blog's media
Minification/Concatenation
Image Optimization
Defer JS Loading
Cloudflare Compatibility
Lets you easily add CDN
Mobile Detection
Multisite Compatibility
Ecommerce Friendly
Multilingual Compatibility
Developer Friendly
AND MANY MORE…
So, have you ever seen such a great list of features in any other cache plugin? I'm sure no! I tried and tested almost all the popular cache plugins for WordPress and never find such a great list of essential features.
Now, let me tell you how you can install this plugin to your WordPress blog by replacing the other cache plugins.
How to Get WP-Rocket WordPress Plugin
To install the WP-Rocket WordPress plugin, the first thing you should know is that it's NOT A FREE plugin! In fact, you will have to purchase it.
It has three different plans – Personal, Business, and Pro. The personal plan opts for 1 site in $39 for 1 year. I use a Personal plan for my blog. For more plans and details, visit THIS LINK.
Once you will buy the plan it will let you download the plugin and upload it on your blog easily.
How to Setup WP-Rocket WordPress Cache Plugin
Once you've uploaded and activated WP-Rocket plugin on your WordPress blog, it's just a few steps away. In your WordPress dashboard, go to Settings > WP Rocket, and the very first screen comes in front of us is Basic options.
The following screenshot describes how I configured the Basic options for the WP Rocket plugin.
It's that simple! Other than this, you can enable your CDN and Cloudflare using the WP Rocket plugin without any hurdle.
That's all guys. I recommend you to use WP Rocket WordPress plugin for not only caching but also for GZIP compression, magnification, browser caching, and many more reasons.
Further Read:
Still, if you stuck anywhere or feel any difficulty in installing or configuring the plugin in your WordPress site, let me know via comments.