Search engines like Google are continuously updating their algorithms to make search results more powerful and accurate. So, it's not the time to rely on limited SEO techniques of a few years back. You would know that Google is now considering the website's responsiveness and website loading speed as the most important ranking factor. So, if your website's loading speed is not good, you're going to lose your hundreds or thousands of visitors.
So, in case of testing your website's responsiveness, I already provided some tools to check out how mobile-friendly your website is. Now, Here I brought 3 very accurate tools to test your website's loading speed. But, there are a few things you should know before testing your website's loading speed:
Page load times are measured in seconds
The lower the number, the faster the page loaded
Many SEO firms say page loading speed should be less than 3 seconds
According to me, it should be less than 2 seconds or near 1.5 seconds
According to me, speed shout is less than 2 seconds because John Mueller from Google was said "2 seconds disrupts CRAWLING activity, not RANKING ability". So, however at an average 2 seconds page loading speed, your ranking ability won't be disturbed but if you will be less than 2 seconds, your crawling ability will also be fantastic and won't be disturbed.
Now, without taking your more time, let me tell you some of my favorite tools that I sometimes use to test my website's loading speed. These tools are my favorite because they provide the most accurate and reliable results.
Dotcom-Monitor Website Speed Test Tool
Dotcom Monitor's Website Speed Test is a free tool that lets you test website and page speed and detects performance issues from around the world.
It enables users to test their website from 20 locations worldwide, including cloud-based tests (Amazon-US-East) and from behind the Great Firewall of China (Shanghai, China).
Once a test is complete, users can select "details", drilling into robust performance reports and waterfall chart analysis.
Pingdom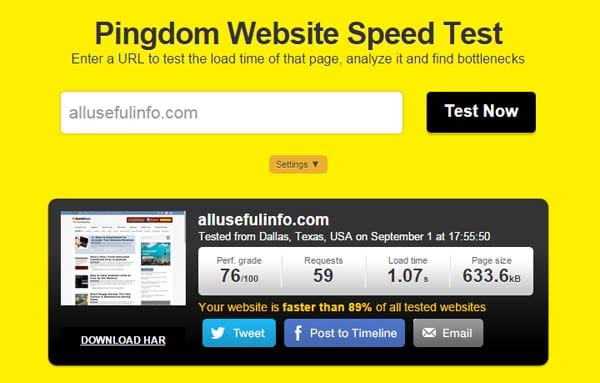 Pingdom is a great online service that tracks the uptime, downtime, and performance of websites. It also consists of the website speed testing tool which provides accurate reliable results.
It tells you the number of requests on your web page, the size of the page, and all the requests done to load that page. So, with all this essential information (details about every single element of a web page such as HTML, JavaScript and CSS files, images, etc.) about the webpage to get some idea that why your website loading is low.
GTmetrix
GTmetrix gives you insight into how well your site loads and provides actionable recommendations on how to optimize it. It gives you page speed and YSlow scores, page load details (time, size, and a number of requests), and much other important information such as different analysis options, waterfall, etc.
GTmetrix lets you analyze the loading of your site from different regions around the world to see how users in the area would see it. So, GTmetrix has many more outstanding features to check the website's performance easily.
Monitis Page load
Monitis Page load free tool that allows to test website speed from multiple locations around the globe and get a complete analysis of load time of all elements of the web page.
The best thing about this page speed testing tool is that it simultaneously tests your website speed and performance from the US, Europe, and Asia. And gives you complete information about the number of requests on your webpage, the size of the page, and the loading speed.
MORE ARTICLES TO READ:
That's all! Let me know how did you find these website loading speed checker tools! Also tell if you feel any problem in using them or anything you wanna ask about website loading speed, feel free to comment below. 🙂