Search Engine Optimization (SEO in short) is one of the most important factors we all should take care of while running a blog or website. Indeed that content is king and you write quality content but other than the quality content, there are so many factors that you should consider while setting up a blog and writing an article. However SEO is a broad topic of discussion, but here I will only tell you about the best SEO plugin that will help you maintain your WordPress blog SEO.
If you're not using a WordPress SEO Plugin, then there may be various tasks you would have to be done manually such as adding site title, description, posts title and description, optimize category and other archive pages for search engines, and more, so all these tasks may be a hassle for you but an SEO plugin makes all these tasks very simple and hassle-free.
Moreover, as you would know that search engines like Google hate the tactics applied for search engine optimization so you should ignore the plugins that provide extraordinary SEO functionalists and features.
The Best SEO Plugin I Use For All Useful Info
For beginners, I would like to share a WordPress SEO plugin that I also use for this WordPress blog (All Useful Info). I know if you've a little knowledge about SEO plugins, you might be thinking about SEO by Yoast, but I don't use it! So, what? Guys, I use a very simple and easily configurable WordPress SEO plugin called All in One SEO Pack!
Of course, when I started this blog, I installed SEO by Yoast WordPress Plugin and I really liked it because of its lots of amazing features like keyword density checker, etc. but on having a bad effect on SEO, I thought that by using this plugin I'm over-optimizing my blog and search engines hate it. That's why uninstalled it and installed the new one i.e. All in One SEO Pack.
However, I can't say that the SEO by Yoast plugin is a bad SEO plugin because many popular bloggers around the world consider SEO by Yoast, definitely when I installed that plugin there may be a fault in myself.
But, after started using the All in One SEO Pack plugin, I found that my articles and website start ranking in search engines and even this plugin has no extraordinary features like keyword density checker, etc.
How I Use All in One SEO Pack WordPress Plugin
So, now I will tell you how I use the All in One SEO Pack WordPress plugin and what the essential and minimal settings I use for All Useful Info.
First of all, let me tell you that I use this WordPress SEO Plugin for only a few settings like Home Page Settings, Title Settings (for posts, categories, or archives), and Post title descriptions while creating each post.
(I suppose you've installed the All in One SEO Pack) It's very easy to create a home page title and description with the All in One SEO Pack WordPress Plugin. (In your WordPress panel) Just Navigate to All in One SEO > General Settings and scroll down page to Home Page Settings. Below you can see how I've set up the Homepage with this SEO plugin.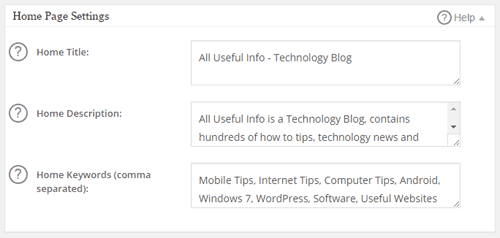 Now, I will show you how I use the title settings for posts, categories, and archives. The following screenshot says the all.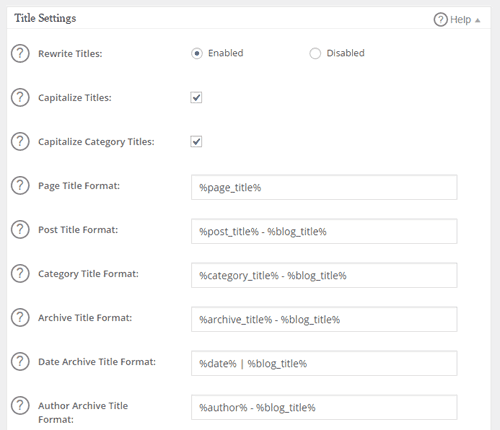 And here's how I configure the search engine preview snippets with this All in One SEO plugin for each of my blog posts.
So, this is all about the setting I use with the All in One SEO Pack plugin on this WordPress blog. Also, tell me how do you find this article and the plugin I suggested to you!