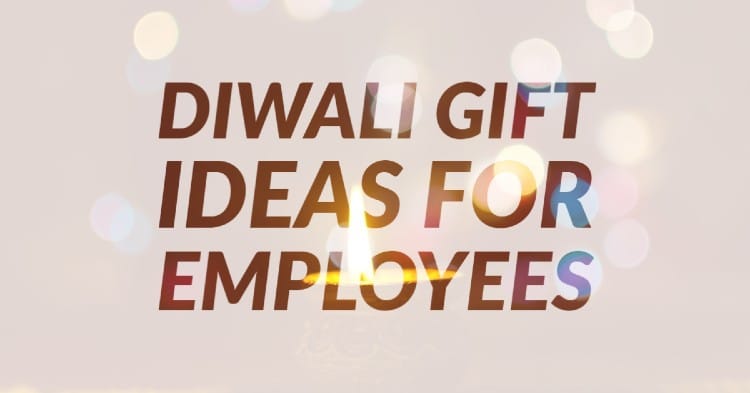 Diwali is around the corner, and it is that time of the year when the work environment is filled with festive vibes. It is one of the most favourited and celebrated Indian festivals worldwide. It is the best time to initiate excellent and warm relationships with your employees that go beyond work talk.
It is an excellent gesture to make your employees feel valued and cared for by showering them with gifts. The small initiative that goes into thinking of the perfect Diwali gift for your employees goes a long way in making them feel crucial and helps in building a strong professional relationship.
Gifting your near and dear ones is easy because of the personal bond that you share with them. But when it comes to corporate gifting, a lot of indecisiveness and confusion occur as you have to make sure that the gift reflects the warmth and is meaningful without sabotaging the formal code of conduct.
Choosing the perfect gift for your corporate employees among hundreds of options available in the market does feel like a tough task. Don't worry, we've got you covered!
Here we have compiled a list of 20+ unique gift ideas for corporate employees that will help you in opting the perfect gift for your employees this Diwali.
1. Dry Fruit Basket
Gifting assorted Dry fruit sets is one of the most classic and elegant looking gift options. Apart from the health benefits, it is easily transportable and easy to handle, which makes it a perfect gift option for your corporate employees. It also comes with a variety of packaging and budget ranges to choose from, which also makes it suitable as bulk corporate gifts.
2. Customized Goodies
If you wish to be more creative and unique for your Diwali gift, you can always opt for custom made gifts. It brings an added personal touch to your gifts and helps in making it more special and memorable.
There are a variety of gifting options available that are appropriate for the professional sphere like engraved metal pens, coffee mugs, photo frames, keychains, pen holders, etc.
Once you've decided on the gift, you can either engrave your employees' name in the gift, or you can add a name tag of your employee on the gift to add that personal touch you wish to give.
3. Aromatic Candle Set
Another brilliant and elegant option to gift your employees is candles. Beautiful, decorative, colourful, and scented candles will serve as a perfect gifting option for the auspicious occasion of Diwali. Apart from being a fine interior accessory, it also helps in relieving stress which will be loved by your employees for being such a nice and thoughtful gift.
4. Chocolates
Who doesn't love chocolates, right? It is a perfect go-to gift for every occasion. You are sweet by gifting sweets! You can choose from a range of flavours, ingredients, handmade chocolates, colourful packaging, etc. to make it even more lovable. So whenever in doubt, always go for chocolates!
5. Electronic Gadgets
What gift can be better than the ones people can actually use in their daily lives, right? Electronic gadgets are one of the most popular gifting options as it not only serves the purpose of gifting but also is quite loved by 21st-century people for being tech-friendly.
You can choose from a wide variety of options like smartwatches, fitness bands, earphones, MP4 players, and much more. Your employees will cherish those gifts forever!
Related: 10 Best Gift Ideas For Your Tech-Savvy Friend
6. Home Decors
All love beautiful home décor items, be it a painting, wall-hanging, showpiece, or a simple good luck idol. It is a great way to nurture your professional relationship by reflecting your genuine efforts in picking up the right item. You can get a wide range of home decor items online, and it is also one of the most loved Diwali gift ideas for employees on a budget.
7. Gift Cards
A Gift card comes quite handy and serves as an easy go-to gift option for gifting. It is really a time-saving option as not much research is needed on what to give your employees. It also has an added advantage of giving your employees the freedom to choose from a range of options so that they can use the gift card in getting the item they prefer the most. It can be a great Diwali gift idea for employees under 2000/-.
8. Calendars
Custom made calendars with the company logo, motto and history is yet another good option for a Diwali gift idea for your staff. This is a widespread yet useful corporate gift option. You can customize your company's calendar by adding the company's services, success stories as well as quotes of the month to add a personal touch to it.
9. Leather Accessories
If you wish to go more classic with your gift, you can go for various leather accessories like belts, laptop carry bags, wallets, keychains, etc. There are a variety of combo gifting options available online.
10. Go Eco Friendly
Plants are always an excellent option for gifting on almost every occasion. They provide an elegant touch to the place. Bonsai plants are often gifted for good luck and success in careers. That's why it will serve as a great option to gift your employees this Diwali.
11. Notebooks and Business Diaries
Notebooks and corporate business diaries are a perfect gift option for your employees, especially administrative assistants and secretaries. It will help your employees to take notes, create plans, and keep track of all the office related work. It can also be gifted to your clients. Customize it with your company's name, and you are all set with the perfect gift for your employees this Diwali.
12. Household Goodies
Another beneficial corporate gift option is household and kitchen essentials. You can go for thoughtful and useful modern kitchen gadgets like hand blender, air fryer, toaster, coffee machine, etc. The added benefit of gifting household gadgets is that your employee's family is going to love that too!
13. Work From Home Furniture
With the trend of work from home being on the rise, some useful furniture items will help your employees in staying organized and focused. It will ensure their productivity even while working from home.
14. E-books
Reading is a great way to ensure one's constant learning and productivity. It also helps in keeping your employees feel motivated. E-books are indeed one of the best Diwali gift ideas for employees under Rs. 500.
15. Subscription Cards
This is one of the unique ways to show your employees how much they mean to you. You can provide them with a subscription to any kind of services that you feel they will love, be it an online course, movie or music streaming services, or even a magazine subscription. Surprise your employees with a free subscription, and you are going to love their reaction!
16. Digital Photo Frames
Opting for digital photo frames serves as a simple yet great option to gift your employees. This will indeed make for a perfect Diwali option that too within your budget!
17. Grooming Hampers
Another unique gift option for your employees is a grooming kit. It includes a variety of gender-based grooming products that your employees will definitely love.
18. Yoga/Gym Subscriptions
What's more important than the health and well-being of your employees? Gifting them yoga or a gym subscription will definitely make them feel important and cherished. It will also boost their health and productivity.
19. Budget-Friendly Accessories
If the budget is your concern, you can always opt for budget-friendly accessories like coffee mugs, pen holders, stationery items, tie sets, posters, etc. They are a good option for bulk gifting and are definitely one of the best Diwali gift ideas for corporates.
20. Bedding, Bed Linen, and Other Products
Diwali precedes winters. So gifting bedding products like warm and cosy blankets or beautiful printed cushions can be a good gifting option for your employees this Diwali.
21. Delicacies
Food never lets you down! Gifting sweets, dry fruits, or other delicacies can easily be opted as a brilliant option to gift your employees on this special occasion of Diwali.
22. Spa Vouchers
Surprising your employees with spa vouchers is another excellent option as they can spend their holidays relaxing and getting a spa treatment which will make them feel refreshed and rejuvenated.
Read Also: 10 Coolest Gifts for Aspiring Filmmakers
Hope this article helps you in choosing that perfect gift for your employees and creating a healthy and beautiful corporate bond this Diwali.