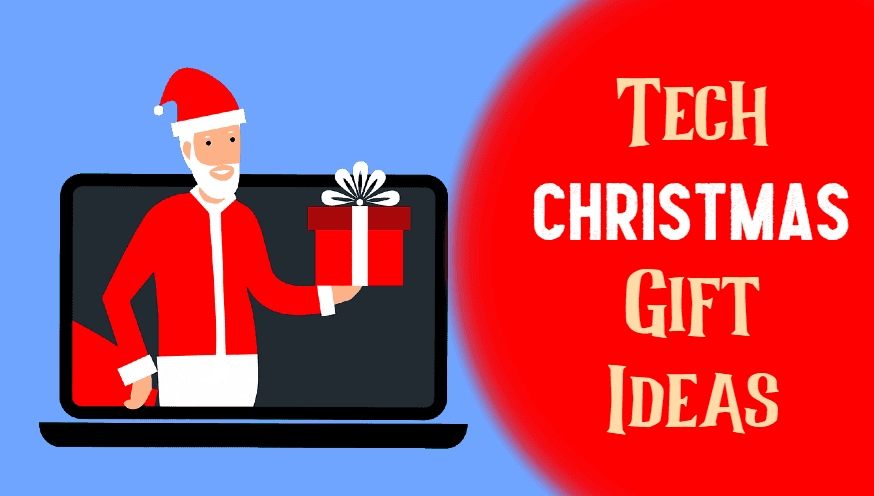 Christmas is around the corner and the shopping season is On! Thinking of the right Christmas present to give your family, friends, or colleagues is herculean, especially if you are looking for tech gifts.
But with the incredible advances being made in technology, it's quite easy to choose the best tech gift for this Christmas 2022. Here is a list of some incredible tech gift ideas for Christmas which will surely bring a smile to the face of your loved ones.
1. Apple AirPods Pro (1st Generation)
The AirPods Pros from Apple offer the best wireless headphone experience owing to its best quality sound and active noise cancellation. It is very easy to set up, has Bluetooth 5.0 connectivity, and is also resistant to sweat and water.
Its Transparency Mode lets you hear the outside sound to interact. The pods come with three sizes of silicone tips to give a comfortable fit in the ear. Wireless Charging Case makes sure you can charge the Airpods anywhere while on the go. The Apple AirPods Pro is one of the best Christmas gifts that you can give your tech-savvy friend or family member.
2. JBL FLIP 5 Speaker
For your music lover friend or colleague, grab this JBL FLIP 5 Bluetooth Speaker. It is waterproof up to a depth of 3 feet, which makes it perfect for a pool party, Raindance party, or beach. It offers 12 hours of playtime and premium-quality sound.
JBL FLIP 5 Speaker is the best party accessory anyone can have as it can be paired with multiple Bluetooth speakers to give that boost to the party. It comes in 11 vibrant colors, so choose the one that adds to the Christmas feel this season.
3. Fitbit Versa 3
While talking about the best Christmas gift gadgets in 2022, how can we miss the Fitbit Versa 3? In today's time where people have become more aware of the benefits of staying fit, technology has gifted us with the Fitbit Versa 3 smartwatch. It has everything that one needs, i.e. Inspiration, Motivation, and Personalization.
This is a perfect gift for fitness enthusiasts. It will not only track the heart rate and pulse but also gauge the efforts that you will put into exercising by using your resting heart rate. Its built-in Google Assistant will keep you updated with news, alarms, or reminders that you have set, and also let you control your home devices. This is an all-in-one smartwatch and comes in many colors.
4. Wireless Mobile Gaming Controller for Android
For all the gamers out there who love to play games on their smartphones, the Nacon MG-X PRO wireless mobile gaming console controller is a dream come true. This is designed for Android and Xbox that comes with a console controller and an extendable phone holder.
The design is very cool and fits comfortably in the hands to give the exact feel of a game controller. This gadget is sure to up the level of playing games on mobile phones and also makes it to our list of best tech gift ideas for Christmas 2022.
5. Digital Photo Frame
Photographs capture the memories and keep them alive forever. With the advancement in technology, we can now keep these photos close to our hearts in digital format. A digital photo frame can be one of the coolest tech gifts for the Christmas festival.
Be the Santa of memories for your loved ones this festive season. The Skylight Digital Photo Frame is an ideal gift for your grandparents, parents, or relatives. It has a touchscreen display with a simple design.
6. Temperature Control Smart Mug
Winter is here and all you crave is a hot cuppa coffee. For all your coffee-lover friends, here's the Temperature Control Smart Mug that will keep the coffee warm for up to 1.5 hours and for indefinitely if set on its charging coaster.
The Smart Mug can be connected to an app on your phone for temperature control. This is an intelligent mug that wakes up as soon as hot liquid is poured into it and goes to sleep when not in use.
7. Kindle Paperwhite
Is anyone from your friends or family an avid reader? If yes, then nothing can make them happier than carrying a whole library with them wherever they go.
The Amazon Kindle Paperwhite makes reading possible anywhere and anytime. It is backlit and is easy on the eyes even in the dark. It houses thousands of books and also allows audible subscriptions. It surely counts as one of the best Christmas tech gifts for 2022.
Conclusion
Whether one owns a gadget or not, receiving one as a gift surely makes it special. The above listed are some of the best technology Christmas gifts for 2022. You can buy them from online shopping websites like Amazon, Flipkart, etc., or buy from your nearby store.
These gifts are thoughtful, impressive, and useful. The recipient will remember it as their perfect Christmas gift for a very long time. So, pick the one that is perfect for your loved one and be their Santa this Christmas.