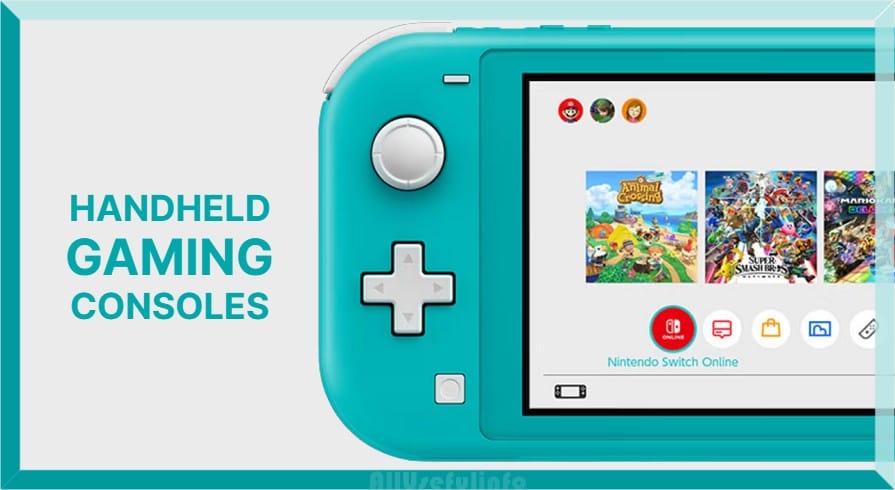 PS 5, Xbox, and many other gaming consoles are there in the market and these are top in the segment. My question to you is do you think all these consoles can replace portable and handheld game consoles? Most probably, your answer will be 'No' if you are a seasoned gamer or passionate about gaming.
You know that every time you can't play on the big screen or a PC and every time you can't carry the big gaming consoles where ever you go. It means no gaming when you are outside of your home or traveling. But because, being a gamer, you know about handheld game consoles and understand their importance, then you will not have to face this.
What are the Handheld Video Game Consoles?
In case anyone doesn't know, handheld video game consoles are portable video game consoles that are small to hold in your hand (something like a smartphone) but let you play all the games with a transcendent graphics card and other technical specs like a 3D screen, SD memory cards, Bluetooth, etc.
Because of the small size, you can carry these video game consoles anywhere. And the most interesting part, these handheld game consoles supports all games that you can play on PS5 and Xbox.
Top 5 Handheld Video Game Consoles in India [2022]
In this article, I will talk about the top 5 handheld video game consoles in India. Many companies are regularly launching their handheld video game consoles. This article will help you to choose the best handheld gaming console available in India to buy this year 2022.
1. One XPlayer 8.4 inch
It is one of the most interesting and expensive handheld game consoles available in India. May 2021 launched One XPlayer 8.4inch has all the tip-top features that are required in a best portable handheld game console. However, One XPlayer has three different variants; Ultimate, Pro, and Standard. All these variants come with different configurations and the same layout.
The top-of-the-line Ultimate variant has Tiger Lake i7 1185 G7 processor. The Pro variant has Tiger Lake i7 1165 G7. And the Standard one has Tiger Lake  i5 1135 G7 processor. Here, we are talking about its top-of-the-line variant, Ultimate, which costs 1,89,309 INR in India. Moreover, the technical specs of One XPlayer 8.4inch are mentioned below.
11th Generation Tiger Lake i7-1185 G7 processor.
16GB LPDDR4x R.A.M.
1TB storage (expandable).
4-inch IPS display.
59 Watt Hour battery and 65W fast charger.
Wi-Fi and Bluetooth 5.0 connectivity.
The features are top of the line and it seems it is the best handheld video game console. Well, you can think like that, but according to me, the price is extremely high. Only if you are a passionate or a professional gamer, you should buy this. Otherwise, spending so much money on a device when you have other similar options is not a wise decision.
2. Nintendo Switch
Nintendo Switch is a non-compromisable handheld video game console. As the name, switch, suggests, you can switch the console in different three gaming modes: TV mode, Tablet Mode, and Handheld mode. Both sides of the console can be detached and used as two separate controls while playing games on TV or tablet. And can be attached to the console screen to make it a handheld game console.
Moreover, the developers claim that Nintendo Switch has more than 5000 games on it. 5 years back, the Nintendo Switch came at the price point of around 25000 INR. Now, let's see what are the technical specs of the Nintendo Switch.
Nvidia Tegra Processor.
4GB LPDDR R.A.M.
32GB storage (expandable).
2 inches display.
5 to 6.5 hours battery backup.
Wi-Fi and Bluetooth 4.1 connectivity.
What could be better than a handheld video game console that gives you the flexibility to play games on TV or a tablet? And that too at an affordable price. If you are a professional gamer or love to play games, then you can buy this device. Nevertheless, there is one updated version, the Nintendo Switch OLED, of it, you can check if you are not satisfied with the Switch's features.
3. Nintendo Switch OLED
Nintendo Switch OLED was launched in 2021. It is the lineup modal of the Nintendo Switch with a larger screen and some other updated features like increased RAM and an enhanced audio system. On top of that, it has a wide adjustable stand on the backside and a wired port to connect the console with the TV. Apart from that, it is similar to the Nintendo Switch, which you can use to play games in your hand, on your TV, or on a tablet.
Nintendo Switch OLED is one of the latest handheld video game consoles in India. Talking about its price range, it came at the price point of around 32,000 INR.
Custom Nvidia Tegra X1 processor.
4GB LPDDR RAM.
64GB internal storage (expandable).
7 inches OLED display.
5 – 9 hours battery life.
Wi-Fi and Bluetooth 4.1.
As of now, Nintendo Switch OLED is the best one. If you are looking for a most interesting handheld video game console, you should go for Nintendo Switch OLED. The reasons to consider Switch OLED are: it is the latest of all, flexible to connect with a TV or tablet, portable, and has good enough configurations like an advanced processor and enough storage.
4. Nintendo Switch Lite
One more handheld game console from the Nintendo Switch series. But this one is quite different from the last two. The first and major difference is you can't switch it to play with a TV or a tablet. It comes with inbuilt controls, so you can use it as a handheld video game console only.
Moreover, it comes at a lower price and has fewer features than the Nintendo Switch and Switch OLED. Nintendo Switch Lite video game console launched in 2019 is now available at 16,999 INR price.
Custom Nvidia Tegra processor.
4GB LPDDR4 R.A.M.
32GB storage (expandable).
5 inches LCD display.
3 to 7 hours battery backup.
Wi-Fi and Bluetooth 4.1.
This is a pocket-friendly and interesting handheld video game console. It has satisfying features like being small, the processor of Switch OLED, compatible with playing high graphics games. If you are planning to buy a handheld game console for a kid or your regular gaming, you should consider Nintendo Switch Lite.
Related: How to Play Nintendo DS Games on PC [Step-by-Step Guide]
 5. ASUS ROG Phone 5
Just to say it is a phone, but its features and specs are equivalent to a handheld game console. ASUS ROG Phone 5 has features like Aero Active Cooling, Input Motion Gesture, and 144Hz refresh rate making it a smartphone cum handheld game console. And the best part, the ASUS ROG phone comes with a gaming controller that can make it a completely portable game console.
As it is a smartphone-listed gadget, it has cameras. There is a triple camera setup on the rear side: 64MP, 13MP, and 5MP with a flashlight. And a 24MP sensor on the front side. It is available in two variants. The first one is the 8GB RAM. with a 128GB storage variant which costs you 49,999 INR. And the one is 12GB RAM with 256GB storage, which costs you 57,999 INR.
Snapdragon 888 processor.
12GB LPDDR RAM
256GB UFS 3.1 storage.
78-inch AMOLED display.
6000mAh battery with a 30W fast charger.
Wi-Fi and Bluetooth 5.2.
This is a device that is not only a better smartphone but also a better handheld game console. It has all the features of the latest smartphone and all the configurations of a gaming console. So, if you are not a regular gamer but love to play games on consoles, you should consider the ASUS ROG Phone 5. Also, no doubt it is the best gaming phone. So if you are buying a smartphone in which gaming can be done, then this is the best option.
Where To Buy These Most Interesting Video Game Consoles In India?
You are here. It means you choose the best handheld game console for you. Now, you may be thinking about where to buy that game console. Well, all the above-mentioned handheld game consoles are available on Amazon easily. Sometimes some of these may be out of stock on Amazon, then you have to wait till they come in stock.
An alternative way is also there to buy handheld game consoles in India is the international shipping websites. Some companies are there that provide international shipping of the products from out of India. You can order your handheld game consoles from these websites.