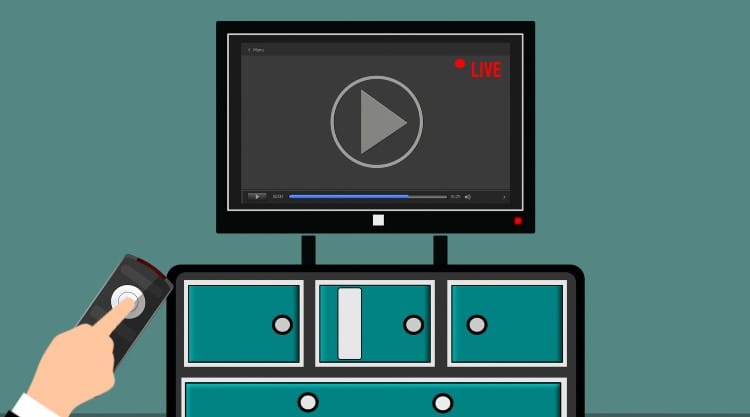 Are you searching for some websites that offer Live TV channels to watch with an Internet connection online on your laptop or smartphone for free? Then I've compiled 8 websites to watch live TV channels online for free.
So, if you're out of home or you don't have a television at your residence, then no need to worry about live TV channel streaming. Because this article will provide you with a list of the 8 best websites to watch live TV channels online for free.
Websites To Watch Live TV Channels Online
Now, have a look at the list of top 8 websites for Live TV channels streaming online absolutely free.
YouTube is the biggest and most famous video streaming platform at present. Maximum of the internet users use YouTube. You can use it by app and website as well. Various video categories like news channels, songs, movies, sports, live TV, fashion videos, games, and entertainment are available on YouTube. And all videos are available for free with ads. Moreover, you can download some of the listed videos on YouTube. However, you can see the live videos on YouTube. To watch all the live channels on YouTube, go to the "Explore" menu and then tap on the Live button.
You can directly search for videos from the homepage. Also, you can find the latest videos by exploring various categories. Tap on 'Explore' to explore the categories. However, the best part is you can find here the trending videos on YouTube in the trending category.
TV shows, movies, web series, news channels, music videos, and live TV are accessible on MX Player. You can watch all the listed videos for free. Also, you can use paid version if you want ad-free video streaming. Nevertheless, you will find the live section on the top menu. Moreover, you can use it as an offline video player on your smartphone.
Here, you can consume the content in 11 languages, including English and Indian regional languages. Thus, it is one of the best websites to watch Live TV channels and other videos online for free.
Hotstar offers you to watch movies, TV shows, sports channels, etc. A special category for kids is also there, where children can watch their favorite cartoons and animations. Movies are available in English, Hindi, and other Indian languages. And almost every type of sports channel is also at hand.
Free or paid versions are available for Hotstar. You can use its free version with ads. Also, you can buy its subscription at very affordable prices. However, all the listed videos are not available to watch for free, some of them are only accessible with a subscription plan.
With 450+ live channels and thousands of videos, it is one of the best options to watch live TV channels for free. It is not free for all users, unlike the other websites. You can use it for free if you are a Vodafone user, otherwise, you have to pay for it. Vodafone Play features the most famous TV channels and shows.
You have to log in with your Vodafone mobile numbers to use its web version. And don't worry, no need for any extra subscription. You will find all the video categories on its homepage. Just put the channel name in the search bar and get the live streaming channel on your screen.
USTVGO features the best 100 live international channels. It is a completely free live channel streaming website. USTVGO offers you multiple video categories like entertainment, news, local sports, and kids.
You will find the list of all live channels on the homepage. So, to watch any live channel on USTVGO, go to the homepage and look for the channel name and then click on that. Moreover, you can see the schedule of upcoming shows on various channels in the "TV Guide" section.
A website to watch only Indian TV channels online as it features only Indian channels. Although YuppTV features 100+ free channels and some other paid channels as well. News, entertainment, spiritual, and music channels are listed on the website.
However, the most popular news channels are free, but you have to pay for some standard TV serial channels. Watch the live channel in the Live TV section, which is located in the left top corner.
Distro TV is a US-based video streaming platform. Nevertheless, you can watch videos on this website from anywhere in the world. The platform offers 150+ channels to watch anytime for absolutely free. You can watch here live TV, movies, TV shows, etc. Moreover, 'Live' and 'OnDemand' both options are there on the website's homepage.
So, if you are from India and wish to watch US TV shows and movies online for free, then Distro TV is something that you must visit. Moreover, it is completely free as this runs ads to generate revenue.
Again, it is an international website to watch live TV channels online for free. Plex TV offers you 200+ TV channels. You can watch here movies, live TV, news, and TV shows. Moreover, various categories of videos like action, animation, horror, comedy, and science-fiction are there on Plex TV.
Although Plex TV is a free-to-watch platform, you can also use its paid version for more advanced features. To watch live channels on PlexTV, go to the "Features" and click on "200 + Free Live TV Channels" and then scroll down the page and click on 'Watch TV Now'.
Recommended Reading:
That's it, these are websites to watch live TV channels online for free. So, if you're out of home, then you can watch Live TV shows, cricket, news, and any of your favorite channels on the go.