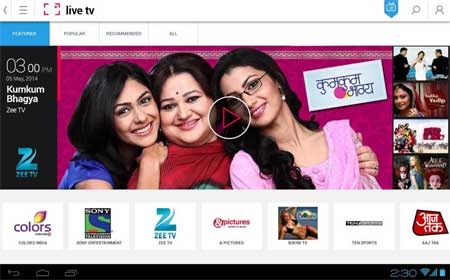 It is a specialty of Indian television shows to make people addicted to them once they start watching and maybe this is the main reason behind their success. So, if you're addicted to any Indian TV show and unfortunately you're on the go with your smartphone but don't wanna miss a single episode of your favorite TV show, then there is no need to worry because you can watch any Indian TV show live on your Internet-enabled smartphone using an outstanding app called DittoTV. You'll be happy to know that this app is available for almost every platform such as Android, iOS, and Windows Phone, and that of absolutely free.
Truly, DittoTV is India's first over-the-top TV distribution platform offering Live TV and On-Demand Content to end consumers on their mobile phones, tablets, laptops, desktops, entertainment boxes, and connected TVs.
However, DittoTV doesn't only offer Live TV Shows but also users can watch movies online and on-demand videos. So, it may be a great distention of entertainment for all the Indians.
UPDATE: DittoTV is no available. This video on demand platform was launched by Digital Arm of Zee Entertainment Enterprises Limited in 2012. But, later on, this service was integrated with Zee5 on February 15, 2018. You can download the Zee5 app for Android from Google Play Store.
Watch Indian TV Shows Live on Your Android Phone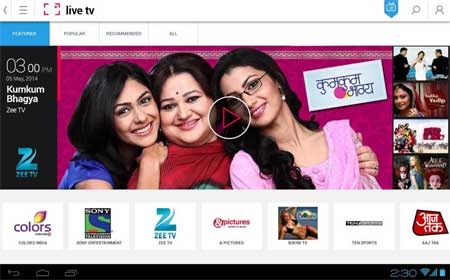 DittoTV offers the best platform for watching Indian TV serials live on your Android smartphone. All you need to do is install the app in your device and go on with your favorite TV show.
So, first of all install DittoTV Android App from Google Play in your Android phone. After installing DittoTV app in your smartphone, look for your favorite TV Show that can be watched live at the time of its original streaming. I mean if the TV Show streams live at 9:00 PM, then at the same time open DittoTV App, look for that show and start watching live. Isn't it easy!
More: 8 Websites to Watch Live TV Channels Online for Free
Watch Live Indian TV Shows on Your Windows Phone
There is nothing different with Windows Phone. In fact, just visit DittoTV App in your Windows Phone App Store and install it on your device. And then as for Android devices, just find out the TV show and start watching at the streaming time of that show.
Watch Live Indian TV Shows on Your iPhone
If you own iPhone wanna watch Indian television shows live, DittoTV can also be the best destination for iPhone users. Yes, guys, the DittoTV app is also available for iPhone or iPad users on iTunes App Store. So, why wait, just visit the App Store to download DittoTV App and watch live Indian TV shows online on your iPhone.
iPhone User? A Few More for You:
I hope you guys will like the DittoTV app and install it on your devices for watching live TV shows and online movies in India. If you wanna know anything else related to watch live TV, you can ask me via comments.