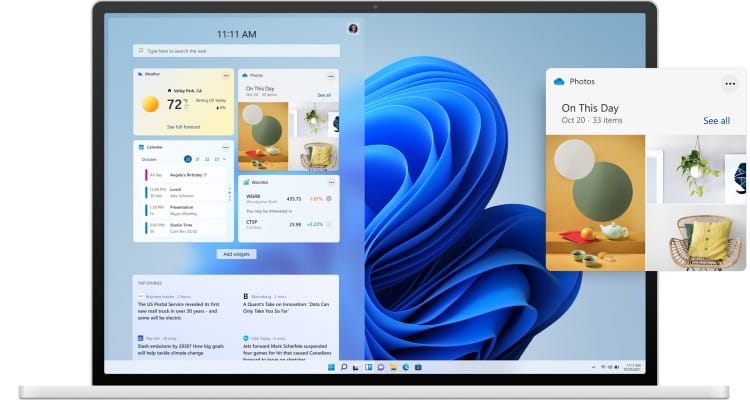 The overwhelming launch of Windows 11 agape user's mouths with a big wow. And why shouldn't it be? After all, it's the biggest update from Microsoft till now. But, the launch of Windows 11 has left people in a dilemma regarding the system requirements to upgrade to the newly launched Microsoft Windows 11.
To end your dilemma, I have compiled all the system requirements for Windows 11 upgrade with several other vital information in this article.
I am really awestruck by the live launch event of Microsoft Windows 11. Not to mention, the tech event was so much tied with human emotions that I wanna upgrade to Windows 11 instantly. But, we can upgrade to Windows 11 later this year only.
Let us take a closer look at Windows 11 and its system requirements.
What is New with Microsoft Windows 11?
Windows 11 operating system is the biggest launch by Microsoft after Windows 10. We all see the START button at the left button corner of the windows from the very start, right? But now, you will get that very much at the center in Windows 11.
For holy christ, the Windows updates are much smaller and faster in Windows 11. The company claimed it to be the most secured Windows yet. Windows 11 can be optimized and customized, unlike previous monotonous Windows.
I cannot emphasize enough the importance of 'Snap Layouts' these days. Almost every day, people reply to emails, use browsers, open workflow presentations, and do much more simultaneously. Windows 11 offers multiple Windows layouts to handle more desktop screens at one time. Therefore, it is boosting productivity and saving time.
There is absolute growth of in-person interactions due to the crisis time. Windows 11, taking that advantage, introduced an in-built chat feature. It offers you to connect via video call, voice call, or chat with your people.
Windows 11 is discovering the untapped potential of the gaming experience. It unlocked the latest gaming technology for you. Furthermore, widgets and feeds in the system can be optimized, according to your preferences. Windows 11 is pumped to offer an exceptional entertainment experience. Also, all the Android apps are available on the Microsoft store.
P.S. TikTok is also available on the Microsoft store:)
What are the system requirements for Microsoft Windows 11 Upgrade?
Following are the basic requirements to upgrade your PC to Windows 11.
Processor: The processor of the systems must be equivalent to 1 GHz or faster with 2 or more cores and a 34-bit processor or System on Chip (SoC). Most of the chipsets from AMD's Ryzen, Intel, Pentium, and Evo are very much compatible with Windows 11.
RAM: A least 4 GB RAM is required to install Windows 11. Most of the old PCs are running with 2 GB RAM, and thereby, in that case, you need to increase the RAM of your PC or completely buy a whole new PC.
Storage: You need to have a storage capacity of 64 GB. That's pretty much available in most computer systems.
System Firmware: UEFI and Secure Boot are essential to install Windows 11. Secure Boot is a program that examines whether or not the given operating system can be securely run on the machine. UEFI, similar to BIOS, is vital for connecting the system's firmware to its operating system.
Graphics Card: Microsoft suggests PCs with DirectX 12 graphic cards or with good compatibility with WDDM 2.x drivers are eligible for Windows 11. Almost all the manufacturers including, AMD, Nvidia, and Intel are providing support to DirectX 12.
Display: A least 9-inch screen is essential with 720p high definition resolution. Display requirement is not a problem as almost all old and new laptops and PCs offer 14 or 15.6-inch display screens.
Trusted Platform Module (TPM):  A TPM version 2.0 is essential to run Windows on your computer system. TPM is a technology designed to offer security-related hardware-based functions. Though the TPM 2.0 was only released in the year 2019, computer systems manufactured before 2019 may not install Windows 11.
Microsoft Account and Internet Connection: You need to have a Microsoft account to enter Windows 11 with a high internet connection to download and update the device set up for first use.
P.S. Only users with genuine Windows 10 are eligible for the free upgrade to Windows 11 later this year. The exact date is yet to be announced.
Are You Still Confused About Whether or Not Your PC is Compatible with Windows 11 or Not?
If you are not able to exactly find out whether your PC is compatible with Windows 11 then, use PC Health Checkup, a tool on Microsoft's official website to check the compatibility. It's a free tool.
Now let us see some other vital information that you need to know regarding Windows 11.
What if You Don't Like Windows 11 and Want to Switch to Windows 10?
The Windows 11 upgrade is available with the 10-days trial, and in case you don't like it, you can safely switch to Windows 10. Microsoft is offering support to Windows 10 till October 2025.
What is the Primary Difference Between Windows 10 and Windows 11?
Windows 11 is redesigned with a refreshed look. It has all the security and power functions of Windows 10. Also, new sounds, apps, and tools are accommodated in the operating system to make it more efficient and better than Windows 10.
As mentioned above, upgrades are much faster and smaller when compared to Windows 10. It is more user-friendly and offers you all the productivity tools that you need to work in today's era.
I hope the article has helped you to find the answers to all your questions. Also, you are now aware of all the system requirements to upgrade to the newly launched Microsoft Windows 11.
Windows 11 is more about providing a fresh and exceptional user experience. For me, Windows 11 seems to be a savior. I use several windows simultaneously, and hence am very happy to see the 'snap layout' feature in Windows 11.