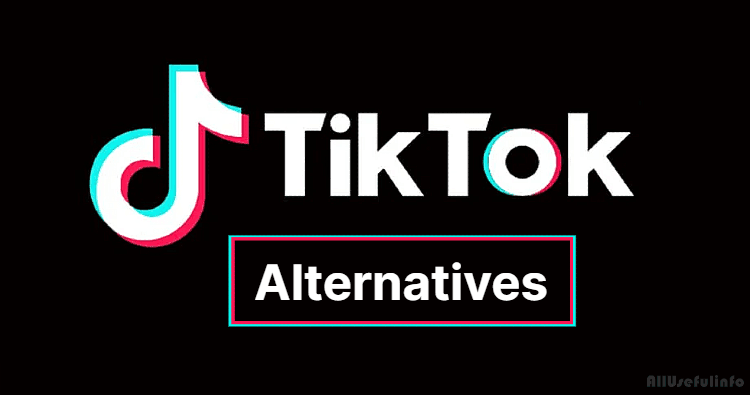 The Indian government banned 59 Chinese apps including TikTok in the country. This was really very bad news for all TikTok users. But, as soon as the government banned TikTok, Indian alternatives to TikTok are being circulated over the Internet. So, do you want to know what are the best Indian alternatives to the TikTok video app? Keep reading the post.
Of course, there're many Indian TikTok alternatives available on the Google Play Store. Some of them are recently launched to the ban of TikTok and some are old but getting popular now due to the ban of TikTok.
In this article, I'm sharing the best TikTok alternatives for Indian Android users. So, if you're looking for an Indian app with features like TikTok for making your videos, you can check out this list of apps.
Mitron is one of the best Indian alternatives to TikTok which is becoming popular nowadays after TikTok is banned. It allows you to make and upload your short videos just like TikTok and get social interactions.
From liking and commenting to the profile design, its interface looks exactly like TikTok so if you were a regular TikTok user, you'll feel very familiar with Mitron app too.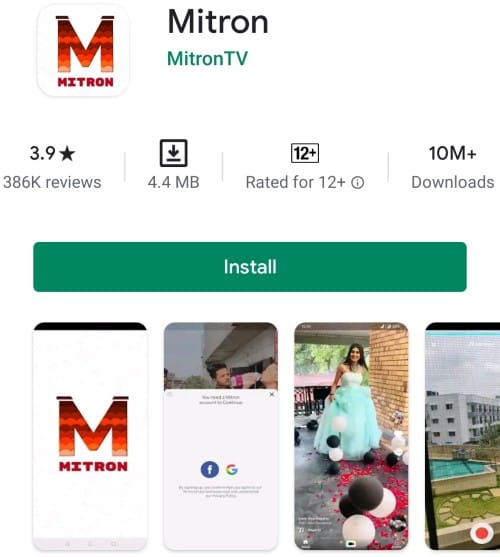 Dubsmash is one of the oldest TikTok alternatives available on the Google Play Store. Just like TikTok, it also lets you make lip-sync and dance videos with your favorite music, quotes, and movies!
Dubsmash undoubtedly has the world's largest selection of sounds from your favorite songs, videos, and movies to make your short videos. And after TikTok is banned, it's going to be one of the biggest alternatives to the TikTok video app.
Chingari is Indian's other video sharing app that not only allows you to create videos but also lets you make friends and chat with them. It is available in multiple Indian languages such as English, Hindi, Marathi, and more.
In Chingari, you will find many amazing videos like trending news, entertainment news, funny videos, video songs, birthday wishes, love quotes, status for your stories, Shayari, clips, and memes.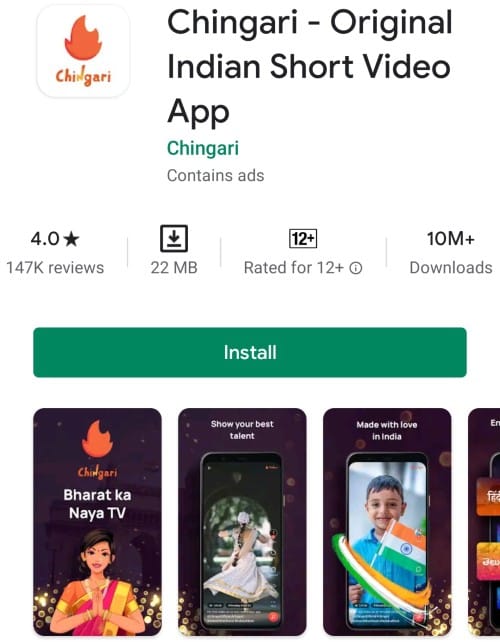 Proudly made in India, for India. Roposo is India's very own video creation and sharing app which lets you make videos in various Indian regional languages including Hindi, Tamil, Telugu, Kannada, Gujarati, Punjabi, Marathi, Bengali, Malayalam, Odia and Assamese.
With its impressive video editing features like slow-mo, time-lapse, different light effects, and trending stickers and filters, it is proving the best ever Indian TikTok alternative for the creators.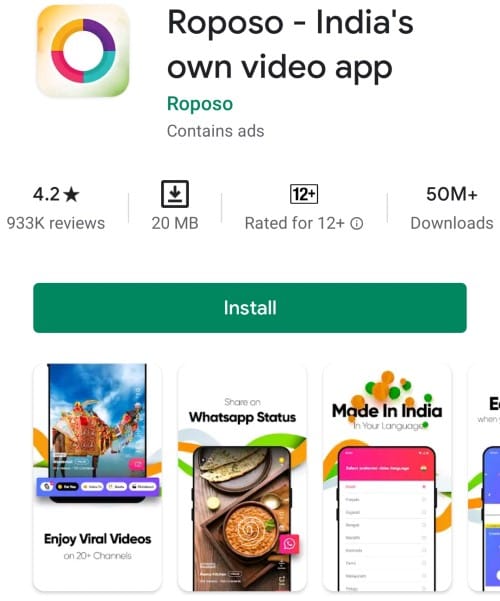 Gaana is one of the most popular online music streaming and downloading applications made in India. But, now it's not only limited to music streaming after releasing a new update. In its most recent update, Gaana launched a new feature named 'HotShorts'.
Gaana HotShorts gives you access to a powerful camera and splendid video editor to create trendy videos using the latest effects & AI filters in different categories like dance, comedy, music & drama with your favorite artists & social influencers.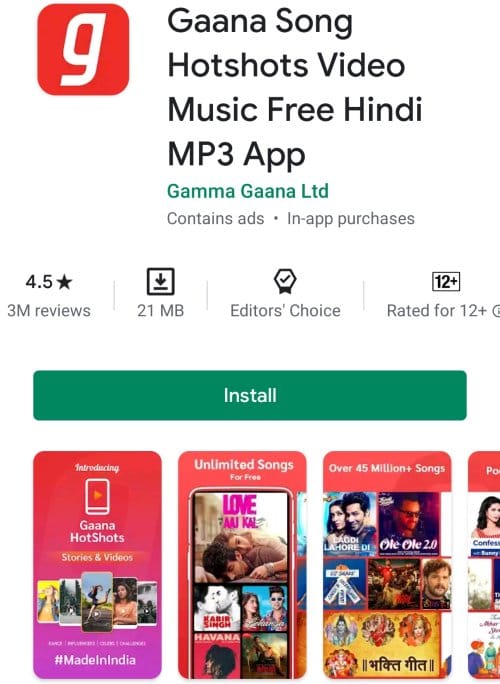 MX TakaTak is another Indian TikTok alternative launched by MX Player. MX TakaTak offers you the most entertaining short videos ranging from Dialogue Dubbing, Comedy, Gaming, DIY, Food, Sports, Memes, and many more to watch and share on social media.
Just like TikTok, it also allows you to create your own short videos by dubbing your favorite movie dialogue, dance videos, and a lot more. Later you can edit your videos using its default video editor. Content on this app is available in many languages including Hindi, Telugu, Tamil, Kannada, Malayalam, Bengali, Gujarati, Marathi, Punjabi, and English.
Trell is another short video sharing Android app which is proving one of the best Indian alternatives to TikTok. Trell makes it very easy to discover, create, and share videos to inspire millions of other users.
Before you begin, you can choose your preferred Indian language to explore in your own language. The best part about this app is that it lets you make money by making short videos on this Android app. Isn't it great?
Looks exactly like TikTok, it's another short video making platform for Android users. Just like TikTok, you will keep scrolling down to watch new and interesting videos. You can like, comment, and share the videos you like the most.
If you would like to become a creator, Zili has a powerful set of special effects, background music, text editing tools, stickers, and filters that will make your videos truly unique. You can later save your videos on your device or share them on social media platforms.
This is another made-in-India short video-making app emerging as a great alternative to TikTok. You can create and share short videos in the regional languages of India including Hindi, Tamil, Telugu, Bengali, Malayalam, Kannada, Marathi, Punjabi, Haryanvi, Bhojpuri and Odia.
You can find videos from Life and Relationships to Lifestyle and Entertainment. You can also create your own videos to share your experiences, opinions, and knowledge in your interest areas.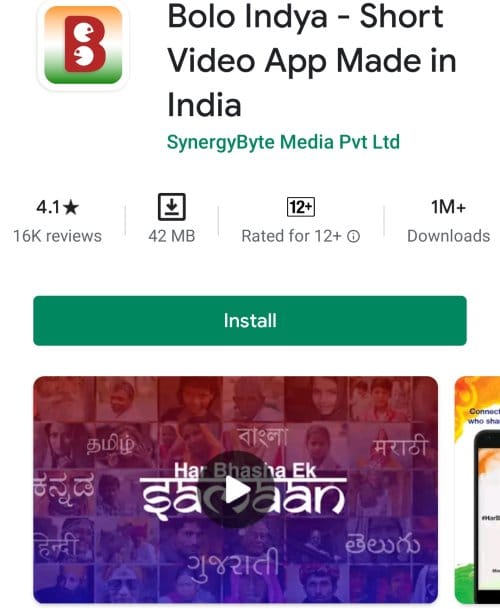 Moj is an easy-to-use short video-making app developed by ShareChat. After TikTok is banned in India, it's gaining good popularity among the Indians. Here you will find millions of videos specifically selected for your interest.
If you would like to become a creator on this app, just create your profile, follow popular creators for inspiration, make your own videos, and inspire others. The app is available in 15 Indian languages, so have fun.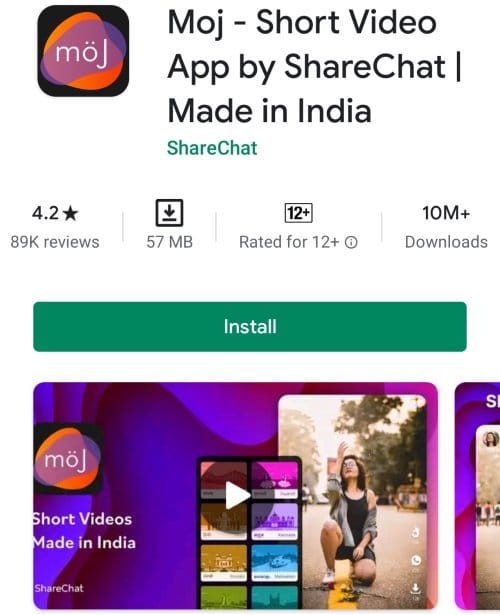 These 10 are the most popular and emerging Indian alternatives to the TikTok short video app. As TikTok is banned in India, many companies are trying to seize the opportunity by developing a great TikTok alternative. Instagram, owned by Facebook, itself seized the opportunity by launching Reels which is proving a great TikTok alternative nowadays.