Tag notifications from unwanted people or strangers offend many of us. Of course, Facebook is a great medium of entertainment, but only until things are in our control. Hundreds of unwanted tags and their notifications in smartphones trigger irritation in the mind.
If you are done with unwanted tags on Facebook and looking for ways to prevent people from tagging you on Facebook, then stick to the end of this article to learn how actually you can prevent people from tagging you on Facebook.
Is There Really a Way to Prevent Tagging on Facebook?
There is no direct option to stop people tagging you. But yes, there is an option to allow or reject the tagged post or mentions on Facebook. Enabling this option will allow you to review the tagged post beforehand, and the tagged post will not be visible on Facebook till you grant permission.
Through this, if anyone tags you on a post, you will get a prompt regarding their request to tag you in that particular post. If you allow it, the person can continue tagging you on Facebook for that post. Otherwise, it will reject their request, and they can not tag you.
How to Stop People Tagging You on Facebook?
You can do the same while browsing Facebook on a web browser as well as on your smartphone using the Facebook application. Let's straight dive into the guide:
Method 1: From a Web Browser
Log into your Facebook account.
On the homepage of your account, you will see a dropdown at the top right corner of the page. Click on the dropdown. You will see a menu with some options and your profile picture at the top.
Click on the Setting & Privacy option. You will see a menu box for the Setting and Privacy option.
Click on Settings. You will see a settings page.
On the left menu of the settings page, navigate to Privacy » Profile and Tagging. You will see the different options on the Profile and Tagging page.
Scroll down to the Reviewing option and Enable both options.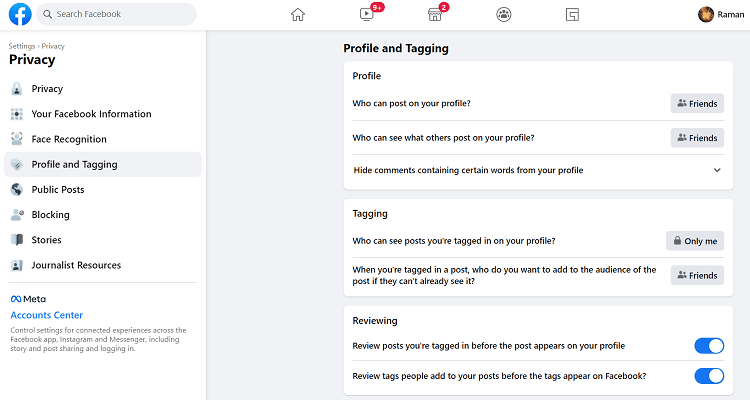 Method 2: From Facebook's Android App
Open the Facebook application on your Android smartphone.
Click on the three horizontal lines (Menu) on the top right corner. You will see the whole menu.
Scroll down and click on Settings. A Settings and Privacy page will open.
Scroll down and click on the Profile and Tagging option under the Audience and Visibility section.
On the Profile and Tagging page, under the last section, Reviewing, enable the first and third options.
Method 3: From Facebook's iOS App
Open the Facebook app on your iPhone or any other iOS device.
From the right bottom of the screen, tap on your profile's Menu icon.
Scroll down to the bottom and tap Settings & Privacy and choose Settings from the dropdown menu.
Now under your Profile settings, tap Profile and Tagging. And under the Reviewing section, turn on both options.
Method 4: Lock Your Facebook Profile
This seems to be the easiest method to stop people from tagging you on their Facebook posts. Facebook allows every user to lock their Facebook profile so that only friends will be able to access your profile. And technically when you lock your Facebook profile, Tag Reviews are automatically enabled. And once enabled, people won't be able to tag you without your permission.
So, let's see how can you lock your Facebook profile.
Locking your Facebook profile is just a one-click process. All you need to log in to your Facebook account either on a desktop browser or in a mobile application, you will see a button of three dots making a horizontal dotted line (as shown in the following picture). Just click on it and click the Lock Profile option.
This is how you can simply lock your Facebook profile. Well, as shown in the above picture, you can directly open the Profile and Tagging settings right from here. It's a kind of shortcut link to Profile and Tagging settings.
How to Disable the Auto-Tagging Feature of Facebook?
Sometimes auto-tagging happens due to the face recognition feature on Facebook. It is not done by any person. It's just an advantage of advanced technology. However, Facebook has deleted this feature. And it is no longer available, so don't worry about this. If you have any posts with auto-tagging, the tagging will soon be removed.
How to Remove Tags from Previous Posts?
You can easily remove the unwanted tags from previous posts by reaching out to that post in your timeline. Click on the three dots above the post; there comes an option, Remove Tag. Click on it, and that's it. You have successfully removed the tag.
Wrap Up
I hope this guide helped you prevent people from tagging you on Facebook. Unwanted tags and mentions cause frustration. The settings section has many options to always get things under your control. You can explore the settings section more to enhance your privacy on Facebook.