Do you know what's your tagging settings on Facebook? I mean, when you will be tagged in a post, who can see those posts. By default, it is set to friends. It means, whenever you are tagged into a post, your friends receive a notification about you're tagged in a post and they can see that post even if you've no interaction with that post. So, you will be happy to know that you can change the default settings according to your need or in other words, you can easily manage who can see the Facebook posts you're tagged in.
Sometimes this tagging becomes the worst thing when an unknown person tags you in any controversial or any other bad status or photo that may leave a bad effect on your friends or family members.
In reality, you don't need to worry about this problem though Facebook is already very careful about it. You can easily control who can see the posts you are tagged in.
READ: How to Hide Your Facebook Status from Certain Friends
If you don't wanna remove all the friends from seeing the posts you are tagged in, you can exclude some specific people to restrict getting notification and seeing the posts you're tagged in.
Manage Who Can See the Posts You're Tagged in
Log into your Facebook account and go to Settings. Take assistance of following picture.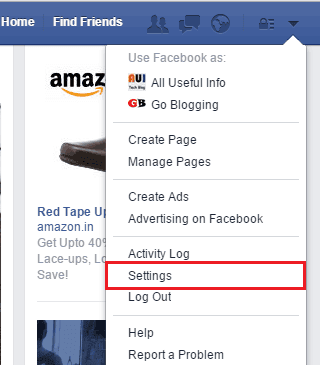 In the Settings page, choose Timeline and Tagging and at right side of the page, look for the term "How can I manage tags people add and tagging suggestions?". Here you'll see three types of settings to be edited. So, click on Edit button in front of second setting i.e, "When you're tagged in a post, who do you want to add to the audience if they aren't already in it?".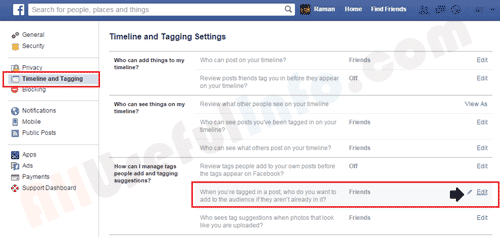 In the next step, you'll see a drop down button. If you don't wanna enable anybody to see the posts you're tagged in, simple choose Only me.
Despite this, if you don't wanna block all friends from see the posts you're tagged in and only a few or specific people you wanna block, click on Custom as shown in above picture and under the section "Don't share this with" enter the name of people you wanna exclude.
READ ALSO: 15+ Most Useful Facebook Tips/Tricks of 2014
So, by following the the above procedure you can easily manage that who can see the posts you are tagged in on Facebook. If you liked this resource, don't forget to spread it on social media.