It happens many times on Facebook that when a photo or status in which you're tagged in gets any like or comment, then you get notified while here's no interaction of yours with the post. In this condition a user can get huge amount of notifications in Facebook notification panel. So, if you're also receiving unwanted notifications on Facebook, then you can simply turn them off for that individual post.
Not only for post, if you're receiving notifications from any app or game, then you can turn off notifications for any individual app or game too.
You can turn off Facebook notifications for any individual post and game by applying the following simple steps:
STEP 1: Simply, log in to your Facebook account, click on Notifications icon and then click on cross button in front of the notification you want to stop receiving.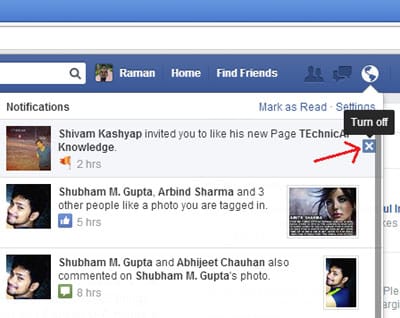 STEP 2: As you click on cross button, you'll see the option to Turn Off the notification as shown in following picture. So, click on Turn off and it's all.
That's all, by using this way you can turn off receiving Facebook notifications from individual post, people, app or any game. So, in case if any game or span app is irritating you and notifying you again and again, then you can turn off notifications for that individual app.
Further Reading:
Was This Useful?
How did you found this post? Was this useful according to your query? If not, then let me know via our comment system so that I can help you!
I hope the article will be proven helpful to you. If you found it useful, must share it to your social profiles.