Many people want their Android phones to resemble the colors of the festival to make them look cool and alive. It is the best way to impress your friends and fellow workers. Actually, I'm talking about changing the themes of your Android phone according to the festival.
As the Christmas month is going on, so I collected some free Christmas themes and splendid live wallpapers to make your Android phone interface alive and festive.
These cool Christmas live wallpapers and themes will not only impress your friends or colleagues but also give you a different user interface so you will love to do more with your phone.
Free Christmas Themes & Live Wallpapers for Android
However, there are several themes and live wallpapers available on Google Play Store but most of them work only on a specific launcher. So, be careful while installing these Christmas these on your Android and make sure that you are using the relevant launcher on your phone or not.
Here is the collection of best and free Christmas themes and wallpapers for your Android phone:
This is one of the most interesting and beautiful Christmas live wallpaper Android apps. It allows you to decorate your Android phone screen to match your Christmas festival and New Year's eve. The live wallpaper looks very natural and magical.
One of the best things about this Android app is that it allows you to customize the live wallpaper. Yes, you can customize the things like snowfall intensity, speed, snow direction, presence of Christmas tree lights, fireworks, and Christmas music. It also allows you to add live snow effects to your photos.
Smarten up your Android for Christmas with this Christmas theme. It's a very lovely theme that will make a highly Christmas-oriented interface for your Android phone.
Christmas Free Live Wallpaper is a very beautiful application that lets you enjoy the day screen and the beautiful night screen. You would see the Christmas Tree, Christmas lights, Snowmen, Snowfall, Santa Claus, a beautiful screen, and so on.
Christmas Moon is a beautiful live wallpaper for your Android phone's home screen. In this theme, you will feel a magic night with the full moon signing brightly, snowflakes falling, and more things that make the Christmas night magical.
Not only this, you can manage the type and quantity of snowflakes, activate the smoke from the chimney, activate animation garlands, the size of the moon, and many other settings to design your own world.
Skate right into Christmas with this beautiful winter-themed Christmas Live Wallpaper. Featuring several groups of interactive Christmas characters who are gliding along to the softly falling snow.
Take a closer look and you can spot… someone really familiar. Who is it? Santa Clause in the company of joyful children and happy adults. Funny pets celebrating Christmas are also there.
It's not only a live wallpaper, in fact, but the developer also made it like an interactive Christmas game. Don't believe me? Touch any Christmas character and see what happens!
This is a Christmas keyboard theme for your Android smartphone. One of the main reasons for listing this app in this article is its rating of 4.9 out of 5 on Google Play Store. With this Christmas Day theme, you can customize your Android phone keyboard with stylish background, fonts, and emojis.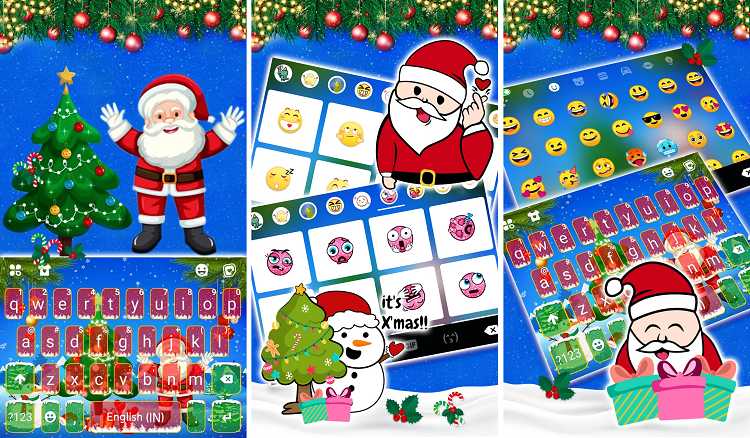 This Santa Christmas Day Theme's keyboard supports 150+ languages including English, Hindi, Spanish, German, French, Russian, etc. The best part is that you can choose your photo as keyboard wallpaper and customize it with unique colors and effects.
Christmas Fireplace LWP enables you to enter the drawing room with a fireplace, candles, and many more Christmas-oriented decorations like a Christmas tree, snowfall outside the room, etc.
This package of Live Wallpaper contains three amazing themes – Classic Noel, The Night Before Christmas, and Christmas Morning.
You can add your own photo to the frame available in the room. You can customize effects, snow type, amount of snow, speed, size, and many more settings.
This is an amazing live wallpaper for Santa lovers. In this awesome wallpaper, Santa is making his magical journey to earth from the North Pole.
Do you like Christmas carols or music? Shake your device and you could listen to Christmas songs: "Jingle Bells", "We wish you" and "Rudolph". Maybe, you like more Christmas sounds so you can tap twice on the screen to listen to the sleigh bells and Santa's "HO, HO, HO" (disabled by default).