In the last few months, WhatsApp launched new features one after the other, two of which are WhatsApp Community and WhatsApp Channel. WhatsApp Channel, Community, and the WhatsApp Group seem very similar, some users may find it difficult to identify the difference between WhatsApp Channel, Community, and Group.
On the very first note, quite the opposite as it seems, these are not similar features. There are many differences, which we are going to talk about further in this article. So, if you are confused and want to know what's the difference between WhatsApp Group and Community or between the Community and Channel, continue reading this blog post.
What is WhatsApp Channel, Community, and Group?
Before taking a dive into the difference between WhatsApp Channel and Community, along with Group, let's get to know about all these three features of WhatsApp.
WhatsApp Channel
This is WhatsApp's latest feature that allows users to have one-way conversations with a large number of users together. Mainly, this feature is for influencers, companies, and celebrities to connect with their audience on WhatsApp and give them all the updates.
The main thing about the WhatsApp channel is that only the channel owner can send messages. There is no option to reply. However, followers of the channel can react to the messages in the channel.
WhatsApp Community
A couple of months ago, WhatsApp announced this feature to manage WhatsApp groups. With this feature, anyone who has multiple groups can manage together and send announcements or give updates to all the groups together. And WhatsApp gives a separate section for the Community feature.
WhatsApp Groups
One of the oldest features of WhatsApp that all WhatsApp users use. As the name suggests, it's a group where users can add multiple contacts and have two-way conversations with all the members. Users across the world use it for personal and professional uses. Moreover, WhatsApp offers a group call feature where 32 members can have a call at a time.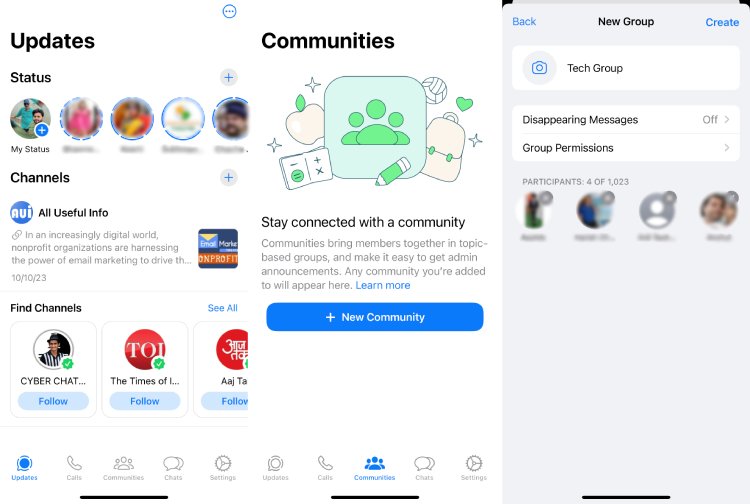 Difference Between WhatsApp Group And Community
WhatsApp Group and WhatsApp Community are the ways to chat with multiple people at a time. But, both the features share many differences, including members limit, calling and no calling features, two-way & one-way conversation, and many more. All the differences between WhatsApp Community and Group are given below.
The first and foremost difference is WhatsApp Group allows users to add individual contacts only as members, but Community is the feature to add and control multiple WhatsApp Groups, along with individual members.
The second difference is about the limit of adding members. In the WhatsApp Group, you can add 1024 members, whereas the WhatsApp Community allows you to add 2000 members and 100 groups.
WhatsApp Group allows you to do two-way conversations, where anyone in the group sends messages, replies, and reacts to received messages. However, the group admin can set it to a one-way conversation. But, in the WhatsApp Community, it is by default and fixed that only an admin can send messages. Others only can see and react, not reply.
Another major difference between WhatsApp Group and Community is the audio-video calling feature. WhatsApp Group is open for group calling, but WhatsApp Community is not for calling, only for messaging.
Difference Between WhatsApp Group And Channel
The major difference is that Channel is like a social media platform itself on WhatsApp. The Group is open and free space for family, friends, and office conversations. Users in WhatsApp Group are called members, whereas the users on the Channel are called followers or subscribers. And there is no limit on followers on a WhatsApp Channel. And in the Group, the member's count is limited, which is up to 1024.
Privacy is also a vital differentiator between the Group and the Channel. On WhatsApp Channel, no one can see the other followers' contact numbers as well as the channel creator. But, in WhatsApp Group, all other users can see each other's contact numbers, including the group admin. The channels on WhatsApp are searchable, where you can find any channel by searching, but it's not with Group. Groups are private, they can't be searched.
Another difference between WhatsApp Channel and Group is about one-way and two-way messaging. In WhatsApp Channel, the channel owner has all the controls; only he can send messages, and followers can see and react to them. But, in the Group, the admin of the group can allow other members to send messages. It means two-way conversation is available on WhatsApp Group.
There is no audio & video calling feature available on WhatsApp Channel. On the other hand, WhatsApp Group provides both types of calling features. Moreover, there can be multiple admins in the WhatsApp group who manage the group but the Channel is only owned and managed by the one, who owns that.
Difference Between WhatsApp Channel And Community
Most of the Differences between WhatsApp Channel and Community are almost the same as the Channel and Group differences. Like the privacy difference, members & followers, multiple admins, etc. all are common here. Let's address all of them one by one.
WhatsApp Channel can have limitless followers, but there is a certain limit to the number of members on Community, which is 2000 for members and 100 for groups. Notably, in Communities, Groups can also be added, but in channels, only individual users are allowed to follow the channel.
Coming to privacy difference between WhatsApp Community and Channel. A Community on WhatsApp can have multiple admins and all the members in it can see each other's profile and contact number. But, in the Channel, only the creator manages and there is no access to each other's profile and contact numbers.
As for the Group and Channel difference, the search feature is a prominent difference, here also you can search any WhatsApp channel but not any community can be searched.
What's in The End?
After all the differences between WhatsApp Group, Channel, and Group, one thing is clear all these three are the way to be connected. But these work according to the audience base. Groups are for a smaller audience base with a 1024 member limit, Community is for a large number with 50 groups and 2000 individual members, and the last one, Channels, is for an unlimited audience base.
However, Channel gives a wall of privacy where it doesn't share the contact details of followers. And it is because it was launched for the users who want to address a large audience base but don't want to break the privacy breach.