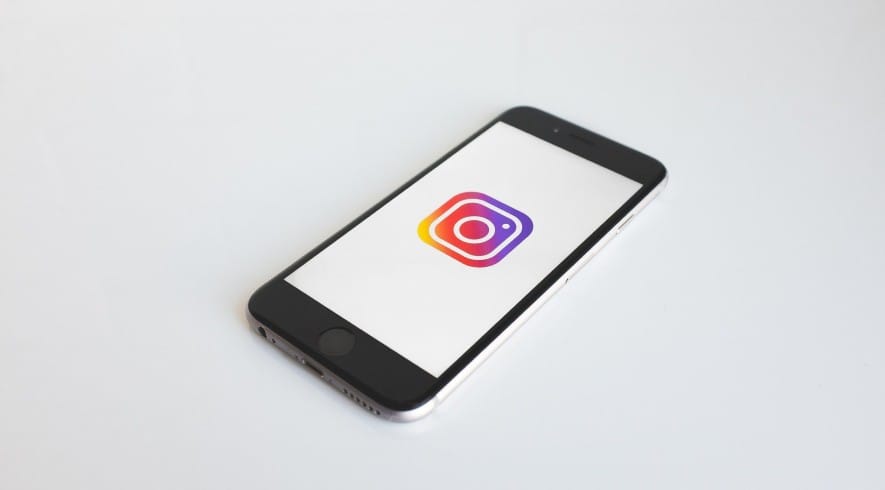 Have you noticed a new Story type section in the Instagram DM section? It is Instagram's new feature: Instagram Notes. With this, you can leave a temporary note on Instagram for your followers and close friends. In this article, I will talk about everything you need to know about Instagram Notes feature and how to leave a temporary note for your Instagram Followers.
Throughout the article, I will discuss everything about Instagram's new feature Notes: what it is, how you can use it, its limitations, and its benefits. However, there is no official announcement from the company itself, but it is rolling out for everyone.
What is Notes Feature on Instagram?
Instagram Notes allows you to share a 60-characters note directly in the chat section of Instagram. There is a new portion in the Instagram Inbox where you can share your notes and see the notes of your Instagram Followers.
Not completely, but Instagram Notes is a little similar to Instagram Story. Like Instagram stories appear only for 24 hours, Instagram notes also vanish after 24 hours. You can delete Instagram notes within 24 hours.
Also, viewers of your notes will be able to reply to your notes through direct messages. Apart from the similarities, differences between Instagram Stories and Notes are also there.
How Instagram Notes are Different From Stories?
Launched in 2016, Instagram Stories allows you to share photos, videos, texts, stickers, and links, whereas you can share only text, 60 characters maximum, in Instagram Notes. Apart from that, some other key differences between Instagram Story and Instagram Notes are mentioned below.
You can add only 60 characters to your note, but with the Instagram story, you can add unlimited characters.
In an Instagram story, you can add multiple slides, whereas in notes you can add only one note at a time. If you add a second note, the first one will disappear automatically.
Unlike Instagram Stories, you can't mention anyone and add any hashtag in notes.
Instagram Notes will be available in the chat section only. But, Stories can be watched from the Story section and directly from the user profile.
Only the persons you follow back or close friends can see your note. Whereas, everyone can see your Instagram story except if you don't have a private account.
You can check the insights of the posted story, but there will be no insights of Instagram Notes.
Unlike the Story, you can't add Instagram Notes to the Highlights.
Benefits of Using Instagram Notes
Instagram has not made this feature just for Influencers, Creators, and other big accounts. You can't share the note with all your Instagram followers, you can share only with your close friends and followers you follow back.
So this feature will be equally beneficial for everyone, whether you have a personal, professional, or business account. You can use the Instagram Notes feature to make any urgent announcements or updates for your team members, friends, or family members.
Because it shows in the chat section, people will ignore it less, and everyone will read it because of the only text format. So, there are high chances that people will not miss your update or announcement. And you can also avoid message forwarding by leaving a note.
How To Leave Temporary Note For Your Instagram Followers?
Well, now you know enough about Instagram's latest feature. You might be curious to use it and want to know how to use these Instagram Notes feature and leave a temporary note for your Instagram Followers. For that, you can follow these steps.
Step 1. Open the Instagram app and go to the Inbox.
Step 2. Here you can see your Profile image with the caption Leave a note. Tap on that.
Step 3. On the next screen, you will be allowed to write your note. After that, select to whom you want to show this note. Either you can show the note to your followers you follow back or your close friends.
Step 4. After choosing an option, look at the top right corner and tap on the Share button.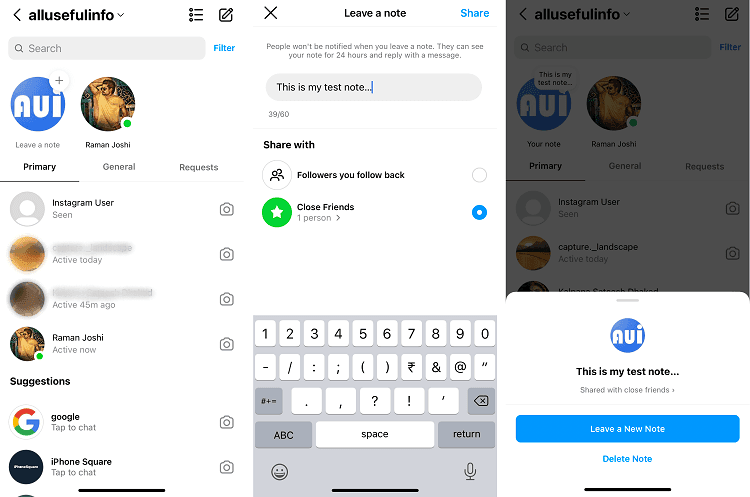 You have posted an Instagram Note successfully. In case you want to delete the Note on Instagram, simply tap on your note and opt for the Delete Note option. And to add a new Instagram note, tap on your existing note and choose the Leave a new note option.
In case you can't see the Instagram Note feature on your Instagram, update your Instagram app with the latest version, and then follow the guide to leave a note on Instagram.
Key Points You Should Know About Instagram Notes
You can have one note at a time.
If you add a second note within 24 hours, the first one will disappear.
There will be no notification of Instagram Notes that you or anyone else adds on Instagram.
You can mute Instagram notes if you want to. To mute anyone's Note on Instagram, tap on his note and opt for Mute note.
Instagram Notes is a default feature, as of now. You cannot turn it off now or remove it.
Well, it is a new concept from Instagram. As of now, there is no such feature on other social media platforms. Apparently, you can see it in the future on other platforms as well. However, how much you liked the Instagram Notes feature, let me know in the comment section.