Along with the Facebook, Twitter is also a great platform for businesses, brands and professionals where more than 135000 people sign ups daily and 75% of businesses are on Twitter to engage with users or customers. So, in such a great crowed, have you lost your twitter engagement? But you don't worry, I compiled 10 most effective ways that will help you increase your Twitter engagement really amazingly.
If you're thinking that people can keep engaged with others only on Facebook, you're wrong. In fact, by making a few changes in your Twitter utilization, you can not only increase the engagement with your followers but also attract new followers.
One more thing, Twitter is only made for those who actually have something to tweet throughout the day. Tweeting throughout the day can also increase your engagement with your followers. But, sometimes it can reduce your followers too, if your tweets are useless for your followers. Other than this, you might be missing some of the useful and must be considered factors to increase your twitter engagement.
YOU SHOULD ALSO CHECK:
Here's How You Can Increase Twitter Engagement
By considering the following factors, you can increase your Twitter engagement with your followers. Have a look: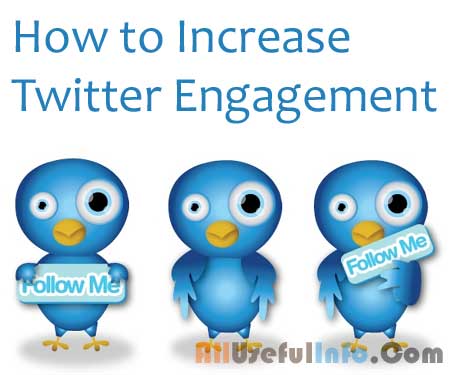 1. Consider the best time for your tweet
You may think that I already said tweeting throughout the day is a good idea to engage twitter followers then why I am saying about considering a best time for your tweet. So, let me tell you buddy, I again say that tweeting throughout the day is a good idea but flashback for a moment that I also said it can sometimes leave bad effect. But, if you consider a great time for tweeting your updates, of course throughout the day, it will be a killer idea to increase your engagement with your followers.
Just think that the whole week except Saturday and Sunday, everybody remains so busy. Saturday and Sunday are perfect days to tweet the attractive offers for your followers.
Now, I tell you how can you consider the best time for your tweets to be live. Here's a group of hours I selected – 9 AM, 12 PM, 3 PM and 10 – 11 PM.
2. Attach images for higher engagement
Images always more quickly attracts the concentration of people than text. So, adding the images in your tweets will definitely increase your engagement with followers. Images are more likely to be retweeted and Favorited, so start adding images with your public tweets.
3. Tweet questions to get responses
Questions in your tweets are more likely to get responses or replies which is the great medium to increase the engagement. So, start tweeting questions to get the answers. More than 50% people stays for a moment to read the question and over 20% people would like to respond a question on Twitter. So, you should tweet questions at least twice a week.
4. Attach links in your tweets
As of the images, you should also contain the relevant link to your tweets so people can read the complete information and find it real. Because many people ignores the tweets without links.
I found on several popular twitter accounts that most retweeted tweets on their walls are containing links and images. For images, I already told you in the 2nd point. After applying it, you will realize that link containing tweets are highly retweeted on Twitter. I personally realized it on my Twitter profile.
5. Try to keep your tweets short
Twitter is only the social place when you've to share the post with limited number of characters. 140 characters are only allowed to be in a tweet. So, it is also tested by some social media experts that if you post your tweet with less than 100 characters, your Twitter engagement will be improved up to 15%.
6. Sometimes ask your followers to retweet
However, I think its not worth asking, specially for big brands and businesses. But, if it's your start up and wanna highly increase your engagement on Twitter, you can sometimes ask your followers to retweet your published tweet.
Don't please your followers to retweet but just show them an offer and say to spread it out to their followers so other people can know about that.
7. Keep updating your followers about future products
Many people follows brands to know about the future updates and new products. So, make your habit to keep updating your followers about your upcoming products. Your these kind of tweets will manage long time engagement.
8. Reply your followers on their replies
It's a good habit and most significant way to connect with your followers as well as public. If any of your follower asks a question by replying your tweet or simply gives feedback, you should appreciate their replies and reply them back too.
By this activity of yours, people will always like to see your tweets and won't wanna miss a single tweet. On seeing that you reply the tweets, your followers will reply most of your tweets and you will get more Favorited and retweets.
9. Use attractive profile picture, cover photo and background
It is for attracting new followers! If you're a brand or a business, always put profile picture and cover photo that describes much more about you. However, its not a great medium to increase your Twitter engagement but still on having a professional profile, people will like to follow you and stay on your profile for a while, at least.
10. Find engaging topics based on tailored trends
Keep an eye on Twitter's tailored trends feature, which creates the most trending topics based on your location and who you follow, to find engaging topics of discussion for your profile. So, tweet based on these tailored trends and get overestimated engagement with followers as well as other public.
MORE TWITTER TIPS:
That's all. You should try these 10 ways to significantly boost up your Twitter engagement. Let me know if you've any questions of queries.