If you forgot the admin password of your Windows 10 computer, you're probably in a very critical condition as you'll even not able to log into your computer.
And, when it comes to solving this problem, the very common solution that comes around is formatting the computer that might cause the loss of your important data stored on the PC.
But, you would not know that rather than completely formatting your Windows 10 computer, there're many other mediums to reset forgotten Windows 10 passwords without data loss.
In this article, I'm going to tell you about few such ways by which you'll be able to reset the forgotten password of your Windows 10 PC without any data loss.
Resetting Forgotten Windows 10 Password Without Data Loss
Following are the 4 very simple methods to reset forgotten Windows 10 password for administrator and Microsoft account. Have a look:
Method 1: Using Password Reset Disk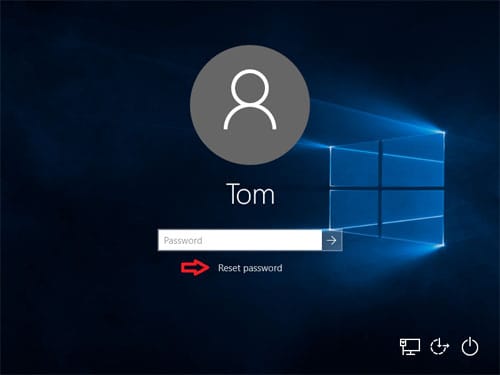 Using Password Reset Disk is Microsoft's official and most authentic method to reset your Windows password. It's the most reliable and great method to rest your Windows 10 password.
But, the only thing to be noted here is that you must have created a password reset disk before you forgot the password.
So, if you already created a password reset disk, just click the "Reset password" link on Windows 10 logon screen to follow Password Reset Wizard, or you can boot the PC with a password reset disk.
Must Read: How to Unlock Windows if You Forgot Password
Method 2: Restore to a Previous Backup Point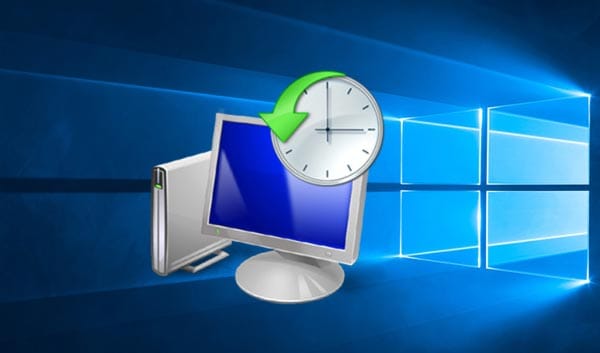 You can reset your Windows 10 password by restoring your system to an early backup point. Generally, Windows automatically creates the restore points every week and when any significant change is made in the system such as installation or deletion of a program etc.
You can also create the System Restore Point manually when you need it by using the System Restore option in Windows.
By restoring Windows to a previous restore point, you can return your system files and settings to an earlier point in time without affecting personal files. However, programs installed after the restore point will need to be installed again.
Method 3: Reset Microsoft Account Password Online
Since Windows 8, people are using their Microsoft account password to log into the computer. So, if you also log into your Windows 10 computer using your Microsoft account password, you can reset it online by following the simple instructions.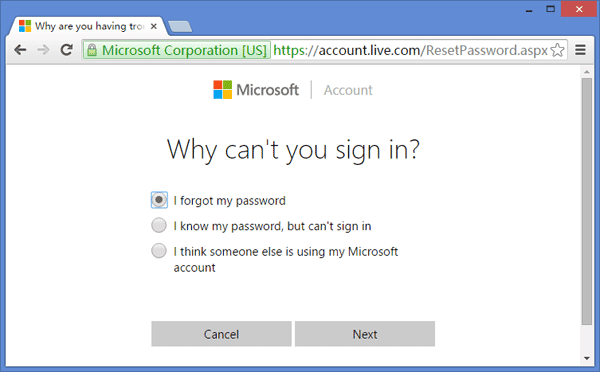 To reset your Microsoft account password, you must remember the alternate email account or phone number you provided when signing up for a Microsoft account.
Method 4: Reset Password Using PCUnlocker
PCUnlocker is a bootable utility that helps you reset the forgotten Windows 10 administrator or other user passwords without having to loss any data.
It's very easy to reset your Windows 10 password using the PCUnlocker tool. Simply create a PCUnlocker Live CD or USB drive, then use it to boot your locked PC.
The program will then display all user accounts existing in the Windows SAM registry hive or Active Directory database. Now, simply select one of your local accounts and click on the Reset Password button.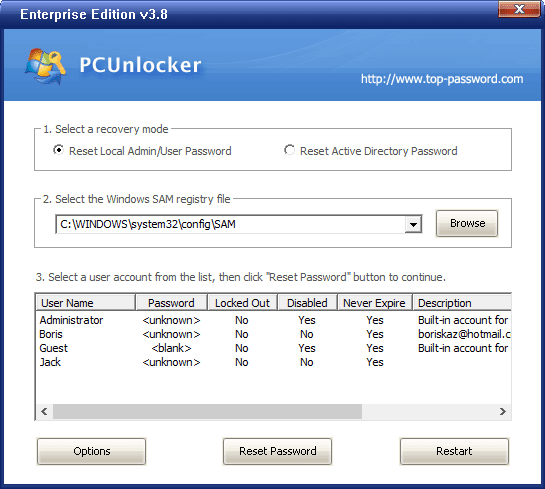 The program will check the status of your selected account and perform the following tasks to fix your password problem:
Remove the password if your Windows account is password protected
Switch associated Microsoft account to local account
Promote your selected standard/limited user to the administrator
Activate the account if it's disabled
Unlock your locked account
And much more…
Once you've reset your Windows 10 password and logged into your system, make sure to set a new password that you won't forget next time.
Read Also: How to Make Bootable USB Drive For Windows 10
So, I think that's enough about resetting your Windows 10 password without losing any important data. Still, for more information, you can check out my previously written article on how to unlock your locked Windows laptop.