If your PC or Laptop is password protected, you have to enter the password before entering into the computer. Once you are admitted to a computer by providing the correct administrator password, then you don't need to provide an old password to change the admin password. It can be possible only by using a command prompt.
It is really a funny trick and may be useful for many users of PCs and Laptops. One thing here that you need to remember is that without running as an Administrator, you can not implement this trick.
Actually, it really seems funny when you want to change the password of someone's PC but you don't know the current password of that PC. In this condition ask for their PC or Laptop to run for a while. Now type the following commands in the command prompt (cmd).
Open the command prompt by running it as administrator.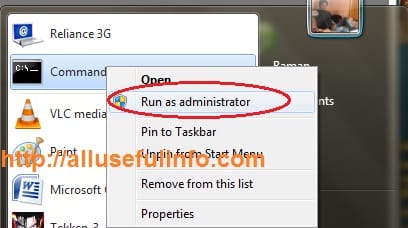 Type command Net Users to see the user accounts of Windows.
Now if you want to change the password of the Administrator, type the command Net Users Administrator * and hit Enter. Now you will see the new line to type a new password for the administrator.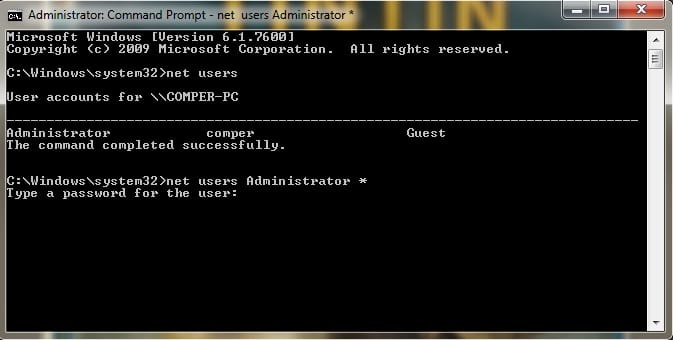 So, now type a new password to change the current password. Let's see the last step of this funny trick of cmd.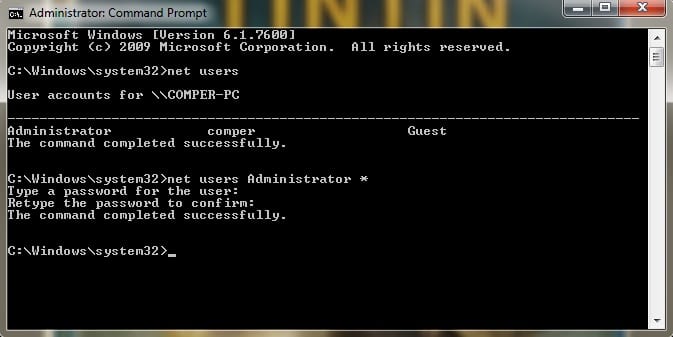 Must Check These Too!
Finally, you have done it! Two other things that's my duty to tell you are that whenever you type the password in cmd then you can't see the numbers or characters you have entered. You have to keep in mind the letters and retype again. And if you do not log in as Administrator, you will an error message like system error 5 has occurred…..Access is denied. So keep in mind you have to log in as Administrator.
Alternate Method:

Reset Password Using iSeePassword Tool

According to the above method, you can only change the password of the computer if you're already logged in. But if you're logged out and forget the password? In this case, you may use the iSeePassword Windows password recovery tool. This would also be the best choice to reset the admin or login password on Windows 7 if you have forgotten it.

With the iSeePassword Windows Password Recovery Pro tool, you can easily reset your local Windows 7/8/10/XP admin or login password without system re-installation.

What you need to prepare:

1) A USB drive or black DVD/CD.

2) An accessible computer.

3) iSeePassword Windows Password Recovery Pro

Step 1. After you download the program on another computer, install it. Insert USB flash drive into the computer and choose media type USB device.
Step 2. It will detect your USB drive, and start to burn your bootable USB drive.
Step 3. After the password reset disk is burning successfully, insert the USB device into the locked Win 7 computer. Then set boot device priority in BIOS or Boot Option menu to boot the locked computer from USB. Reboot your computer, it will load the program and show all passwords you set in your system. Select the one you want to remove, and click Reset password.
That's all guys! These two are the best and most effective methods to change or reset your Windows 7 administrator password easily. Other than this, you can also get to this article if you're locked out of your Windows laptop.