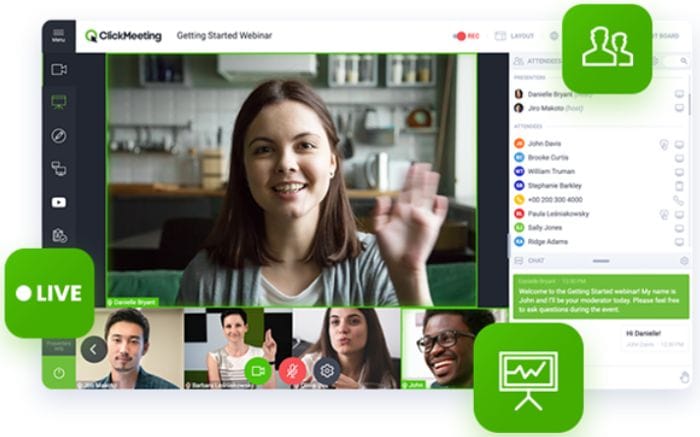 Don't let the colorful digital banners fool you. Selecting the right webinar platform is more about asking yourself the right questions rather than falling into the trap of best content marketing practices followed by webinar vendors. I have wrapped up some best webinar software platforms that will entirely effectuate your purpose of hosting webinars — sales, training, lead generation, etc.
No matter how watertight your presentation is, you will still need a power-packed webinar platform to offer a striking experience to your audience. Seamless interaction is indispensable to establishing a connection with your audience.
What Factors Make a Webinar Platform Worth Considering?
Of course, one that meets your end goals is a perfect option. But there are some crucial factors that you should necessarily consider. Hence, I have contemplated a few vital factors to round up the list of top 5 webinar platforms for 2023. These include.
Audience engagement tools
Marketing and analytics features
Inbuilt registration process
Integration tools
Security and technical support
Mobile Accessibility
However, these are not the only factors you should focus on — but yes, the important ones. Other factors include your target audience, number of attendees, payment app integration, ease of use, audio and video quality, support system, etc.
The Top 5 Webinar Platforms to Choose in 2023
Nearly 35% of the organizations end up transitioning to some other webinar vendors after reevaluating their needs later. So, to avoid post-purchase regret, press hard on assessing your requirements beforehand. Well, here are my top 5 webinar software platforms for you.
WebinarJam
WebinarJam is known to gain a competitive edge due to its advanced and distinct features. However, the platform is garnered with average reviews due to some technical issues.
It is a cloud-based platform. Attendees are not required to download any plugins at the last minute while rushing to meetings.
Its basic plan starts from $499 per year with 500 attendees. However, you can choose among three pricing plans — basic, professional, and enterprise plans. Check out their pricing structure here.
It offers high-quality sessions and is all device optimized — tablet, smartphone, laptop, or desktop. Also, you can engage your audience with different tools like real-time Q&A, live chat, sticky announcements, video injections, drawing boards, handouts, embed presentations, pools, surveys, and a private chat section. You have the moderation capabilities too. In short, they provide you all the tools to hook your audience till the end.
You can also take your attendees in the spotlight on the screen to turn the session into a two-way interaction. You save on time by using the inbuilt and customizable templates for the registration page for both free and paid webinars. You can also integrate your payment methods with it.
Does your chat box always remain cluttered with payment URLs for your sales offers? But it's no more clunky. The platform facilitates clickable offers with payment facilities.
Check out the reviews from customers who have already experienced WebinarJam here. It is rated 3.7 out of 5 on G2.
LiveWebinar
LiveWebinar is a cloud-based webinar platform that small teams and big enterprises use to manage webinars and online meetings. Its features include live streaming, screen sharing, breakout rooms, and classroom mode. There are also advanced recording and storage functions available.
The platform can be fully customized by adding brand colors, logos, and layout to the webinar rooms. Users can also design branded registration forms and dedicated landing pages when preparing webinars. No downloads or plugins are required.
LiveWebinar is available free of cost for up to 5 attendees. Its basic paid plan starts from $17.99 monthly with 100 attendees and more with add-ons. You can choose among three pricing plans — Pro, Business, and Business Plus. Check out their pricing structure here.
The tool offers many advanced functions such as branding tools, webinar templates, whiteboard, presence manager, language interpretation, evergreen webinars, or participant tracking. There is also Test & Survey function with additional features. You can include attachments and voice messages in the questions and answers of your survey.
You can also easily integrate the platform with popular marketing automation and CRM platforms, such as Mailchimp, Zapier, or WordPress.
Check out the reviews from customers who have already experienced LiveWebinar here. It is rated 4.4 out of 5 on G2.
Demio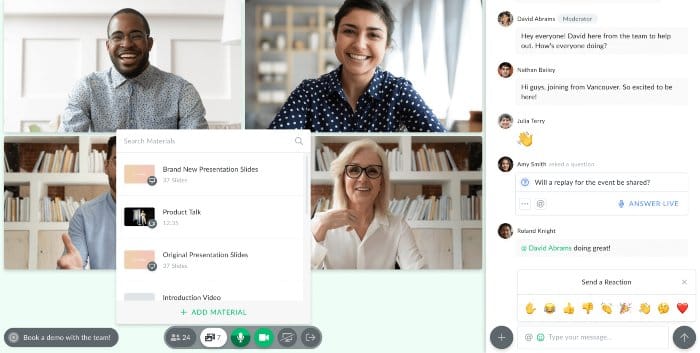 Demio is itself created by two marketers who were frustrated with the existing clunky and gawky webinar platforms. I included this platform in my list because of its seamless interface, high performance, fast speed, and adaptive streaming. It is a modernly built platform. You can integrate thousands of marketing apps and tools with Demio. You can use Zapier for the integration of ones that are not mentioned.
Its basic pricing plan starts from $34 per month with the 50-attendee room. However, there are four packages offered by Demio — starter, growth, business, and premium. Check their pricing structure here.
It is an uncluttered and very beautifully designed online webinar platform. You can use customized registration pages with the 'one-click registration' feature that allows your audience to register for webinars conveniently. And you know a hassle-free registration process undoubtedly grows your audience significantly. You can also analyze each and every detail of your webinar from the start to the end of the session.
You can use different engagement tools like polls, surveys, real-time Q&A, private and public live chat, present handouts, embed presentations & videos to boost engagement rates. The '@mentions and gestures' feature makes the session more interesting and enjoyable. However, this feature is unique to Demio, which makes it the best webinar platform. You can use inbuilt automated email campaigns for sending notifications to the attendees.
Check out the reviews from users of Demio here before getting to conclusions. It is rated 4.7 out of 5 on G2.
Zoom
Zoom is a well-renowned platform for meetings and webinars. It lacks some advanced features, but still, it's on my list because Zoom is the best webinar software for people who are just starting out with webinar sessions. It offers a free 40 minutes zoom meeting for up to 100 attendees. So just in case, you need short calls with your clients or need to train your employees for short intervals daily, Zoom is the best solution.
Their basic package starts from $40 for about 100 attendees. However, it offers six packages based on the number of attendees involved. You can check their pricing structure here.
As I mentioned, it is not a very power-packed platform in terms of advanced tools and insights. But still, it offers you several competitive features including, cloud recordings, marketing & CRM integration, and audience engagement reports.
Check out the reviews from customers regarding their services and features here. It is rated 4.5 out of 5 on G2.
ClickMeeting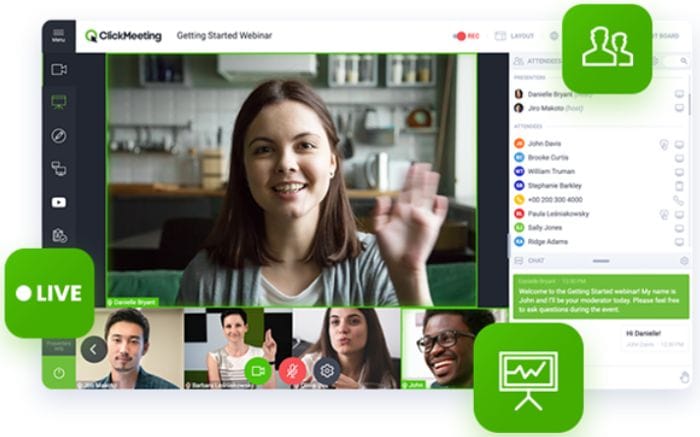 ClickMeeting is a highly compatible and affordable online webinar platform for small and medium enterprises. You can utilize their advanced software for various purposes — training, teaching, sales, marketing, etc. It has grown exponentially in recent years due to its advanced tools and bang-on tech support.
Its basic plan starts from $25 per month. It offers three packages along with a 30 day free trial — live, automated, and enterprise. You can check out their pricing structure here.
The best thing I admire about ClickMeeting is its multi-streaming feature. You can stream your webinar sessions live on various social media platforms like Youtube and Facebook. Its advanced marketing integrations include Zapier, Hubspot, and GetResponse. Moreover, you can also integrate payment options like PayPal. Also, you can integrate various analytics tools like Google Analytics, Google Tag Manager, and Facebook Pixel.
However, it offers all other standard features like webinar recording, built-in email templates, on-demand webinars, automated webinar series, cloud storage, live Q&A sessions, public and private chats, embedded video and presentation, etc. The Google translation of the chats feature is unique to ClickMeeting.
Check out the reviews from customers who already had experienced ClickMeeting here. It is rated 3.9 out of 5 on G2.
BigMarker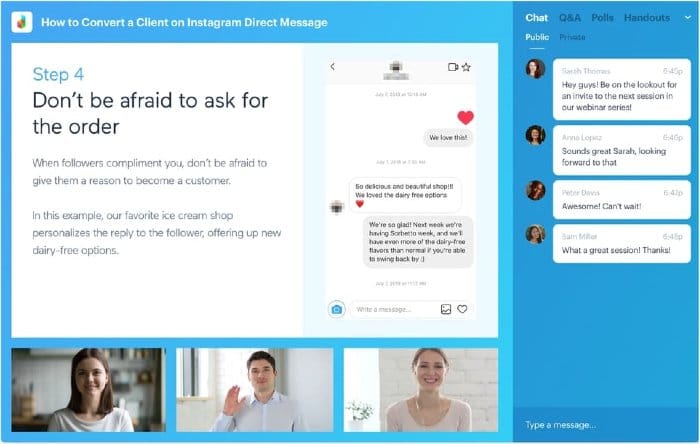 BigMarker is an all-in-one online webinar platform. It was originally built as a web conferencing platform but later emerged as a full-fledged webinar and live streaming platform. Its unique selling point is its video marketing capabilities. They are really ingenious at this. And this is the reason I chose them on my list.
Its basic plan starts from $79 per month. It offers you four packages — starter, elite, premier, and white label. Check out their pricing structure here.
They offer all the standard webinar features like high-quality sessions, automated recordings, pools, surveys, real-time Q&A, private and public chats, present handouts, including video & presentation, customized registration pages, and robust analytics.
The best part is their on-demand webinar feature. However, it is available on several other webinar platforms also. But only BigMarker offers it in their basic plan. In others, you need to upgrade to the premium plans to avail of this service.
You can also edit your webinar videos with the BigMarker. You can customize the webinar URLs under your brand name. Also, there are no presenter limitations, unlike others. Moreover, you can also host a Twitter chat to make your online presence more powerful.
You can check out its reviews here. It is rated 4.6 out of 5 on G2.
End Thoughts
All the above-mentioned are the top webinar platforms for 2023 that offer jam-packed services and features. You need to evaluate your needs and thoroughly assess all mentioned webinars to pull out a platform that will complement your expertise.
And yes, as I asserted, finding the right webinar platform is to ask yourself the right set of questions in the first place and then assess the various platforms with those answers.
However, WebinarJam is known to be the best among competitors, both in terms of pricing and features, but it lacks tech expertise. If you talk about the audience experience, then Demio is a better option to adopt.
ClickMeeting is perfect for small businesses.
The free version of Zoom is absolutely fit for the ones who are just starting out with webinar sessions. BigMarker is a one-stop shop for all your needs, but it is a little expensive as compared to other platforms.
However, you can opt for any webinar platform that goes parallel to your needs.