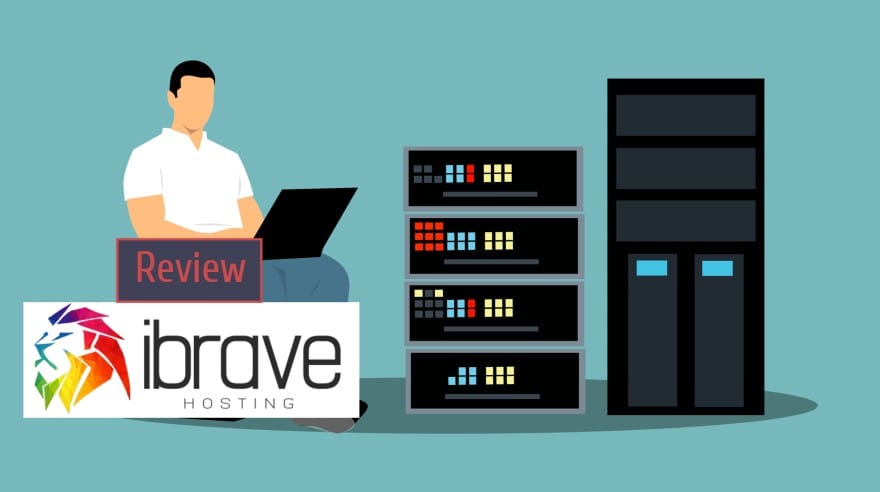 In today's World, having a website is a must-have for those who want to do business online. Whether you're a freelancer, entrepreneur, start-up, business owner, or marketer, you need a website that connects customers worldwide and grows your business.
But it's only possible when you have powerful hosting that can handle your website, and incoming traffic, boost performance, secure from hacks, and support for the long run.
In this article, I've reviewed a hosting company loaded with powerful features that can be a perfect match for your goals.
Introducing iBrave Hosting, it's one of the good Web hosting providers in the market. This platform is specifically designed by experts having twenty years of experience and iBrave provides unbeatable services and features.
That's why I've done an in-depth review of iBrave hosting – its features, uniqueness, and pricing plan so that you'll find out if this hosting is suitable for your business.
Let's Begin!
iBrave Hosting: Overview
iBrave Hosting is a cloud-based shared hosting provider based in Florida, USA. It's suitable for almost all categories like blogging, eCommerce store, portfolio, informative, real estate, or something else. You can consider iBrave Hosting for all purposes.
A unique point of iBrave differentiating other hosting providers is that – iBrave Hosting comes with lifetime shared hosting plans with a one-time fee. It means you can select any hosting plan for a lifetime with a one-time fee. This hosting can fulfill any website requirements whether you need hosting for small or big websites.
iBrave Hosting offers unlimited, i.e., unlimited websites, storage, subdomain, bandwidth, SSD storage, MySQL database, custom mail, and many features without any limitations for a lifetime.
Let's review the features & benefits you'll get inside iBrave hosting:
✅ Custom control panel
✅ User-friendly Interface
✅ 80+ Web apps with 1-click install
✅ One-click WordPress Installation
✅ Lifetime Hosting Plans at a one-time fee
✅ Lightening-fast servers
✅ Highly-secured
✅ Free CDN (Content Delivery Network)
✅ Free (Website builder / SSL / CDN)
✅ 99.99% Uptime Guarantee
✅ Auto-scaling cloud hosting
✅ 100% SSD Storage
✅ 24/7 User-friendly Support
These are some key features and benefits offered by iBrave hosting.
Top-Notch Features of iBrave Hosting
Now it's time to discuss some top features of iBrave Hosting that help you make decisions to try once. Let's see!
#1. Easy to Use
iBrave Hosting is the best fit for almost any type of business such as blogging, e-commerce website, portfolio, informative, social networks, or any big purpose.
They make sure that the interface is user-friendly, and most of the things are in automation so that you can simply access features in one click. iBrave hosting comes with its drag and drop website builder so that you can build any website in minutes.
The experience of using this Hosting is amazing and super easy. Whether you need to install web applications or create a website, you can simply do it in a few clicks. And if you're facing any technical issues, then you can simply take the help of iBrave customer support, and they'll resolve your queries instantly.
They're offering the most popular and useful 80+ web apps that you can install in one click. You can simply select any web app like WordPress, Magneto, Joomla, OpenCart, etc., and install it on your hosting with one click. That's why it's super-fast, reliable, and saves you time.
#2. Multi-Server Cloud
iBrave offers a Multi-Server Cloud hosting service to make your website unbeatable. With Multi-Server Cloud hosting the risk of failure, crash, or slow speed is reduced because based on your website requirements, iBrave automatically scales its capacity and helps you run your website smoothly. Your website performance will never be affected by any other activities. It's scalable hosting and performs according to your website requirements – if your website needs more storage/server then iBrave Hosting automatically scales and fulfills your website needs.
#3. Everything is "Unlimited"
This is the strongest point of iBrave Hosting, i.e., Everything is Unlimited. Whatever plan you're selecting for your website, you'll get everything unlimited means unlimited storage, subdomains, bandwidth, custom mail, SSL, etc. And if you take iBrave unlimited plan, you can host unlimited websites also. iBrave all Hosting Plans come with unlimited everything except websites that you'll only get in "unlimited plan".
This "Unlimited feature" can shift your mind because you have the power to expand your website and use its potential without any limitations.
#4. Website builder
iBrave hosting has its website builder that you can use to create any website. You don't need to learn any coding to create a website because iBrave offers a drag and drop Website builder with prebuilt Modern Templates. You can simply pick any eye-catching Template and customize it as per your requirements. Even a beginner can use its drag-and-drop website builder to build websites. This website builder is very powerful and comes with all the necessary features to make an eye-catching Website.
#5. Unlimited Custom Email
With the iBrave custom email feature, you can create an unlimited business email that helps you build authority in the market. Business emails can help you to manage your database and services. For example – you can create business Emails for different purposes like support mail, contact mail, Affiliate mail, business mail, etc. You can create unlimited custom emails with iBrave hosting.
#6. User-friendly Support 24/7
iBrave hosting mainly offers customers support 24/7 or 7 days a week. You can easily contact iBrave Hosting whenever you're facing any issue – they'll resolve it instantly so that you can confidently run your website without any issues.
#7. Antivirus & AntiSpam Protection
To protect your website from malware or any hacks, iBrave Hosting ensures the security of your website with its multi-level security system. Your important data is completely protected from any hacks.
Similarly, you'll get many other powerful features in iBrave Hosting.
iBrave Hosting: Pricing Plans
iBrave Hosting offers Amazing Web hosting plans at reasonable prices. They're offering almost everything you need to build and scale your business without any limitations.
iBrave hosting offer three Lifetime access plans:
iBrave Hosting Startup Plan that cost $99 (one-time fee) with Lifetime Access
Professional Plan that cost $199 (one-time fee) with Lifetime Access
Unlimited Plan that cost $299 (one-time fee) with Lifetime Access
You can choose any plan because you'll get everything unlimited. The only difference between the three plans is, you can host unlimited websites only in "Unlimited Plan".
All plans come with a 14-day Money-back Guarantee so that you can use this powerful hosting, and if you're not satisfied, then you can get a refund easily.
Conclusion
Finally, I have reviewed the features, uniqueness, and pricing plans of the iBrave hosting. The unique point of iBrave hosting is, everything is unlimited. Its powerful services & features differentiate it from other hosting providers.
If you're looking for a web host where you need to pay once and run your website lifetime, then it's a good match for you. iBrave Hosting is the latest in the market, and if you're satisfied with its features/services, you can go with iBrave Hosting.
They're offering a 14-day money-back guarantee, so you should try once, and if you're not satisfied, then you can easily get a refund. There are many Hosting providers Available in the market that offer web hosting plans for monthly, yearly, and lifetime, and you need to understand which hosting is suitable for you. For "Lifetime Access", you can consider iBrave Hosting and take advantage of its unlimited features.