There are many online services provide the facility to save your credit card securely for automatic recurring. It's a good thing that saves your time at the time of making payment. But, sometimes saving card details in a website becomes a bad experience due to many reasons such as hacking attempts, danger of stealing card details etc.
I previously guided for how to remove your card details from Paytm and Facebook ads manager. And this time I'm sharing this short guide to help you easily remove your credit card details from Freelancer.com.
My story is that, for many days I was using Freelancer.com and posting some projects to hire some PHP developers but the problem was that I was not aware of their pricing like they also cost for deleting a project and more so many times for unknown reasons I used to get messages like some amount is deduced from your credit card via Freelancer.com. Due to this reason I had to remove card details and only when I need to post a job, again add my card to make payment.
So, for any reason if you want to remove your credit card from your Freelancer.com account, you can easily and safely remove it in just a few clicks.
Here's How You Can Remove Your Card from Freelancer
Removing your credit card details from freelancer.com is the easiest task. Primarily visit your Freelancer.com dashboard. Now click on your Profile Icon and choose Settings.
Now, in your profile settings click on Payments & Financials option. Here you will see your credit card as your preferred payment method. As soon as you will click on the Cancel (Cross) mark (pointed by arrow in the following screenshot), the card details will be permanently removed from your Freelancer's account.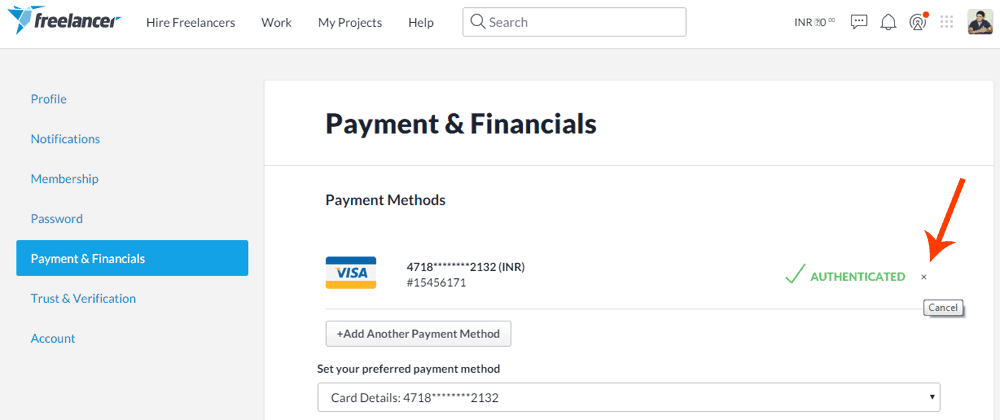 That's all! By using this procedure, you can easily remove your credit card details from your Freelancer.com account. However, it's as simple as it seems but still if you stuck anywhere, let me know via comments.
Essential Posts for Freelancers: