All the bloggers and web designers ever search for a best and trusted web host for their website. Everyone wants a trusted and contactable web hosting company for website hosting. Now, you don't need to wander for searching a secure and reliable web hosting provider in India. I'm sharing some most trusted web hosting companies in India which I've tried and tested.
So, according to my experience and users reviews, I've compiled a list of top 5 trusted web hosting companies for Indian bloggers. These all hosting provides are reliable, secure, affordable and popular. So, you can host your website on any of these listed company on seeing your requirement.
Best Web Hosting Companies in India
Now, it's time to find a best web hosting company for your blog/website in India. Here top 5 most trusted Indian web hosting companies are listed. Just read out carefully about the all of them and select a best one for you.
HostGator is an international web hosting company having more than 750 employees and is able to provide satisfying service to clients from over 200 countries internationally. HostGator is most secured and trusted web hosting company which provides trustworthy services also in India.
There are various features of HostGator include Lowest possible latency, super fast site access, localized toll-free phone support in multiple languages.
Now, in case of payments methods, it offers Credit Card, Debit Card, Net banking, Bank Transfer, PayPal and Moneybookers to make payments.
Founded in 2003, Linode is one of the most popular cloud hosting providers in India. Among all cloud infrastructure services, web hosting is one of the most common uses of Linode. They offer a wide range of standard, dedicated CPU, GPU, and high memory VPS plans.
Because of some dominant reasons like affordable and transparent pricing, an award-winning customer support team, modern and secure infrastructure and many robust sets of tools, such as One-Click apps for things like WordPress and cPanel, I believe that Linode is one of the best platforms for your website hosting needs.
ResellerClub is India's biggest web hosting company which specializes in shared and reseller hosting. It comes with very affordable shared and reseller hosting packages. However, apart from this, VPS and Dedicated hosting servers are also available for customers with high traffic or performance requirements.
ResellerClub also offers domain reseller services for 500+ TLDs with great discounts on domains. ResellerClub powers 200,000+ web professionals globally by providing them with secured billing, easy setup, industry best prices, award winning customer support by email, chat and phone. Check out my ResellerClub review.
BigRock is one the best domain registration and web hosting company in India. With over 10 years of experience and powering over 200,000 websites, it's Web hosting platform is unarguably among the most trusted in the world.
It provides multiple hosting services include Windows hosting, Linux hosting, WordPress hosting, Joomla hosting, Drupal hosting, e-commerce hosting, Reseller hosting & VPS hosting.
BigRock also offers a toll-free number in India to get instant support free of cost.
Hosting Raja is India's one of the best and most affordable web hosting companies with many outstanding features. It lets you start your new website at very affordable hosting cost. Starting from only Rs 99/month for starting websites, it has many other popular plans for high traffic websites, all at very affordable pricing.
In case of tech support options, Hosting Raja provides support by means of options: live chat, email support and phone support.
Another special thing in Hosting Raja is its multilingual support. So, don't worry of the language problems, Hosting Raja will deliver the best support in your regional language.
More..
Other than the above five web hosting companies, following are a few more I found recently. I think you should check them out too.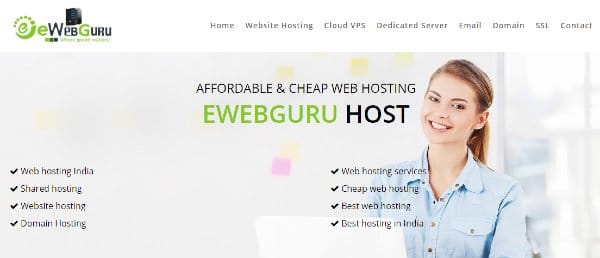 eWebGuru is also one of the trusted and growing web hosting companies in India. eWebGuru is not reseller, in spite it is a broad hosting company in India. It provides you the full root access of your server. It is currently hosting more that 25,000 websites.
Provides a fully managed hosting with superb responsive support including the live chat option. It provides various types of hosting services include Linux hosting, Windows hosting, Linux VPS, Windows VPS and Java hosting. Its payment options are Credit/Debit card, Internet banking, Bank draft or Cheque, Paymate, PayPal and you can also pay through deposit in the bank directly in their A/C number.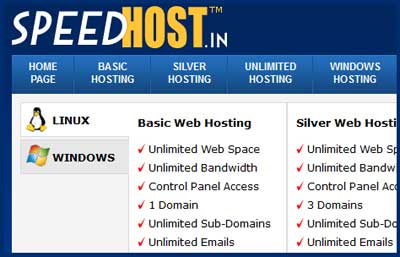 SpeedHost is India's leading web hosting provider. It offers 24×7 support to speed solve your problems and queries. SpeedHost offers you easy to do procedure to host your website very easily without any difficulty. All of its hosting accounts supported by a comprehensive control panel through which you can fully control and manage your site.
You can create emails, install a blog, add sub domains and check the server status by yourself with a simple click of the mouse using control panel. It supports most easy and almost all the payment options include Net Banking, Debit Card, Credit Card, Cheque and Cash Deposit or PayPal.
My Experience with Bluehost
A few time back, All Useful Info was hosted on Bluehost India and it was providing me better services. I was moved it from Hostgator to Bluehost because of some migration issues with Hostgator. Bluehost provides better service but yes it is indeed that it can't beat the awesome support of Hostgator.
Moreover, Bluehost is affordable and provides the fully managed VPS for your website. There are lots of plans available for you. Unlike Hostgator, it has a (without toll-free) phone support and email support and of course worked fine for me till now.
Currently, We're Hosted on Cloudways!
For your information, let me tell you that these days All Useful Info is hosted on Cloudways hosting company, and I'm very impressed with its services and features. Check out my first cloud hosting experience.
Before that, All Useful Info was hosted on Knownhost. Check out my review of KnownHost Web Host, I wrote in one of my previous articles.
Conclusion
It is concluded that you should choose a best and trusted web hosting company for your website. The above list contains 5 most trusted web hosting companies which provide the reliable service with quick support response.
So, in my opinion, if you are a citizen of India and wanna host your website or business blog then you should select any of the web hosting company I've listed above.