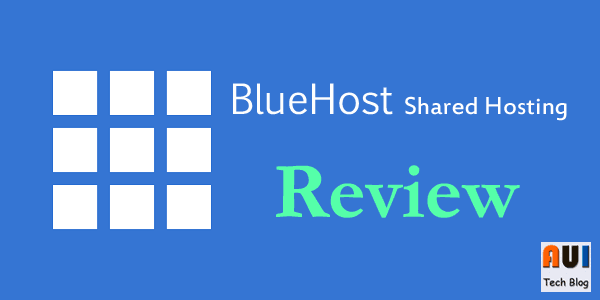 Stepping into the web hosting industry in 2002, BlueHost is now among the largest shared hosting providers around the world. Powering over 2 million domains, the company has earned a reputation for unlimited hosting features, responsive support, and great performance.
I have personally used BlueHost hosting services for almost 2 years. In this review, I will offer some details about its shared hosting plans, and share my happy experience with them.
BlueHost Shared Hosting Plans and Discounts
BlueHost has split its shared hosting solution into 3 packages which are named Starter, Plus, and Business Pro. The regular prices of the plans start at $5.99/mo, $10.99/mo and $23.99/mo. At present, the company is offering some big discounts for the initial term.
Below are the details of BlueHost shared hosting plans. The discounted prices are also included.
Starter: $3.49/mo, including 1 hosted website, 100 GB disk space, 100 email accounts and unlimited bandwidth.
Plus: $3.95/mo, including unlimited hosted websites, disk space, bandwidth and email accounts.
Business Pro: $13.95/mo, including unlimited hosting features, 1 dedicated IP, 1 private SSL certificate, and 2 SpamExperts.
Must Read: Hostgator VS Bluehost VS Knownhost
What I Love About BlueHost Shared Hosting
During the past years, I was deeply impressed by BlueHost service quality and support. I'm going to show why.
Powerful features with easy-to-use control panel
BlueHost has been offering rich features for all hosting plans. For example, each shared hosting user has access to an enhanced cPanel which comes with various helpful tools such as a file manager, a domain manager, and email account management entries.
Besides cPanel, BlueHost shared hosting plans also include all of the following features.
Scripting capabilities: PHP, MySQL, PostgreSQL, Perl, Python, and Ruby on Rails.
Multiple security features: SSH, shared SSL, daily automated backups, and access control.
The ability to customize Cron Jobs, .htaccess file, and php.ini.
SimpleScripts, a 1-click installer for WordPress, Joomla, Drupal, etc.
Weebly website builder.
A free domain and up to $200 advertising credits.
Solid uptime
BlueHost runs 3 custom-built data centers which are equipped with UPS and backup generators. Backed by these facilities, the company guarantees 99.9% uptime for all shared hosting users.
According to the monitoring of my site, BlueHost delivered an average of 99.94% uptime in 2014, and 99.97% in the past months of this year. As a matter of fact, my site has not experienced a single downtime since August 2015, which is a great result for a shared hosting environment.
Blazing-fast hosting speed
BlueHost has taken many measures to ensure fast speed for its shared hosting. Besides building its own servers and keeping optimizing them, this web host also utilizes some advanced technologies, such as CloudFlare CDN and a resource protection system. No extra fee is charged for any of these additional technologies.
For my site hosted with BlueHost, the average server response time keeps around 320ms, and page loads take a little bit less than 2 seconds.
World-class technical support
BlueHost provides 24×7 technical support via live chat, phone and email tickets. All the support requests are handled quickly by the staff located in Provo, UT. And the phone support is toll free inside the US.
BlueHost has a guarantee of 15-minute response for tickets, and 30-second waiting time for live chat and phone. I have tried all the support channels for about a dozen times, and the experiences are all satisfying. No matter there is a question about server specifications or a request for hosting tips, the support staff gives an accurate reply in a timely manner.
In the support center, BlueHost has also prepared a wide series of tutorials about WordPress, email, domain, hosting account, control panel, etc. The search function allows users to find an answer more easily.
Money back guarantee
BlueHost full refund guarantee lasts for the first 30 days of signup. During this time, users cancelling their accounts for any reason can ask for a refund of all hosting fees. In terms of cancellations after 30 days, there is still a pro-rated refund available for the unused services.
Other Facts to Know About BlueHost
The first one is that BlueHost only focuses on Linux-based hosting services. Besides shared hosting, the company also offers more advanced solutions like VPS, managed WordPress hosting and dedicated servers. However, all of these services are for Linux users, and there is no solution for Windows hosting.
Another issue to pay attention is that all of BlueHost discounts are valid for the initial term only and does not apply to any renewal. In fact, this is a common situation for over 95% web hosts in the market.
Read Also: Best Reasons Why You Should Choose Bluehost
The Verdict – BlueHost Shared Hosting Is Trustworthy
Bluehost is listed on many hosting review sites as one of the top 5 shared hosting providers. Judging from my own experience, the company certainly deserves the No.1 position because of its unmatched performance and rich features. The shared hosting service offered by this web host is a good deal for bloggers and small businesses.