Finding the right hosting provider has been a challenge for almost everyone. The only exceptions are those who have found the perfect provider and are eventually settled. I also had this dilemma and had to move from one hosting provider to another over the years.
And that's why I always share reviews of different web hosting companies to help people easily find out the perfect web host according to their requirement and budget.
Today, in this article I'm going to review ResellerClub, the affordable hosting company which specializes in shared and reseller hosting plans. Lets know more about ResellerClub!
Affordability
Many website owners are restricted by their budget, and so was I. The other web hosts that I had used in the past may not have been expensive, but they did increase their plan prices after some time. The value proposition would get lost with time.
At the same time, I would like to add (and most others will agree) that extremely low prices never assure quality services in the web hosting industry. So even though ResellerClub costs a little more than those 'cheap' hosting services out there, it delivers quality across all its offerings – from server reliability to customer support quality.
ResellerClub's shared hosting plans start from as low as Rs. 235/mo (they do offer a special first-month offer of just Rs. 35/mo, which is great for testing their services).
The different plans and their prices are as following: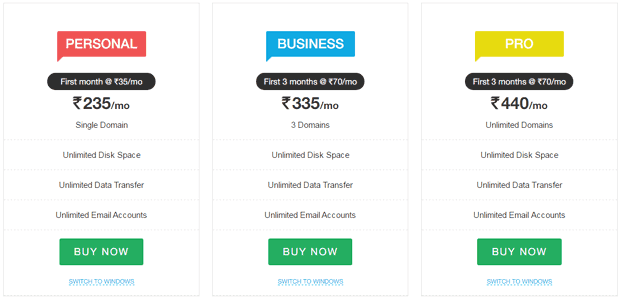 The business plan at Rs. 335/mo for 3 domains should be perfect for many.
Windows shared hosting plans are also available and there's not much difference in the prices. For example, the business plan costs Rs. 370/mo for Windows hosting, but offers a total of 5 domains.
You can also choose the server location between the US, UK, and India.
MUST-READ: Hosting Raja: India's Leading Cost-Effective Web Host
Plan Features
All three shared hosting plans are offered with unlimited resources like storage, bandwidth, and email accounts. Anyone who has some experience using shared plans knows that the resources are never free.
The available resources from this web host have the following specifications:
RAM: 24GB
CPU: Dual Xeon with a clock speed of 2.40GHz
OS Drive: 250GB RAID 1
Cached Customer Drive: 1TB
The claimed uptime is 99.9%, and I never found any lag or disturbances except around the scheduled maintenance.
When it comes to control panels, ResellerClub allows switching between different panels (cPanel and Softaculous). It takes just a click to install WP, Drupal or Magento.
Reseller Hosting
ResellerClub is a specialized reseller hosting provider. So, it is worth shedding some light on their reseller plans too. It offers complete set of tools and features to run your reseller business. This includes:
Hundreds of different products to address your domains, servers, security, cloud hosting, apps and other needs for web designing and development.
Seamless integration through SuperSite or HTTP API.
Award-winning customer support
Time-tested billing and order management tools
Valuable insights from leading experts to boost your reseller business
Access to Web Pro community
Highly competitive pricing
The Linux reseller hosting plans start from Rs. 1290/mo (Rs. 410 for first month). Interestingly, all the different plans are billed at Rs. 410 for the first month. The different reseller plans and the available features are as following:
ResellerClub also offers VPS and dedicated hosting plans.
Technical Support
I have always found ResellerClub's tech support to be spot on. The support team is courteous and professional and can be reached 24 by 7.
Contact modes are available through phone, email and live chat. They do have actual tech people who know the stuff. I have had nightmares with some of my previous web hosts – the tech people didn't know what they were doing. But with this hosting provider, the experience is altogether great.
The company also claims to continuously monitor its hosting servers to ensure that all issues are resolved efficiently.
Trust
One of my friends has been using ResellerClub's reseller hosting for last few years and according to him, it is a trustworthy and reliable web hosting provider. There has never been a glitch.
Whenever he needed help, the support team was always helpful in an effective manner, saving him time and headaches.
For new users, I would recommend them take advantage of the 30-day money-back guarantee.
READ ALSO: Knownhost Web Hosting: My Overall Experience
Should You Choose ResellerClub?
ResellerClub offers great value for money. It delivers high-quality hosting solutions at the price it is offered. Once you choose a shared or reseller plan, you will not find yourself being trapped in it.
The value of services and features offered is worth more than what you pay for.
High reliability, cPanel, affordable Windows hosting, great tech support, and 99.9% uptime are some main reasons that give it an edge over other so-called affordable options out there.
So, just signup today for a ResellerClub hosting plan and let us know how did you find its service. Feel free to comment below to share your feedback.