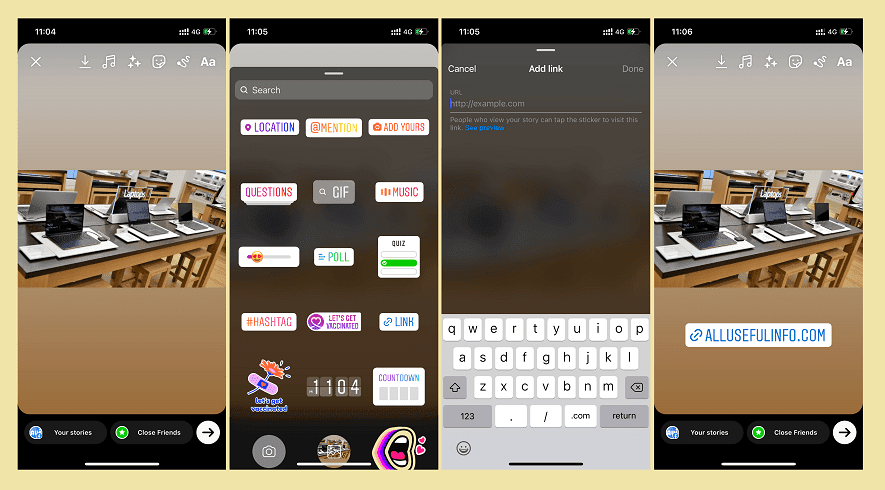 Now everyone can share links in Instagram stories. Yes, you heard it right. Recently, in an announcement, Instagram allowed the link share feature for every Instagram user. Till now, this feature was accessible only for limited accounts. As of now, it doesn't matter which is your account type or how many followers do you have, you can use the link share feature.
Link sharing is a feature of Instagram used to add a link to Instagram stories. You can add any type of link to it. Being an Instagram user, when you will add a link to your Instagram story, it will redirect the viewers to the link source when they click on the link.
It is useful for those who want to grow their reach by sharing his article, website page, and services. Until a few days ago, this feature was used to work in form of swipe-up, but now, this works as a button.
Already, Instagram has announced that the link sticker is only valid for the story page. Instagram cleared, it will neither be a part of the main app and nor bring this to Instagram feed. And also Instagram cleared that from now, every account can use link stickers.
Previously, Sharing Links in Stories Was Available For Limited Users
At the very first, when link sharing was introduced, it was only available for limited users. Only the users with verified accounts or a certain number of followers were able to use this feature. Because of this, small creators and businesses couldn't be using it. The small accounts had access to place the link only in bio, not in the stories.
The decision of expanding the link share feature for everyone has been taken on the basis of users' feedback and to make link sharing more impactful and useful. Instagram found that link sharing is being very useful for any type and size account as everyone is having uses of sharing their links.
How To Share Links in Instagram Stories?
It's not a big deal to add a link share button in the Instagram story, even this is quite an easy process. You just have to follow the given process step-by-step to add a link sticker to your story.
Step 1. Upload or capture content which one you want to use.
Step 2. There is a tool Sticker in the navigation bar. Tap on that tool sticker.
Step 3. Now, look for 'Link' Sticker on the screen and select that.
Step 4. Add your desired link and tap on "Done".
Step 5. Place the "Link" sticker on the story and you can place it anywhere on the story post. Also, you can change its color by tapping on it.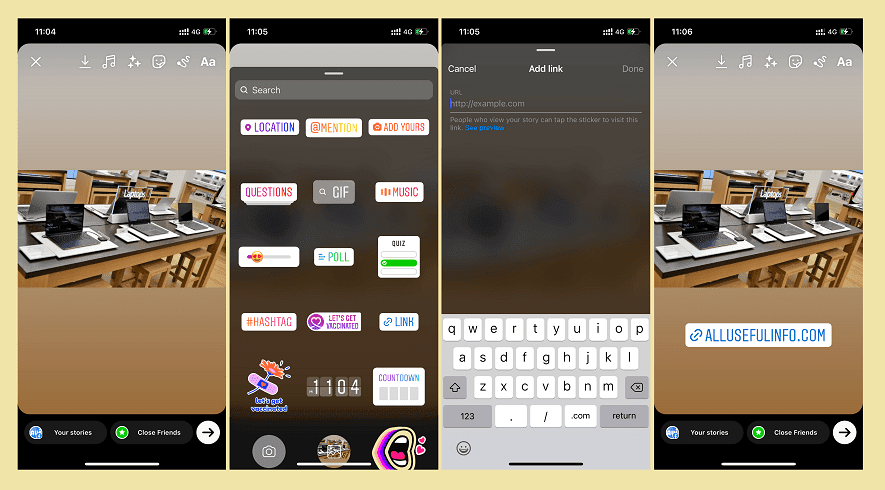 Here, your desired link added with your story. Now, you can post your story.
However, Instagram is very concerned about privacy and security. In the order to make the link share feature safe for users, Instagram will not give access to the link sticker to some of the accounts that are not following community guidelines and spreading hatred by sharing hateful content.
So, if you want to use the Instagram link sharing feature continuously, you have to keep these things in mind and follow the community guidelines. Moreover, Instagram is not giving access to link sharing features to new accounts and already spam-listed accounts.
If you are in the criteria of eligible users but still don't have access to the link share feature, you can drop an appeal to Instagram. Surely, you will get access. Otherwise, you will be informed why you are not getting access to the link share feature.