Everyone wants to get their account verified; not only on Twitter but on all the other platforms. When Facebook and some other social media platforms are still not accepting account verification requests, Twitter once again started accepting new applications from its users for account verification.
Twitter announced the relaunching of accounts verification via a blog post published on 20th May 2021 and a tweet made on their @Verified handle. In that tweet, it's clearly mentioned that "You can now request verification in-app, right from your account settings!"
Dear "can you verify me" ––

Save your Tweets and DMs, there's a new official way to apply for a blue badge, rolling out over the next few weeks.

You can now submit an application to request verification in-app, right from your account settings!

-Your verified blue badge source pic.twitter.com/2d1alYZ02M

— Twitter Verified (@verified) May 20, 2021
But, what if you still can't request verification on Twitter? Actually, I still can't see the request verification link or option to submit my Twitter account verification application. And this is not only with my Twitter account but many Twitter users having the same issue.
So, in this article, I'm gonna explain that how can you request your Twitter account verification and what to do if you still can't request verification. As the Twitter account verifications are back, let's discuss to understand it better.
Can Anyone Apply For Twitter Verified Badge?
Well, Twitter relaunched the verification for everyone and it means anyone using Twitter can apply for the verified badge but of course, it has eligibility criteria that the requesting account should fit in.
According to Twitter, if you want to qualify for verification, you must be in any of the following six categories. Only if you belong to one of the following categories, you can qualify for the verification.
Government officials, ministers, and institutional entities
Brands and organizations
News channels and journalists
Entertainment companies, TV networks, and artists
Sports and gaming accounts
Social activists, organizers, and influential individuals.
Not only this, your account profile should not be incomplete. It should have a proper profile name, profile picture, and either a confirmed email or phone number. You should only apply for verification if your Twitter profile is absolutely complete and ready.
How to Request Verification For Your Twitter Account?
After relaunching the verification for Twitter accounts, starting from 20th May 2021, users are able to submit applications to request their Twitter account verification. If you still don't know how to request verification for your Twitter account, check out the steps below:
First of all, make sure that you're eligible to request verification and your Twitter account is ready.
Now, open the Twitter app on your smartphone and go to Settings & Privacy.
Under your Account settings, you'll see a Request Verification link. Just tap on it and follow the instructions to successfully submit your application.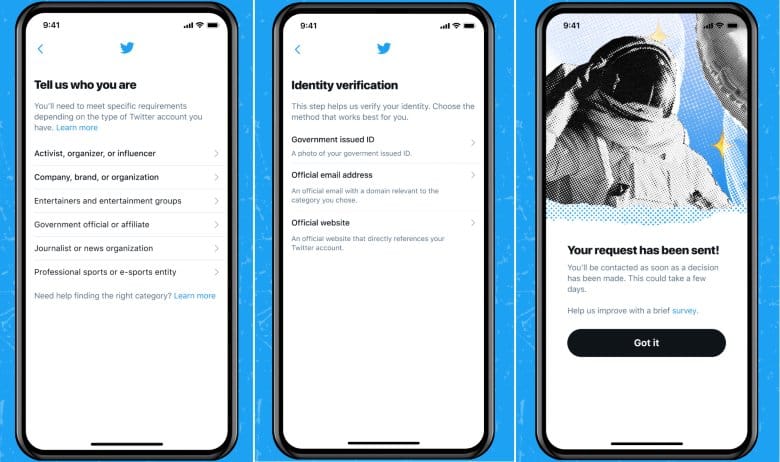 In this application, you'll be asked some details like who you are, your government-issued ID, official email address, official website, etc. After the request will be sent, you'll be contacted by the Twitter team as soon as a decision has been made. This could take a few days.
What if You Can't See Request Verification on Twitter?
What to do if you still can't request verification on Twitter? This is the most asked question these days. The reason behind this is that not everyone is seeing that Request Verification link on Twitter and therefore unable to apply for the verification.
You're not seeing the Request Verification on Twitter doesn't mean you're not eligible for the verification. Truth is different. According to a blog post by Twitter, everyone on Twitter will start seeing the Request Verification in the coming weeks.
If you can't see this Request Verification on Twitter immediately today, don't panic because Twitter is rolling it out slowly to everyone so that they can handle and review a large number of applications in a timely manner.
Twitter May Remove the Blue Verified Badge
Once your application got approved and your Twitter account got the blue verified badge doesn't mean it's permanent. Twitter may anytime remove the blue verified badge from your account without any notice. Well, if it happens, there will definitely some big reasons.
According to Twitter, there're many reasons why you may lose your blue verified badge such as changing your username (@handle), account name, or the position you initially were verified for.
If your account becomes inactive or incomplete, Twitter may remove the blue verified badge. And the accounts that violate the Twitter rules by abusive and hateful tweets may get the account suspension or verified badge removal instantly.
Read Also: 10 Ways to Increase Your Twitter Engagement