Whenever you go to buy expensive electronic devices such as laptops, computers and more, the devices tagged with 'Like New' attract you the most. Normally this happens with me too. This is because the cost of these laptops sounds so pleasant. They mostly come under our budget because these are the secondhand laptops that have been used previously.
However, with the reduced cost these laptops may contain different demerits that we often forget while buying these used laptops.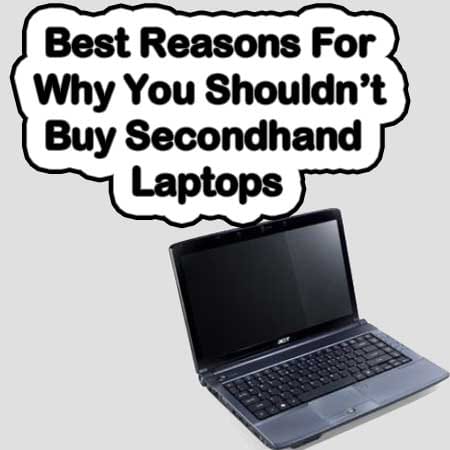 Therefore, today I have come up with the various reasons related to why you and I shouldn't buy used or secondhand laptops. So now focus on the reasons to decide yourself whether to buy used laptops or not.
1. No Warranties
Used laptops or secondhand laptops mostly come with no warranties have you ever thought that what the reason behind this is. If no then you must know that the dealers who are selling these secondhand laptops are also not sure that the laptop will work for the longer period or not.
2. May Be Infected With Viruses
You never know that the secondhand laptop, which you are going to buy, is virus, spyware or malware free or not. So better, be aware before buying these used laptops.
3. Bad Hardware And Software
In excitement, you may often forget about the main components of the laptops that are hardware and software. It may happen later that you need to invest more money for repairing or replacing of these components if they are defected. Therefore, before buying the used laptops focus on this reason because you don't know what pros and cons the used laptop carries.
4. Bad Battery Life
Good Battery backup is a thing, which can be detected in a day; therefore, you can never be sure about the battery life of the used laptop.
5. No Guarantee That It Will Work Longer or Not
Since secondhand laptops are the laptops that have been used ones, therefore there is no guarantee that these laptops will work longer or not because these are not certified and no one is sure that before how it has been used whether it has been dropped or whether water or coffee has spilled on it. Therefore, always be aware if you are making you mind to buy a secondhand laptop.
FURTHER READING:
Conclusion
If you are planning to buy a new laptop then never make your mind to buy a secondhand laptop. In spite of this, you can add more money and buy a new laptop with warranty periods. This could be more beneficial for you.