Today with the increasing price, we all want to save money as more ways as possible. Moreover, when it comes to buy the expensive devices like computer or laptop, we obviously want to know about different ways and things that could help us save a bunch of money, isn't it friends?
So, if you are looking for such money saving ways while buying a new computer, you are on the right place. There are small things, which we generally ignore but these things can help you a lot to save money.
Therefore, in my today's article I am going to roll up and remind you some easy and general ways that could help you out to save a bunch of money while purchasing a new computer. Have a look: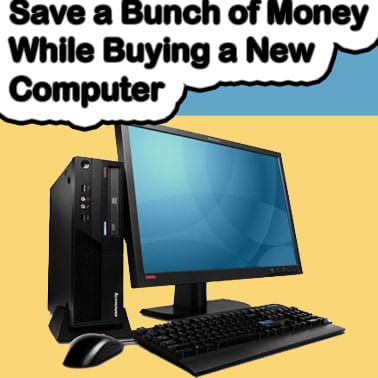 1. Look for the best deal available in the market
It sounds obvious but many people don't realize that they don't need the fastest and most expensive computer with the more "extras". In fact, if you are already using an older computer, even the least expensive new computer will be a big upgrade.
If you don't know a lot about computers, you can learn a lot by going to the related shop around you. Ask questions, compare prices, compare features, then find the best price.
You can also search for best deals and discounts on the web for shopping online. You'll be surprised to know that you will be able to save a bunch of money by finding great deals online.
2. Don't look for the computer with more "extras"
Generally, most of the computers come preloaded with verities of extras among which most of them are not much useful. So don't look for the computers or laptops that contains a bulk of different preloaded extras like different games, antivirus, word processor, popup blocker, spyware removal, browser and many others like these.
If you want these extras then you can get it from the best price dealers and you can also get some of them for free. So before you buy the fully loaded computer with extras, ask yourself if you really need all the extras, then shop around to see if you can buy a scaled down computer and get the extras yourself for much lesser.
3. Don't look for the extended warranty period
The extended warranties offered by the computer retailers often sound like a good idea. After all, who wants to pay extras for service on a computer after you buy it? Nevertheless, keep in mind that most computers come with a warranty, and most computer problems will happen either at the beginning or much later when it might be cheaper to buy a new computer. So consider whether it's worth to pay the inflated price of the extended warranty.
Moreover, if you really feel you need the extended warranty, then ask them for the lower price. Not all retailers will negotiate on the warranty, but some will.
4. Ignore the extra accessories
Many times, you would have noticed that the computer dealers offer for extra accessories like as cleaning liquid, cleaning bush, game CD's  and many more. You must ignore these because you can get these products in the market with best and reasonable prices when you need it.
5. Avoid buying worthless software
Whenever you will go to buy a new computer, your computer dealer will advise you to buy different software related to antiviruses, games, spyware, and many more. Don't ever buy the software about which you don't have any information. Because these licenses software are costlier and if they are useless then later it will be proven as useless drawn of money. So, before buying any software, have detailed information about it.
Further Reading:
The above given ways are the common things which most of you would be knowing but you never noticed on these facts that how useful they are. So, whenever you go to buy a new computer, remind the above-displayed 5 things to save your lots of money.