While buying a computer we often get confused whether to buy a desktop or a laptop because there are number of factors to consider about them. Desktop and laptop are somewhat similar but roll up with different features in different circumstances.
Many offices use desktop computers because they are not intended to be moved around a lot and others prefer laptop that are easily portable. Many more circumstances are there that may create confusion.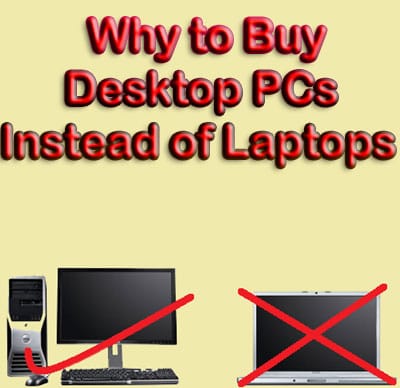 Therefore, today I have come up with different factors or reasons to drive away your confusion related to why to buy desktop PCs instead of laptops. So go on with your reading and know these reasons.
1. Cost
While talking about the cost you all would be knowing that desktops are generally cheaper than the laptops. In addition, affordability often plays a major role in most of the decision such as whether to purchase laptop or desktop computers. Therefore, the desktop suits the affordability more than that of laptops. This is the first factor related to why to buy desktop PCs instead of laptops.
2. External Connections
Unlike laptop computers, replacing a keyboard, mouse, speakers or even a monitor does not require having your computer serviced by a professional repair shop. Because laptop computers have everything built in, including the aforementioned features, it is more difficult to replace a keyboard or monitor as opposed to desktop computers, which operate on external connections.
3. Huge Weight and Bulky
You all would be knowing that desktop are huge weighted and bulky both in weight and size respectively. This weight and bulkiness add another option to buy desktop PCs Instead of laptops. Don't be confused because there is a simple reason behind this fact. And this fact is that desktop computers are not as likely to be stolen because of their weight and bulkiness. Laptop computers, on the other hand, are small and portable. This, alone, makes them more appealing to a thief than desktop computers.
4. Stationary in Nature
Desktop computers are stationary by nature because of its heavy weight. Whereas laptops can easily be moved from room to room and place to place, which increases the possibility of accidents like as dropping of laptops, forget it somewhere and many others. However, desktops are less likely to be dropped or broken because they are not easy to be moved as often.
5. Less damage due to less overheating
The ventilation on desktop computers are located on the back of the tower, which allows it for proper ventilation that will help to prevent the computer from overheating whereas laptop, on the other hand is featured with only one ventilation on the back with the remaining underneath the base. If the laptop is placed on a table, the air vents can become blocked and the computer may overheat. This overheating may result in the damage of the laptops.
Further Reading:
I think that the above given 5 reasons are enough to wash away your confusion related to why to buy desktop PCs instead of laptops. After knowing these reasons, even if you think that laptop is better than desktops, then the choice is yours.