You will be amazed to know that more than 80% of people use the Internet for purchasing things online. And this is the main reason behind increasing the number of online shopping websites. It is also a fact that different online shopping sites may have different prices of the same product, but due to having a large number of online shopping websites, it became very difficult to compare prices by visiting each shopping site again and again. So, the price comparison websites took place to get rid of this problem.
This article is all about the best and reliable price comparison websites, but for only Indian users. While surfing the Internet I came to know that many users complain about incorrect pricing details or other fake information on many price comparison websites, so I think you won't find these kinds of problems in the following listed price comparison websites because these are the popular and reputed brands.
The Best Price Comparison Websites in India
So, get ready to compare the prices of products before you buy them using any of the following price comparison websites so that your money won't waste anymore.
Smartprix seems to be the best online price comparison website in India which not only lets you compare the price of products for different shopping websites but also allows you to compare two products based on their features, specifications, and user reviews.
The website's interface is very user-friendly and easy to use. It lets you compare smartphones, laptops, televisions, computers, accessories, and other electronic items like smartwatches, all from different popular brands.
It is another popular website for online price comparison of Indian products. It has 100+ online stores and 10 million+ products in its database. It is mainly popular for comparing the mobile phone prices in India. So, if you wanna buy a smartphone or any other product online, MySmartPrice will help you find the best shopping deals online.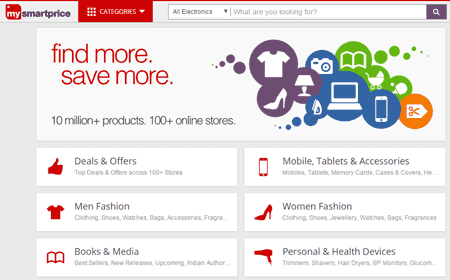 CompareRaja.in is also a price comparison site to compare the price and features of different products such as mobile phones, TV, Laptops, Refrigerators, etc. It lets you compare products with a very easy-to-use interface and help you find the best deals from Flipkart, Amazon, Snapdeal, and many other online shopping stores.
PriceDekho is India's leading price comparison and products search website with over 1.5 Crore products from 100+ shopping stores. It helps you find the lowest price of the latest mobile phones, tablets, laptops, TVs, bikes, cameras and more products.
If you're planning to buy a smartphone and wanna compare different mobile phones and their prices, then it is the best place for you. However, initially, this website was started publishing mobile reviews but now 91Mobiles.com is the best website for comparing prices of different mobile phones as it contains a database of over 10,000 mobile phones and electronic devices.
Pricee.com is another good price comparison website powered by Gadgets 360. It allows you to compare the price for different products such as electronic items include refrigerators, washing machines, etc. and home essentials include hand sanitizers, body care products, and many more.
So, these are the best price comparison websites to find the best shopping deals, offers and compare different products across several online shopping websites in India. I hope these websites will help you find the cheapest price for the products you wanna buy online.