It may happen many times with many people that pop-ups divert their attention from their important read. In my case, I also disabled pop-ups because of the same reason. So guys, this article will give you the complete guide to disable pop-ups in Google Chrome browser.
After doing this, each and every website's pop-up or recommended articles (in form of popups) will not be able to pop-up anymore. After applying this trick, your browser will restrict these pop-ups to open in front of you. So, to learn this trick, you'll need to follow a few steps given below.
[su_note note_color="#fbfbfb" radius="1″]READ ALSO: How to Disable JavaScript in Google Chrome[/su_note]
Just open your Google Chrome web browser and Click on Customize button of Chrome browser, top right corner of the screen. Here Click on Settings from the drop down menu.
Now, Click on Show Advanced Settings on Settings page.
In the content settings screen, drop down and manage the pop-ups settings. Here you need to tick on Do not allow any site to show pop-ups.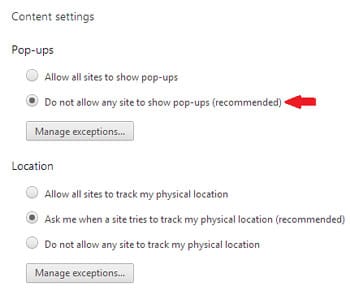 At last, click on Done to save changes. Now, you have disabled pop-ups and from yet, any site will not able to show pop-ups on your Chrome browser. After a few days, if you want to get back this setting to show popups, you can simply do it by Choosing Allow all sites to show pop-ups. So, that's all and hope you all like it.