As we all know that everyone wants to make their Internet browsing private and secure from others. If you have a PC or laptop in your home and it is shared among multiple family members, you can still keep your all Internet browsing private. So, there are multiple ways to browse Internet privately such as Proxy Sites. But with this trick, you won't need any proxy site, instead you can use your Firefox web browser as a proxy. In reality, Firefox lets you to open a Private Window for private Internet browsing. This private window doesn't save any browsing history. It means as you close this window after accessing Internet, all the browsing history will automatically be deleted.
So, this article conveys you that how to open a new private window in Firefox for private browsing? Have a look on the following steps to open a private window in Firefox:
Open your Firefox web browser as usual. Click on Firefox Button places at top left corner of the browser.
Now, in the drop down menu, Click on New Private Window.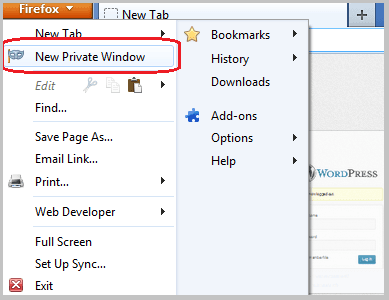 That's all friends! As you click on New Private Window, a new window will open in front of you where you can access Internet privately. In a Private Browsing window, Firefox won't keep any browser history, search history, download history, web form history, cookies, or temporary internet files. However, files you download and bookmarks you make will be kept. To stop private browsing, just close that window.
[su_note note_color="#f9f9f9″ text_color="#000000″ radius="1″]READ: Enable Private Browsing in Chrome & Internet Explorer[/su_note]
While using Firefox as private browsing, you computer won't have any record of your browsing, but your Internet service provider or employer can still track the pages you visit.
Here is a shortcut key for whole the trick described above. That is SHIFT+CTRL+P. So, After opening Firefox, directly tap this shortcut and the new private browsing window will be open.