As you know that iOS devices don't come with Adobe Flash support and that's why we are unable to play any video that requires Flash player. So, if you visit an online live video streaming website in your iPhone browser (Like Safari) and videos require Flash to be played, you would be disappointed in this case because of the lack of Flash Player in your device. But, luckily you can easily get rid of this problem by using the best Flash browser! Yea friend, there are Flash browsers available for iPhone and iPad which let you play Flash videos on your iPhone.
A few days back I wrote an article on how to play Flash videos on iPhone and iPad and actually the article was all about a popular Flash browser called Puffin Web Browser. So, in today's post I'm going to give you instant access to some best Flash browsers to play Flash videos on your iPhone and iPad.
Here are the Best Flash Browsers for iPhone and iPad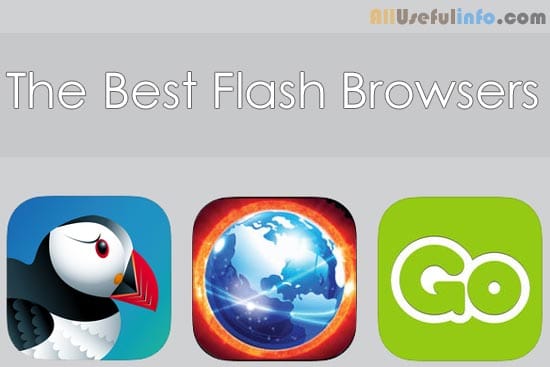 Puffin Web Browser is a fast Adobe Flash supporting browser for iPhone and iPad. Puffin speeds up mobile browsing by shifting the workload from the resource-limited devices to the cloud servers, and resource-demanding webpages can run super-fast on your phones or tablets.
The best thing about this browser is that it comes with the highly secured cloud service and the latest Flash support over the cloud.
Some Features of Puffin Browser:
Great loading speed
Adobe Flash support over the cloud (Flash Player 16)
Theater mode
Adjustable Flash quality
Virtual Gamepad
Full Web Experience (Desktop view and mobile view)
Incognito tab for private browsing.
Photon Browser is a powerful new browser with Flash capability designed to enhance your browsing experience on the iPad. It also may be proven a great alternative to Safari.
Features of Photon Flash Browser for iPad:
Flash browsing support
Multi-task by using Tabbed or multiple views during browsing
Brightness control for night time browsing
Rotation lock for playing web-based games
Personalize your browser colors
Bookmarks support
Print web pages using AirPrint.
3. Browse2Go Flash Video Web Browser
Browse2Go is a fast, powerful, and DNS free browser that comes with the Flash support for your iPhone, iPad and iPod Touch.
Browse2Go Features:
Flash support
All flash websites are supported
Watch Flash videos in full-screen mode
Watch your favorite series, team's games and movies of all kind on your iOS Device
Support text input in Flash
Limited Flash game support.
4. Puffin Web Browser Free
It is the free version of the premium version of Puffin Web Browser, as listed above. As you would know that Puffin Web Browser is a wicked fast Mobile Flash Browser with lots of amazing features but its free version may lack some features but not that bad. It's very good choice for everyone who want a free Flash browser for their iPhone.
Features of Puffin Free Browser:
Cloud protection
Incredible loading speed
Adobe Flash Version 16.0
Theater mode
Adjustable Flash Quality
More..
As you can see above I mentioned Photon Flash Browser for iPad and here it is for iPhone and iPod Touch from the same brand Appsverse. It is a powerful Flash supported browser for iPhone and iPod Touch that is packed with several amazing features.
Important Features:
Browse Flash websites that would otherwise not display on the iPhone
Play music and video that streams through a Flash player
Fully featured powerful browser
Print webpages using AirPrint
Bookmarks support.
READ NEXT: Free iPhone Apps To Watch TV Shows And Movies
That's all for now, but I will keep updating this list of the best Flash browser for iPhone and iPad. Although I hope after going through the above mentioned Flash browsers, you won't need any other else. So, enjoy Flash videos on your iOS devices!
Editor's Note: Adobe Flash Player is shutting down at the end of this year and will no longer be available after December 2020.