Many music lovers love to learn and play the piano. Some of the piano lovers like to play piano in their leisure time or to fresh up their mind from the day-long busy schedules. But due to the unaffordable price of piano, some people could not purchase this musical instrument even if they desire.
So, I am here with interesting information for piano lovers. To play or learn the piano you don't need to buy it. You can play it for free. Don't be surprised. Most of you may have heard about "Keyboard Piano". And if you have not heard then let me tell you about what actually keyboard piano is. Keyboard piano is the virtual piano displayed on your computer's screen and can be easily commanded by your computer's keyboard.
There are some superb websites where you can play these keyboard pianos online for free. So today I am going to fetch such 3 websites where you can play online keyboard piano for free. Now without any delay, I am going to deliver such websites where you can play keyboard piano online.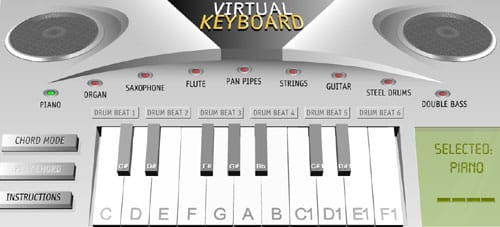 3 musical Websites to play keyboard piano online are as follows:
It is another great musical website to play keyboard piano online for absolutely free. You just need to visit the virtualpiano.net website and in just a few seconds the virtual piano will be loaded in front of you.
The best thing about this website is that it gives you music sheets to try them playing on a virtual piano using your keyboard, and it gives you a very easy guide for how to play the piano. So, overall it's a very good website for all the piano lovers.
The online pianist is one of the best websites to play virtual keyboard piano for free. The website provides different instructions related to play virtual keyboard piano. To get instruction related to piano chords and piano scales, click on chords. The online pianist is an animated piano tutorial application for both desktops and iPads.
This website also provides different free tutorials to learn how to play online piano for free in a fun and easiest way. Here you can learn to play keyboard piano based on different categories like Pop, Rock, Classic, R&B & HipHop,  Christmas, Games, Jazz&Blues, Traditional, Kids, and many more. For more information visit the website.
ButtonBass.com is an amazing website developed by Jason in 2007. The website has proved itself to a superb website with its cool features. This website provides different instructions related to play online keyboard piano easily. The instruction related to play piano, choose the song, piano effects, record voice sample, play mixer, and many more are also provided by the website.
The website also provides the facility to record the music. Here you will get different collections of musical instruments to change the sound of the music. The instruments besides piano which are available on this website are as follows guitars, cubes, organ, and many more for more. For information related to playing keyboard piano visit the website.