Sometimes, when we browse the Internet at our workplace or any cyber cafe, it may be very difficult to maintain the privacy of what you browse. Because as we all know that any webpage you browse, the browser saves every information about that in form of cookies, temporary Internet files, and browsing history.
So, if you want to get rid of such problems and wanna browse the Internet safely and very privately without saving any of your information in the browser, you should enable private browsing mode while surfing the Internet.
Almost every browser provides a private browsing mode and if you browse the Internet in private browsing, it doesn't save any details about what you've browsed.
This article will help you on how to enable private browsing mode in Google Chrome, Mozilla Firefox, and Internet Explorer. Private browsing will be helpful for you every time when you want nobody to see your browsing information.
How To Enable Private Browsing in Chrome
Google Chrome's private browsing mode is generally called Incognito Mode. To enable the incognito mode in your Google Chrome web browser, you can use any of the two following methods:
Method #1: Open Google Chrome browser and click on the Menu button (three square dots at the top right corner). Now click on New Incognito Window.
Method #2: Simply, you can press Ctrl+Shift+N simultaneously.
How To Enable Private Browsing in Firefox
To enable the private browsing mode in Firefox, you have to click on the Firefox button at the top left corner of the browser. Now, select New Private Window. That's it, your private window will be open in front of you.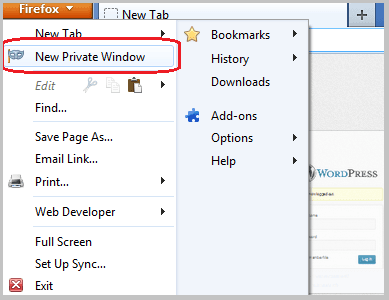 Click Here to know How to Set Firefox to Open in Private Mode Always!
Another simple method to open a private browsing window in Firefox is to press Ctrl+Shift+P simultaneously.
How To Open Private Window in Internet Explorer
In Internet Explorer, the overall procedure to open a private window is the same as in Firefox. It means you just need to press the keys Ctrl+Shift+P simultaneously.
Further Reading:
That's all, if you're using any of the above web browsers and want to browse the Internet privately, you should use the obvious tips for every popular browser to enable private browsing mode.