Mozilla Firefox web browser is fast, flexible and secure that's why it is one of the most popular web browsers in the browsing market. For your knowledge, it is a global community of technologists, thinkers and builders who work together to keep the Internet alive and accessible. Here I bounced up with different tricks and tips which can make your internet surfing more interesting and flexible with Firefox browser.
Mozilla Firefox runs on different platform like as Windows, Mac and Linux and has always tried to drop the best features for its users so that they could always get the best. In addition, this world famous web browser bounces up with different tips that you might not be knowing. Therefore, have a look on these tremendous tips and tricks and use them smartly while surfing Internet on Firefox.
1. In and Out Zooming
Often while reading and going through the different articles and portraits we need to zoom in and out to see the whole view clearly. For this, Firefox has the option Ctrl + (+) for zooming out and Ctrl + (-) for zooming in.
While, to bring the page in its correct mode, you can use the option Ctrl +0. So, it's time to move on the next trick for Firefox.
2. Reduce the Tab Size
Many times, it may happen that you would have to open number of tabs for different purposes. During these situations, you can reduce the size of the tabs to open more and more tabs and have view on all of them.
To reduce the size of the tab just take the cursor to the tab then do a right click on it. After this, switch to 'Pin Tab' and here you are done.
3. Add and Delete Tabs
Do you know the shortcut trick to add and delete tabs in Firefox? Know about it in this tip!
You all would be frequently opening new tabs and deleting it while surfing Internet. However, do you know that Firefox has also delivered the shortcut for this, which is Ctrl+T for new tab and Ctrl+W to delete the tab.
4. Reload the Recently Deleted Page
While using Internet it happens many time that we accidentally delete the tab, which contains important pages with important information.
If you are using Firefox then no need to worry about this type of accidents because it has delivered the way to reload your recently deleted page just by switching the option Ctrl+Shift+T.
5. Bookmark the Important Page
You all would be definitely using bookmark option if not the here are the two ways which can help you to access your favorite pages directly while browsing internet.
The first way to use the bookmark option is by clicking the star displayed on the right hand side of the screen and the other option to use the bookmark feature is by switching to the option Ctrl+D.
6. Get Back To the Point
While reading a page it happens that we go through different lines but later when we need to see some of the lines again then we don't get them.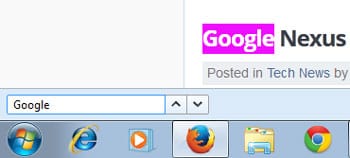 For this, Firefox has deliver a very smart option by clicking / symbol. A quick find box will appear on the bottom left of the page. Just type the words that you remember of the belonging sentence. The cursor will then take you automatically to that individual line. Use it and make you reading more interesting. You can also do it by pressing Ctrl+F keys on your keyboard.
7.  Forget this site
Many times it happens that while surfing internet you go through some of the private and secret sites, which you don't want anyone to know about it.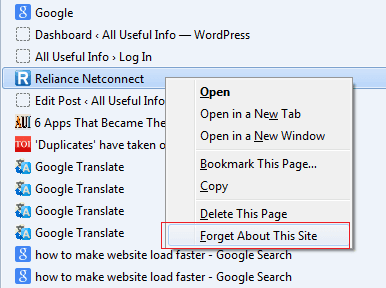 For this, also Firefox has fetched a very useful option in which you have to go to the history you searched and then do the right click on the site, which you don't want to be showed in the history. After that click on 'Forget about This Site' and here it is done the whole history related to the site will be deleted automatically.
To find the history list of your searches go to the top left side of the screen then click on 'Firefox' here you will get the option named as 'History' and there you are done.
8. Open New Window
Likely to opening a new tab shortcuct, there is also a shortcut trick for opening a new window in Firefox. Here it is!
It may have happened many times that you need new window to open the new pages on it for the varieties of reasons while browsing internet like as for hiding your search from other or many more.
For this just tab to 'Ctrl + N' and the new window will open right in front of you. In this way, you can open as many new windows as you like.
9. Toggle Full Screen
Toggle Full Screen is one of the fantastic features by Mozilla Firefox. By using this ultimate feature, you can have view only on the page and the option delivered on the top of the screen will disappear.
To toggle the page just press F11 and to get back the option again click on F11.
10. Private Window
Sometime it happens that we want to do some sort of research in a cyber cafe, collage or home, which you don't want to show to anyone else for this Firefox has dropped the option of Private Window.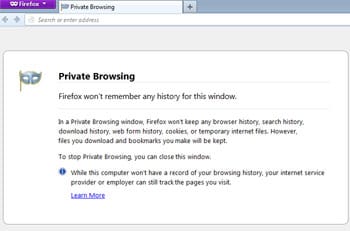 The best thing about this window is that whatever you do on the browser it will not be saved. You can use the Private Window by switching to Ctrl+Shift+P.
Further Reading:
All the above given tips and tricks are very useful for the Firefox users. I think if you are using Firefox for Internet browsing then you will surely love to use these tricks and make your browsing smarter than before.